This Is the No. 1 Spring Break Destination in 2019
This SoCal city is warm, safe and surprisingly affordable.
If you're not sure where to go this spring break, head to San Diego. Thanks to its affordability and safety, this Southern Californian city topped the list in GOBankingRates' recent study of the best spring break destinations in 2019.
Whether you're a college student or a parent looking for fun spring break vacation ideas, keep reading to find out why San Diego should be at the top of your list.
Click to See: 5 Affordable Spring Break Destinations You Need to Book Now
Why You Should Visit San Diego for Spring Break 2019
Sunny weather, beautiful beaches, delicious food and an abundance of activities — it's no wonder San Diego has been called "America's Finest City." All of these attributes make San Diego a top travel destination. But there are a few more reasons you should visit the city during spring break.
First of all, the study found that San Diego is one of the safest cities among the most popular spring break destinations. There are only 19.3 property crimes per 1,000 residents, and 3.7 violent crimes per 1,000 residents.
In addition to safety, San Diego also boasts affordability — especially when it comes to airfare. Flights to San Diego are cheaper this year compared to 2018, according to a recent study by travel website Hipmunk that found a 6 percent decrease in flights to San Diego. Last year, the average booking price was $323 and it's now $304. During the most popular spring break week — March 9 to March 17, according to StudentCity.com — you'll pay an estimated average airfare of $319 round trip*, found the GOBankingRates study.
During the same time, you can also find San Diego hotels for an average of just $87 per night. That saves you a lot of dough for having fun in the warm California sun.
Speaking of fun, the city rolls out world-class experiences that include Sea World, Legoland and the San Diego Zoo. But you don't have to shell out for pricey tickets every day of your vacation — the city has a smorgasbord of free and nearly free attractions that will keep your wallet happy.
Also See: 25 Coolest Family Vacation Spots in the US
Cheap and Free Things to Do in San Diego During Spring Break
Buying tickets to the usual San Diego attractions such as SeaWorld, Legoland and the San Diego Zoo can quickly take a chunk out of your spring break budget. But there are many free and fun things to do in San Diego, including:
Balboa Park: There's something fun for the whole family to enjoy in Balboa Park. Spanning 1,200 acres, Balboa Park brims with free museums, parks, historic Spanish colonial architecture, gardens and live entertainment.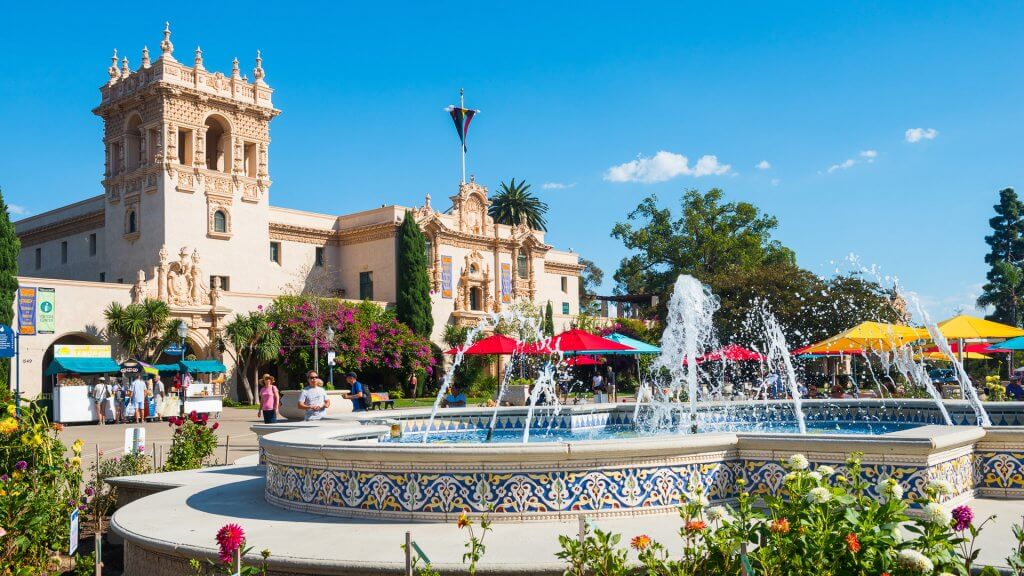 Little Italy: Discover the fun of bocce ball and browse the farmers market on Saturdays. Or, drink in the European ambiance as you stroll the cobblestone streets to view public art and pick up souvenirs at the niche shops.
Seaport Village: A fun waterfront stop, Seaport Village is home to an antique carousel with $3 rides and a slew of places to pick up everything from cupcakes to souvenirs. There are also Instagram-worthy views of Coronado Island and its bridge.
Beach Bonfire: A day at the beach enjoying the warm San Diego weather is always fun, but stick around after the colorful sunset and sing around a campfire. Fire pits are available on a first-come, first served basis. But keep in mind fires are not allowed between midnight and 5 a.m.
Don't Miss: 5 Amazing Southern Cities You Need to Visit
How to Find Cheap Flights to San Diego
Typically, the best times to visit San Diego for lower travel rates are during the low seasons: March through May and September through November, according to U.S. News. But if traveling during these times isn't an option, it's still easy to find cheap flights to San Diego.
For example, visit the Southwest Airlines Low Fare Calendar to get an idea of which days are the cheapest to fly. Although airfares from Atlanta averaged $319 in the GOBankingRates study, Southwest's Airlines Low Fare Calendar showed cheap travel days where you can get fares for $100 or less each way at the time of writing.
To find cheap flights to San Diego, also use these online tools and compare the airfare:
Google Flights
Hipmunk
Skyscanner
CheapAir.com
CheapOAir
Skiplagged
Try This: Use Google Flights to Score Affordable Travel
How to Find Affordable San Diego Hotels
Like many cities, you could shell out hundreds of dollars per night for luxury hotels in San Diego. But who wants to sit in a hotel room during spring break? Instead of splurging on an expensive hotel room, pocket the extra dough and check into one of the many affordable hotels that come at rates of less than $100 per night.
For budget-friendly accommodations, Hotels.com lists the following as options if you want to spend less than $100 a night**:
Hostel Habibi: $25/night
Hostel on 3rd: $60/night
Bay Inn and Suites at SeaWorld: $63/night
HI San Diego Downtown: $81/night
Lucky D's Hostel: $81/night
Fine Out: Hotels Are Getting Cheaper in These 5 Tourist Hot Spots
You might also be able to find affordable San Diego hotels in the Gaslamp Quarter, where Victorian-era buildings nestle among eateries, pubs and bars. Entertainment options include theaters, museums and Petco ballpark.
And lastly, keep in mind that you can find deals for luxury hotels as well. According to Hipmunk, the average price of a 5-star hotel in 2018 was $431 per night. However, the website recently released a list of destinations where you can book a 5-star hotel for much lower — and San Diego is on the list with a median booking price of only $329.
Click through to see where you can book a 5-star hotel for cheap.
More on Travel:
We make money easy. Get weekly email updates, including expert advice to help you Live Richer™.
*Methodology: GOBankingRates ranked 40 popular U.S. spring break destinations based on (1) average hotel rate, calculated using the average of three- and four-star hotels for stays during March 9 to March 17, 2019, using data from Hotels.com; (2) average airfare, based on the average of the three cheapest round-trip flights from Los Angeles and Atlanta, using data from Google Flights; and (3) safety score, sourced from Neighborhood Scout. For South Padre Island, Texas, and Breckenridge, Colo., there was no score available, so they were assigned the average score of all the cities in order to account for them in the ranking. The week of March 9 to March 17, 2019, was chosen because those are the most popular spring break dates, according to information from StudentCity.com.
**All prices for hotels mentioned in this article are accurate at time of writing and are subject to change at any time.