These 4 Travel Budget Calculators Will Make Vacation Planning a Breeze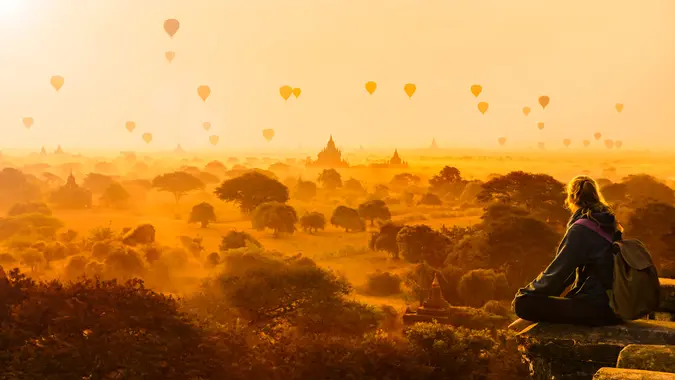 ugurhan / Getty Images
Saving up for a vacation this year? You can get a realistic view of how much your dream trip will cost by using one of the many online travel budget calculators available. Depending on how far along you are in your planning, you might want a calculator that shows you a rough estimate of costs or one that pinpoints exactly how much you should have saved before booking those flights and hotels. Many of the travel calculators allow you to choose from budget travel, a luxurious getaway or something in between, so you can see a range of cost options for each trip.
Travelex Travel Budget Calculator
To use the Travelex travel budget calculator, choose your destination country; select your budget from a choice of shoestring, midrange or high-end; select how many people you are traveling with and decide how many days you will travel. The results will show you approximately how much spending money you will need to bring with you.
Pros: Easy to use, allows you to choose from different budgetsCons: Country choices are somewhat limited; doesn't account for other costs, including transportation and accommodations
BudgetYourTrip.com
All you need to do is select your destination country, and Budget Your Trip does all the calculating for you. When you choose a country, you can select the currency you'd like to view costs in, as well as your "travel style" — budget, midrange or luxury. Once that is selected, the site will show you estimated costs per person based on the length of your stay, plus average prices for accommodations, food, water, local transportation, entertainment, tips, alcohol and popular items like a burger and a local taxi ride.
Pros: Breaks down daily costs as well as costs for common travel expensesCons: Only shows costs per person and for a couple, so you'll have to do extra calculations if you are traveling in a group
Check Out: Travel Hot Spots Where Your Dollar Goes the Furthest
Practical Money Skills Travel Budgeting Calculator
The Practical Money Skills travel budgeting calculator allows you to input all the financial information you have about an upcoming trip to see how much it's really going to cost you. To use the calculator, you have to fill out the following fields:
How many travelers you're covering expenses for
How you're getting there (driving or flying)
How long you're staying at the destination
Hotel cost per night
Daily car rental rate
Gas costs
Cost of meals per day (broken down by expected spending on each meal)
Activity costs
Travel insurance
Passports, visas and travel documents
Pet or child care
Currency exchange and bank fees
Luggage and other gear
Once you've filled out all the fields, you should have a very accurate estimate of your total trip costs.
Pros: Caters to an individual's trip rather than showing a general average costCons: This can really only be used after a trip is planned — it's not a good way of predicting if you'd be able to afford a trip before booking it
Check Out These Free Online Calculators Here!
PALPrices Travel Budget Calculator
The PALPrices travel budget calculator pulls data from Expedia, Skyscanner, TimeOut and more to determine the estimated total cost of your trip to its selection of 50 destinations. Choose your origin and destination city, the dates you plan to travel, the number of people in your group and your budget — backpacker, budget, mid-priced or upscale — to see an estimated total cost of your trip. You can get an even better estimation by using the "personalized calculation" tool, which allows you to find the expected cost of travel, accomodations, attractions, nightlife, food and more based on your preferences. For example, you can rate your "love of food" on a scale of low to high to see how much you'd pay for cheaper meals vs. gourmet meals, and the comfort of stay you'd like to see how accommodation prices range.
Pros: Highly customizable, well-sourced informationCons: Might not include the destination of your choice
Bonus: TripIt Travel Planner App
Though not a budget calculator, the TripIt app is a trip planner tool you can access from any mobile device, even when you're offline. Simply forward your confirmation emails to plans@tripit.com, and the app will compile them into a seamless master itinerary. It's a handy app to have for once your trip is in the books.
Click through to read more about the 20 best cities for affordable winter travel.
More on Travel
We make money easy. Get weekly email updates, including expert advice to help you Live Richer™.