7 Best Travel Discounts for Retirees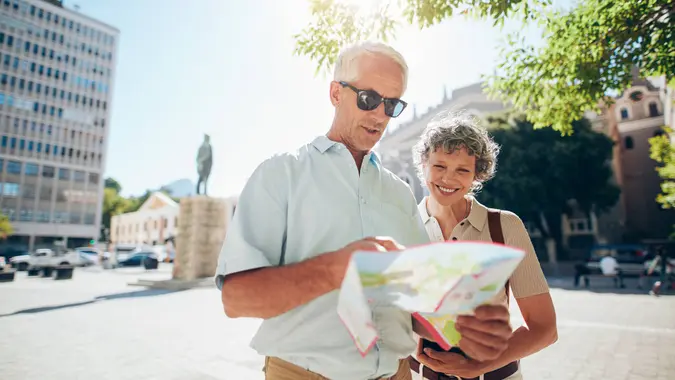 Jacob Lund / Shutterstock.com
Retirement opens up a world of possibilities, and what better way to seize the moment than by embarking on new travel adventures? In this comprehensive guide, we uncover the best travel discounts exclusively tailored for retirees.
From discounted airfares and accommodations to special tours and experiences, these offers ensure that your golden years are filled with memorable journeys without putting a strain on your budget. Get ready to explore the world while taking advantage of the perks that come with your well-deserved retirement.
Airlines
Kyle Kroeger, the founder & CEO of ViaTravelers, pointed out that many major airlines offer reduced fares for senior citizens. Some carriers provide discounted tickets for individuals over 60 years old, while others stipulate a minimum age of 65. 
American Airlines, Southwest, British Airways, Delta, and United are among the airlines that provide senior discounts. These fares are subject to availability and can vary based on the route and season. But they're an excellent option for retirees looking for a deal. 
It's important to directly contact each airline to clarify their age criteria and discount offerings, as these terms can differ between companies. Additionally, certain airlines extend discounts to members of AARP programs, so remember to ask about that when you book.
Trains
Kroeger said another great way to experience the sights and sounds of a new place without spending too much money is by taking the train. "Amtrak offers 10% off for those over 65, so be sure to take advantage of this offer if you're planning a long-distance journey," he said. Again, be sure to call and check age requirements and other restrictions before booking.
Make Your Money Work for You
Car Rentals
Kroeger shared that car rental companies such as Hertz extend discounts to seniors aged 65 and above. For example, If you're an AARP member, you can get as much as a 25% discount on Alamo car rentals. Just a heads up: If over 75, certain companies might not permit car rentals. This is an important consideration to bear in mind while exploring car rental choices.
Attraction Admission
Many attractions, such as museums and amusement parks, offer discounted admission for seniors. Some even offer free entry, said Kroeger.
Numerous attractions extend senior discounts as a gesture of appreciation for older visitors. Museums and art galleries often offer reduced admission fees, granting seniors the chance to engage with cultural treasures. National parks open their doors with discounted entrance fees for those aged 62 and above, facilitating exploration of natural wonders and historical sites. Zoos and aquariums also join in by providing seniors with the opportunity to encounter wildlife at a reduced cost. Also, cruise lines and amusement parks often offer senior discounts. Public transportation in various cities accommodates seniors with reduced fares, letting them explore urban areas easily. From movie theaters to restaurants, fitness centers to golf courses, the spectrum of senior discounts spans diverse venues, encouraging older individuals to embark on enriching adventures. 
Be sure to call ahead or check websites for age restrictions and other policies before visiting any attraction.
National Park Passes
According to Daniel Morris, the founder of My Caring Plan, seniors are eligible for discounts on National Park Passes. The U.S. National Parks present a lifetime pass tailored for seniors, aptly named the Senior Pass. Priced at only $80, this pass bestows access to over 2,000 federal recreation sites. Beyond its main advantage of the park entrance, the Senior Pass frequently encompasses discounts on select amenity fees such as camping, swimming, boat launching, and guided tours.
Hotels
Many hotels offer discounts for seniors. Morris shared some popular ones, including La Quinta. The national chain has a delightful offer in store for retirees on the move. AARP members can anticipate saving approximately 10% at most of their locations. The added bonus of their pet-friendly policy makes La Quinta a favorite among senior travelers who can now bring their beloved furry companions along for the journey. Another great one is Hilton Hotels & Resorts, a widely recognized name, that extends an appealing deal to AARP members. With their extensive global presence, retirees have a multitude of destinations to explore, all while enjoying a discount of up to 10%. 
Make Your Money Work for You
Wherever you plan on staying, make sure to ask about senior and AARP discounts at hotels.
Travel Insurance 
Travel insurance discounts are commonly available for seniors. Many travel insurance providers extend these discounts, emphasizing the importance of exploring various options and policy comparisons to secure optimal coverage at a reduced rate.
More From GOBankingRates