5 Amazing Southern Cities You Need to Visit
You can now find cheaper flights to these top cities.
We all love saving money and in order to help stretch your vacation dollars further, Hipmunk has determined which cities have cheaper flights in 2019. Surprisingly, a large number of destinations are in the Southern states, which makes them a great value for travelers.
You can find virtually any kind of vacation experience you seek in the South. From big cities to small towns, historical wonders to modern delights, beaches to mountains — these are the best vacation spots in the South you need to visit this year. Just be sure to practice your drawl while packing.
Also See: 5 Awesome Vacation Destinations You Didn't Know You Could Afford
Charleston, South Carolina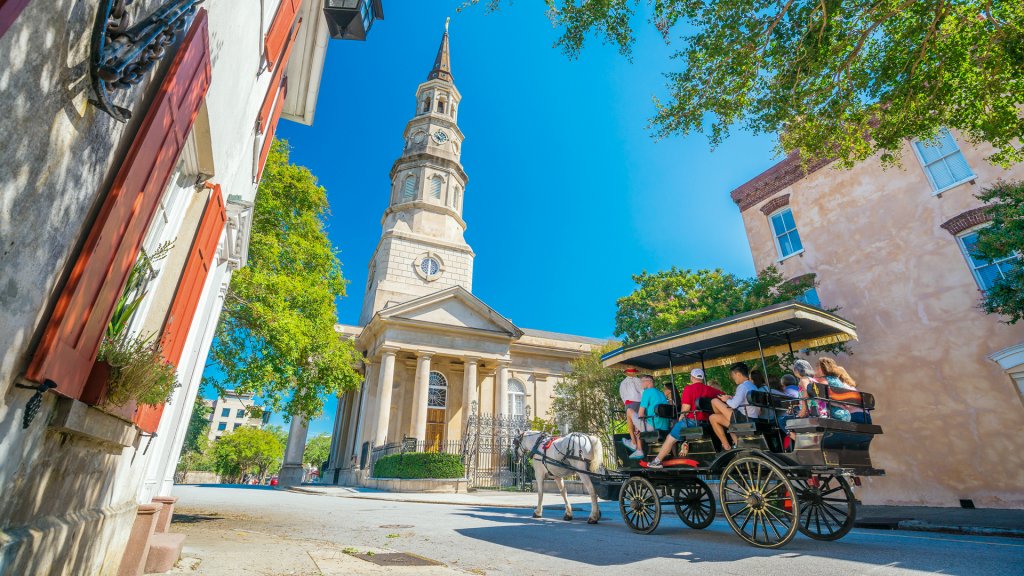 2019 median booking price: $311
2018 median booking price: $353
Year-over-year price difference: -12%
Charleston is often seen as one of the best places to visit in the U.S., which means it's not always considered a cheap travel destination. However, thanks to lower airfare and plenty of free things to do, savvy travelers can find ways to save some dough.
A few free attractions include ambling around the historic homes of Rainbow Row, perusing Old City Market, hitting the beach or touring a tea plantation. A relatively small city, you really don't need a car to get around so Ubers will be cheaper and more convenient than trying to find parking downtown. Or, you can always ride the whimsical (and free!) hop-on-hop-off DASH trolley.
Nashville, Tennessee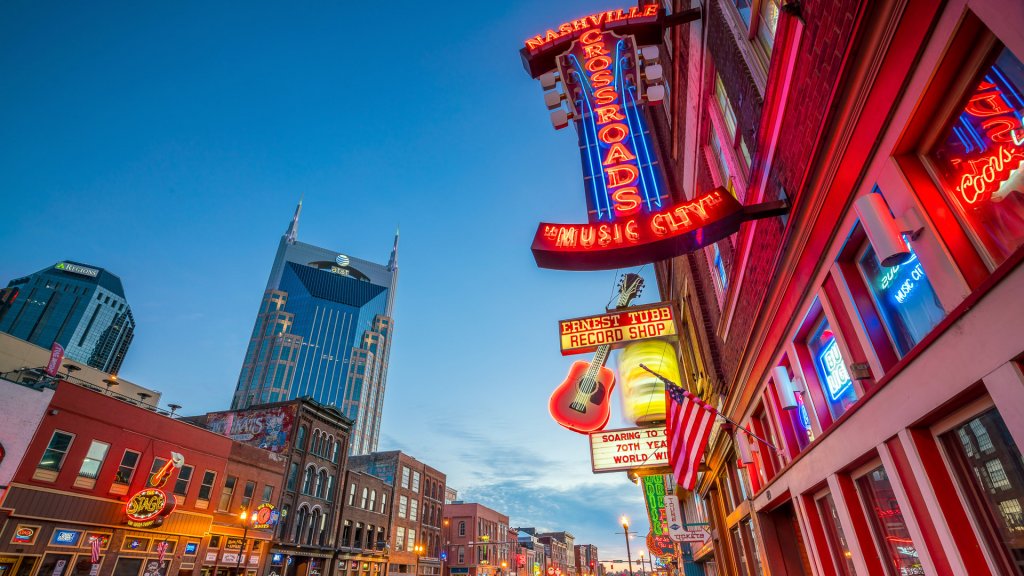 2019 median booking price: $282
2018 median booking price: $306
Year-over-year price difference: -8%
One of the top places to visit in the U.S. for bachelorette parties, couples and everyone in between, Nashville has become a major draw for travelers. It's not generally considered one of the cheapest vacation spots, but the city now has cheaper airfare and GOBankingRates found that other expenses — such as food, drinks and transportation — have gone down year over year as well, according to Numbeo data.
Pack your dancing shoes and prepare to get your honky-tonk on. Enjoy free live music at the bars on Broadway, and take advantage of no-cover concerts around the city. If you're a history buff, tour the Tennessee State Museum or catch a show at Centennial Park — both of which are also free.
You can also save money by choosing accommodations within walking distance of downtown or by taking advantage of the city's free public transportation: the MTA Music City Circuit bus, which stops at most major attractions.
Do It Now: Drop Debt and Book Your Dream Vacation
Houston, Texas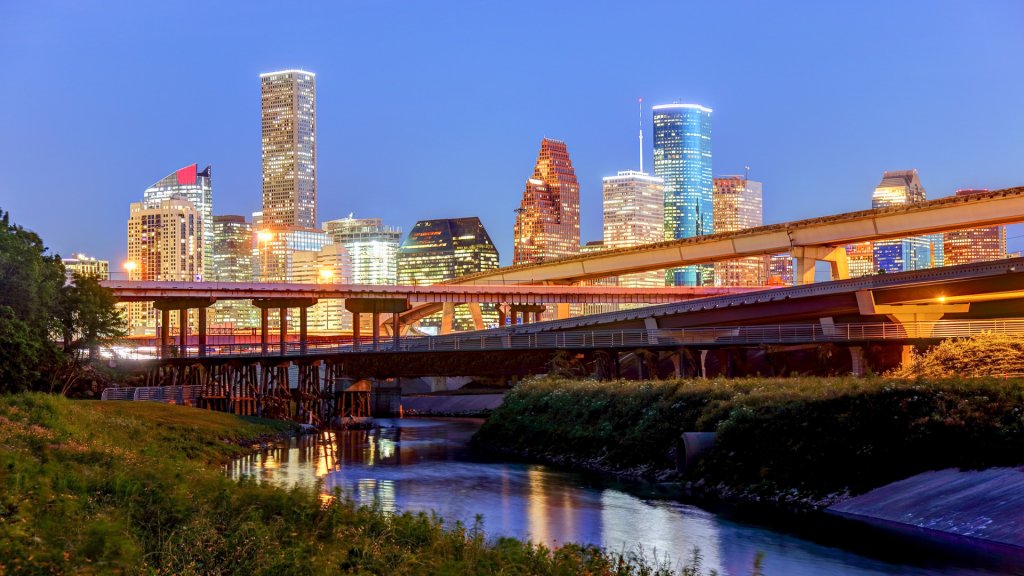 2019 median booking price: $269
2018 median booking price: $291
Year-over-year price difference: -8%
It's been about a year and a half since Hurricane Harvey, and Houston's tourism industry is recovering and improving. While you likely won't see any noticeable signs of damage, the city could still benefit from more visitors.
As the cultural and culinary heart of Texas, Houston is one of the best places to visit in the U.S. and has a bustling urban hub. Home to more than 10,000 restaurants and one of the most robust museum districts in the country, it's also one of the cities where paychecks are said to stretch the furthest.
The city boasts the most park acreage of any major U.S. city with more than 1 million residents and a 300-mile bike path. The city is fairly spread out, compare both hotel prices and home rentals in a variety of neighborhoods to find affordable accommodations.
If you're curious about how to get cheaper flights, avoid national holidays and travel mid-week when fewer people are flying. But rest assured that airfare and other expenses — food, transportation, etc. —  in the city have dropped year over year.
Click to Find Out: How to Get the Best Flight Deals on Google Flights
Myrtle Beach, South Carolina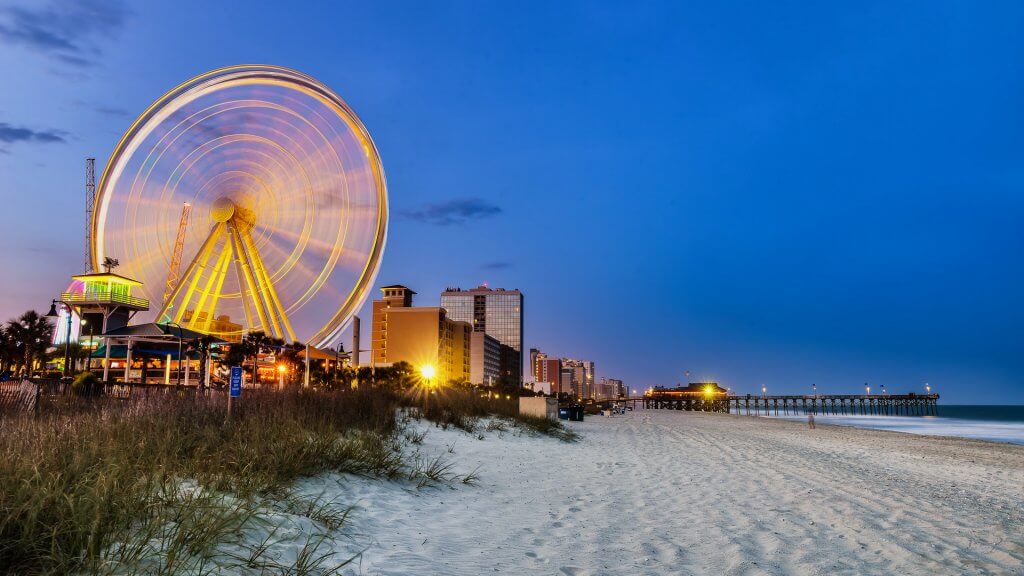 2019 median booking price: $326
2018 median booking price: $349
Year-over-year price difference: -7%
Wish you can go on an affordable beach vacation? Myrtle Beach might be your answer. It's a great destination for sun seekers, thanks to its 60 miles of idyllic white sand beaches. When visiting, head to Broadway at the Beach, a 350-acre outdoor entertainment center with restaurants, bars, shops, rides, games, theater and more.
If the beaches aren't enough of a draw, there are plenty of other affordable and free things to do in Myrtle Beach. Art lovers should check out the charming Franklin G. Burroughs – Simeon B. Chapin Art Museum. Or, drive about 20 minutes outside of Myrtle Beach to visit the Murrells Inlet MarshWalk, a boardwalk that offers waterfront dining options, live music and more. And there's also The Market Common where you can do some serious shopping — just stay on budget.
While summer is high season with free nightly concerts and events, you'll likely find cheaper flights if you travel in the off-season (fall or spring).
Durham, North Carolina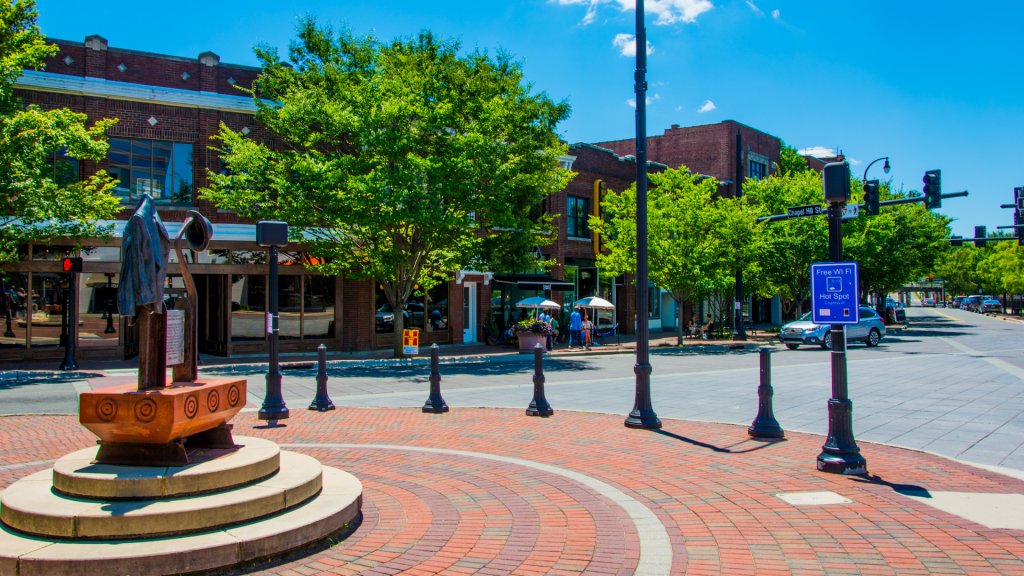 2019 median booking price: $268
2018 median booking price: $299
Year-over-year price difference: -10%
A vacation destination that's still a bit under the radar, Durham is celebrating its 150th anniversary this year. And with flights being more affordable, there's no better time to visit.
One of the best cheap vacation destinations in the U.S., many of the top parks, historical sites and art galleries are free to visit. You don't want to miss exploring the Bennett Place State Historic Site, Duke Homestead State Historic Site or Eno River State Park. Durham is also known as a beer city, and you don't want to visit without checking out the breweries. For example, head downtown to the Durty Bull Brewery to take a tour and sample the selection.
Home to Duke University, Durham is also a major college town. So to score cheap flights and enjoy fewer crowds, consider plan your trip when students are out of town during breaks.
Keep reading to see the best time to travel in 2019.
More on Travel
We make money easy. Get weekly email updates, including expert advice to help you Live Richer™.