Best Western Rewards Program Review: Compare 5 Tiers of Benefits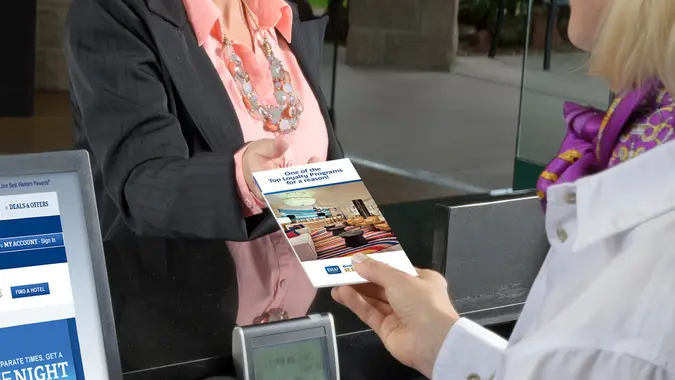 ©Best Western International, Inc.
Headquartered in Phoenix, Ariz., Best Western currently owns and operates more than 4,100 hotels around the globe. Part of the Best Western hotel family's success is likely due to its Best Western rewards program, which brings in a whopping share of revenue each year.
Whether you are already a loyal Best Western customer or you are looking for a selection of hotels with benefits, it's likely you'd enjoy saving money on accommodations. Learn more about Best Western's rewards program to see how much you can save on your next hotel stay.
Best Western Rewards Program Review
A total of 33 million customers hold a Best Western Rewards card that earns them 10 points per dollar when staying at any of the Best Western hotels and resorts. Rewards members can earn points at Best Western, Best Western Plus, Best Western Premier, Best Western Hotels UK, Executive Residency by Best Western, Vīb, BW Premier Collection and GLō. Joining is completely free, and in addition to earning points on hotel rooms, members will earn points when booking through the company's airline, car rental and shopping partners.
"In 2016, we did a complete revamp of our Best Western Rewards program to provide travelers with one of the richest programs in the industry," said Dorothy Dowling, the Senior Vice President and Chief Marketing Officer for Best Western Hotels and Resorts. "Best Western Rewards has been ranked a top hotel loyalty program by U.S. News & World Report for five consecutive years, which I believe speaks volumes about the value guests receive through our program."
Although it costs nothing to join the program, a more in-depth look might pay off later. Here's what else you need to know about the Best Western rewards program:
Related: 15 Best Debit Card Rewards Programs
What Separates Best Western Rewards From Other Rewards Programs?
Best Western Rewards points never expire.
Rewards are instant.
Points can be transferred between accounts as long as the cardholders share the same address.
When you're close to a reward, you can purchase the remaining points to get the reward. The cost is $10 for 1,000 points.
Make Your Money Work for You
How to Book a Reservation or Manage My Best Western Rewards
When looking for a quick and easy way to reserve a room, you can secure lodging through the Best Western Rewards app, "Best Western to Go." To check your rewards balance or redeem a reward, use the Best Western Rewards login on the company's website. From your dashboard, you'll be able to order everything from gift cards to vacuums to amusement park tickets. You can even make a charitable donation with your points.
Best Western Rewards Levels
Keep an eye out for special promotions. From time to time, Best Western offers deals when you sign up to become a rewards member, like earning a $10 gift card for each stay booked during the promotional period. After sign up, you'll want to use your card to work your way up the five membership levels:
Blue: Enjoy an exclusive reservations line and no blackout dates with this level. Plus, free-night redemptions will count toward elite status.
Gold: After you book 10 nights, complete seven qualifying stays or earn 10,000 points, you'll make it to Gold level status. This level qualifies you for a room upgrade, an option of an arrival thank-you gift and 10 percent bonus points per stay. Additionally, free-night redemptions will count toward elite status. 
Platinum: You'll reach the Platinum level when you book 15 nights, complete 10 qualifying stays or earn 15,000 points. Also, you'll earn 15 percent bonus points and a 10 percent discount on free-night redemptions. And free-night redemptions count toward elite status.
Diamond: Meet Diamond level when you book 30 nights, complete 20 qualifying stays or earn 30,000 points. In addition to the 10 percent discount on free night redemptions, you'll also get guaranteed free-night availability and 30 percent bonus points per stay. Plus, free-night redemptions will count toward elite status.
Make Your Money Work for You
Diamond Select: Once you book 50 nights, complete 40 qualifying stays or earn 50,000 points, you'll reach the Diamond Select level. You'll enjoy all of the benefits of the previous levels plus 50 percent bonus points per day.
"The more a guest stays with Best Western, the more benefits they receive — from room upgrades to free night redemptions," added Dowling. "Additionally, our Status Match…No Catch program allows members to instantly have their status with other hotel loyalty programs matched upon enrollment with BWR."
Check Out: Credit Card Hacks You Need to Know Before Traveling
Best Western Products and Services
Customers can earn additional bonus Best Western points when they take advantage of Best Western's other products and services. Best Western offers customers these various branded credit card options.
Best Western U.S. Premium Mastercard
U.S. residents can earn up to four free nights with this card. Plus there's no annual fee the first year, and a low $59 annual fee after that. The biggest perk is that cardholders can earn 20 points per dollar on Best Western stays.
Best Western Rewards Canada Credit Card
Canadian residents will love the 10-month introductory 1.99% APR for this credit card option, which includes balance transfers and the ability to earn unlimited rewards points. Additionally, cardholders will be eligible for 20,000 points after their first purchase and will earn one point per $1 on eligible purchases and five points per $1 on Best Western stays.
Other Ways to Earn Rewards
You're in luck if you have a Diners Club credit card and are a resident of the U.S. or Canada because you can rack up rewards points more quickly. All you have to do is enroll in the Best Western Rewards program and use your Diners Club rewards points toward Best Western rewards.
Members can also now participate in Experiences by Best Western Rewards, a new program that will give members the opportunity to redeem points in exchange for rewarding experiences. From a Broadway show to the world-famous Walt Disney World, Dowling noted that Best Western is always adding new ways to create more value for their rewards members.
The Fine Print 
Here are the guidelines on earning free stays, points and rewards:
You need between 8,000 and 36,000 for a free night's stay.
You can't earn Best Western points and airline rewards for the same stay.
You can't add family members to your rewards card; each member must apply for their own card.
Is the Best Western Rewards Program a Good Deal?
As long as you stick with Best Western hotels when you travel for work or pleasure, joining the rewards program can be worth it. In fact, Ideaworks Company published a survey that listed Best Western as one of the most rewarding hotel loyalty programs of 2017. If you're a frequent traveler, this card will provide even more exclusive savings and benefits.