The 4 Most Spectacular Places to Witness California's 2019 Super Bloom
Epic rains led to a rare explosion of desert wildflowers.
The spring season is upon us, and that means wildflowers are starting to emerge. But for the nature-obsessed, spotting a few brightly colored flowers scattered here and there simply isn't enough. If that describes you, you're in luck. Due to unusually abundant rainfall levels in 2019, fans of flora will get to experience wildflowers on steroids: the California super bloom.
Here are some of the top spots you can visit this season — starting now — to get your wildflower fix. We've included day use fees for parks and area hotel prices sourced from Booking.com. But don't wait too long to go — heavy tourism, adverse weather conditions, and pests are just a few of the factors that could throw a kink in your last-minute plans.
See: It Costs Less Than You Think to Visit These Picture-Perfect Spots
1. Anza-Borrego Desert State Park
Day use fee: $10
Hotel room prices: $228-$599 per night on weekends
The tiny town of Borrego Springs, home to Anza-Borrego Desert State Park, should be used to handling super bloom tourists by now, as it was the epicenter of the last wildflower explosion just two years ago. Back then, the small town was slammed with hundreds of thousands of visitors ready to feast their eyes on the plethora of wildflower blooms dotting the area's landscape, which can include purple verbena, primrose varieties, popcorn flowers, and desert lilies.
The influx of visitors in 2017 caused an overflow of trash, traffic problems and what might politely be called a strain on local restroom facilities. But things are different this year, according to Travel and Leisure — residents and businesses alike are prepared for the attention.
Take a Trip: 30 Incredible Destinations That Are About to Vanish — and How to Get There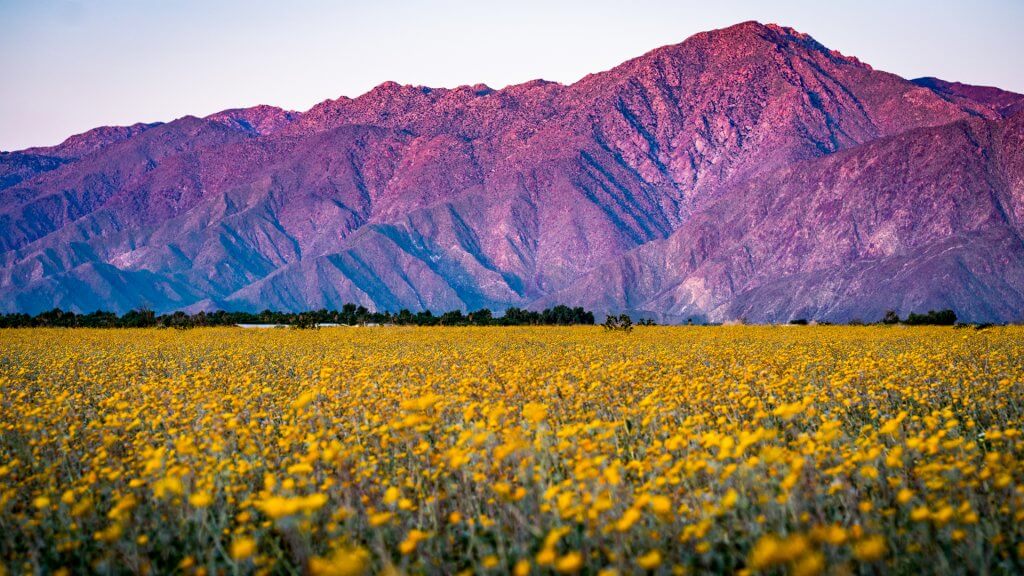 To find out more about wildflower viewing, call the park's automated Wildflower Hotline — 760-767-4684 — which offers an update each week on the best locations to view flowers. The recorded voice cautions that although blooms are possible throughout the month of March, the best time to see flowers is now due to threats such as extreme cold, heat, wind, and caterpillars, which can all affect blooms.
2. Coachella Valley Preserve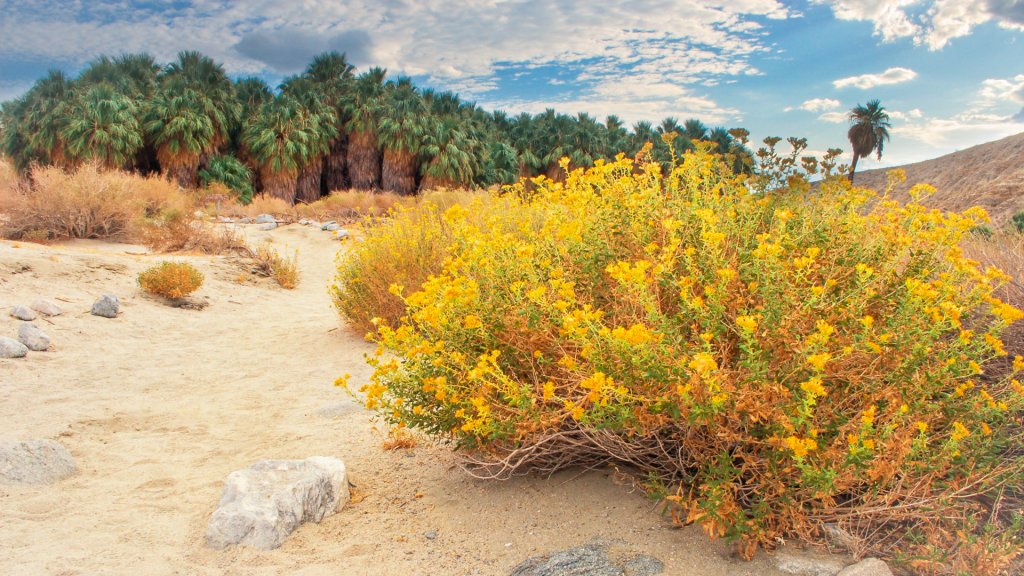 Day use fee: None; donations are appreciated
Hotel room prices: $180-$584 per night on weekends
Not very far from Palm Springs on the northern side of Coachella Valley nestled in the Indio Hills lies a gem: Coachella Valley Preserve, which contains the Thousand Palms Oasis. There, visitors can hike 30 miles of trails and view the abundant wildflowers, including desert sunflowers, sand verben, and brown-eyed primrose.
The park tries to stay open from 8 a.m. to 4 p.m.  in October through April, but due to its reliance on volunteers, it's best to call 760-343-2733 before you go. Due to limited parking, it's also recommended that you carpool if possible.
Everyone Will Enjoy: 25 Coolest Family Vacation Spots in the US
3. Joshua Tree National Park
Day use fee: $15 weekly for individuals; $30 weekly for noncommercial carloads
Hotel room prices: $72-$124 per night on weekends
If riding in the comfort of your car is your preferred method for viewing the super bloom, you might want to plan a visit to Joshua Tree National Park in Southern California. A one-time entrance fee gets you in for the day, plus the following six days if you'd like to come back.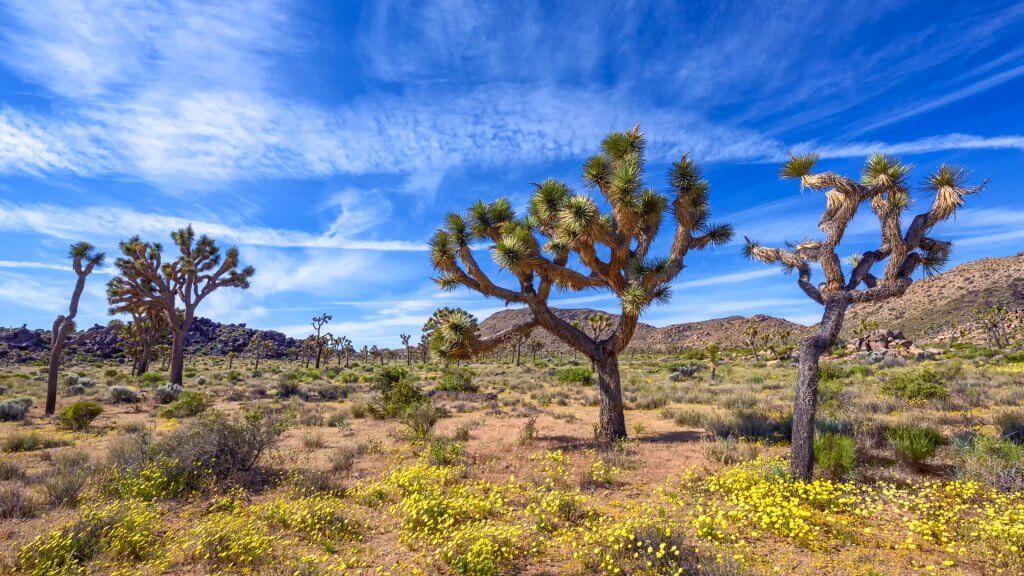 The park's wildflower blog isn't currently updated, but in the past, visitors could see desert willow, hedgehog cactus, desert mariposa and Indian paintbrush in bloom during the spring season.
4. Diamond Valley Lake
Day use fee: $10 per car for parking; $3 per person for trail access
Hotel room prices: $70-$147 per night on weekends
Diamond Valley Lake, located near Hemet, California, offers wildflower viewing via a trail Wednesday through Sunday during wildflower season. Visitors can access the trail from the DVL Marina. Indian paintbrush, Tidy Tips, Red Maids, California poppies and forget-me-nots are just some of the wildflowers you can expect to see during your visit.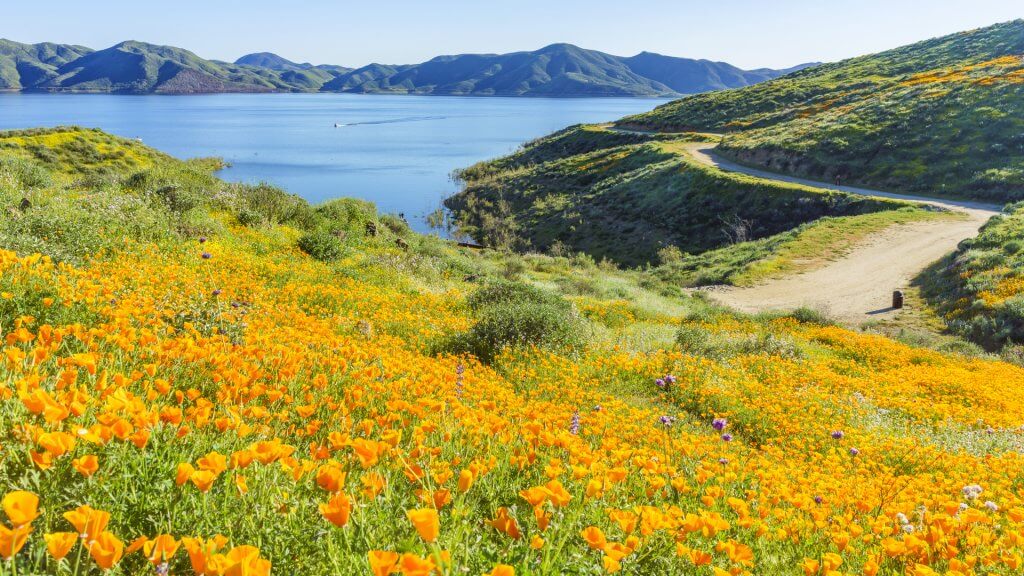 Worth a Visit: The Most Beautiful Natual Hot Springs in America and Your Cost to Visit
Other Super Blooms Outside of California
For those who aren't able to make it out to California in time, there are sublime super bloom viewing opportunities in the Lone Star State — aka Texas. Prime spots include the Texas Hill Country, Big Bend National Park and South Texas, according to Wide Open Country.
Click through to read more about the cheap alternatives to the world's most overcrowded tourist destinations.
More on Travel
We make money easy. Get weekly email updates, including expert advice to help you Live Richer™.