How ChatGPT Can Help You Save Money on Travel Expenses, From Insurance to Car Rentals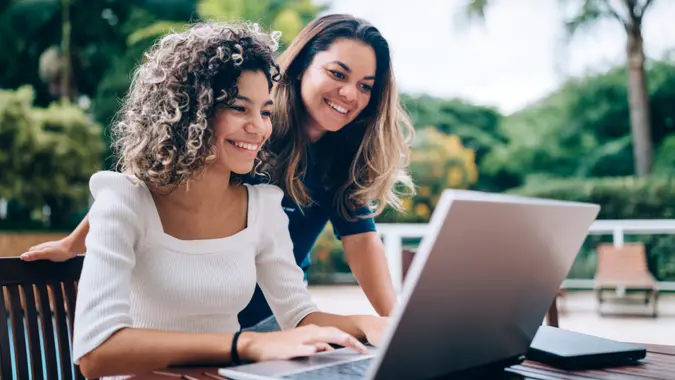 cokada / Getty Images
If you're looking to save money on travel expenses, Chat GPT can help — but not in the way you might think.
"Chat GPT is like teaching someone to fish instead of giving them a fish — it empowers you to find better deals by suggesting the necessary tools," explained Marina Guastavino, CEO of Directo Chrome Extension, a travel hack tool for finding direct bookings. "It is a time saver, since it will pull out information from all over the internet and give it to you in a clear, condensed form, but it doesn't do all the work for you."
Here are some ways ChatGPT can help you save money on travel expenses, from insurance to car rentals. 
Ask It To Recommend Tools To Help You Find a Better Deal
Guastavino said that you can leverage Chat GPT by asking it to recommend the tools that will help you find better deals. She said that questions like the following examples should help you jumpstart your research:
What tips and tricks should I consider before booking my next hotel?
Which websites are renowned for offering affordable rental cars?
What are some recommended apps for finding better travel deals?
How can I negotiate a better deal with my travel insurance?
Which tool can I use to track flight prices?
Make Your Money Work for You
Ask It To Recommend Lesser-Known or Cheaper Destinations
"Chat GPT can assist you in determining the ideal time to travel and the best destinations for securing great travel deals," Guastavino continued. "For instance, you can ask questions, such as these, in order discover lesser-known places that are not overrun by tourists (and tourist prices to match):
When does the shoulder or off-season occur in specific locations?
What are some hidden gems to explore in particular countries or states?"
Ask It To Help You Negotiate a Lower AirBnb Price
Travel and AI Expert, Justin Albertynas, CEO of Ratepunk, said, "One way we plan to use ChatGPT for our booking comparison service is by letting it negotiate prices for an AirBnb with the host. You will only need to input what price you want, and a ChatGPT plugin will generate an entire message to the host and start negotiating on your behalf. No one has done this yet."
In the meantime, you could ask ChatGPT to generate a message to the host of the Airbnb you are interested in, and input something like the following: "Write a letter to an AirBnb host named Mr. Smith. I want to negotiate the daily price from $275 to $250."
Once you receive the output, you can edit it and personalize it further before sending it to the host through the Airbnb platform. Or you could choose to add more detail to your initial request so that ChatGPT can use it to craft a more personalized letter.
Ask It About Travel Scams Specific To Your Destination
Albertynas also said you can ask ChatGPT about common travel scams relative to the country you're flying to as a way to avoid getting swindled by the locals.
Make Your Money Work for You
"This not only saves money but provides security," he said. 
Ask It for Suggestions of Top Options or Best Overall Value
Philip Ballard, the chief communications officer and head of investor relations at HotelPlanner, had these suggestions for saving on various travel expenses as a result of his own research with ChatGPT.
Travel Insurance
"ChatGPT will not generate real-time recommendations on travel insurance yet," Ballard said, "but if you ask for suggestions for top options, it suggested Allianz Global Assistance, World Nomads, and Travel Guard."
Rather than sift through tons of travel insurance providers, you could take that information and do some comparison shopping to find the best deal. 
Hotel Prices
"ChatGPT is not yet able to generate deals for future hotel stays," advised Ballard. "You're still better off using an online travel agency site, such as Expedia, Booking, or HotelPlanner. However, you can ask it questions like, 'What hotel in New York City offers the best overall value?' Answer was Marriot Marquis. You can ask that question for any city."
Ballard noted that his company is curious about how ChatGPT determines "value" and suspects it includes star level, location, price per available room, historical supply and demand and possibly historical customer reviews.
Rental Car Deals
Ballard said he asked, "What car rental service is the cheapest historically in 2021?" and ChatGPT responded with Budget Car Rental. "So that is still helpful even though it's not current deals," he said. 
"But when I asked, 'What car rental service is considered the best for deals?', it responded with 'Enterprise Rent-A-Car is considered the best car rental service for deals.'" Ballard said this response is clearly based on historical data. 
However, it might still be helpful. For example, you could take this information and compare rental car prices between Budget and Enterprise to find the best deal. 
Make Your Money Work for You
What Are the Limitations of Using ChatGPT To Help You Save Money on Travel Expenses?
Ballard pointed out that the biggest limitation is that you cannot use ChatGPT for real-time or future travel deals yet. 
"Once a future version is released that does have real-time data, we believe that more travelers will start using the tool to find deals," he said. "We're not quite there yet as an industry, but we could be by the end of the year. That's how fast companies are trying to be first to market with the latest Generative AI tool or feature. 
"The second limitation is that there is no guarantee that the information you ask it is 100% accurate or unbiased, but it's a good starting point for further research or to generate some ideas and recommendations or summaries of complex topics. 
"The third limitation is a function of the prompts and inputs themselves. You still have to feed it good inputs to generate a useful response. A year from now, Generative AI tools will be more widely-used by travelers and hopefully real-time accessible. That will be another AI game changer for our industry. Stay tuned and try to keep up!"
More From GOBankingRates
Make Your Money Work for You