7 Cheapest Countries for Taking a 'Workcation'

9 min Read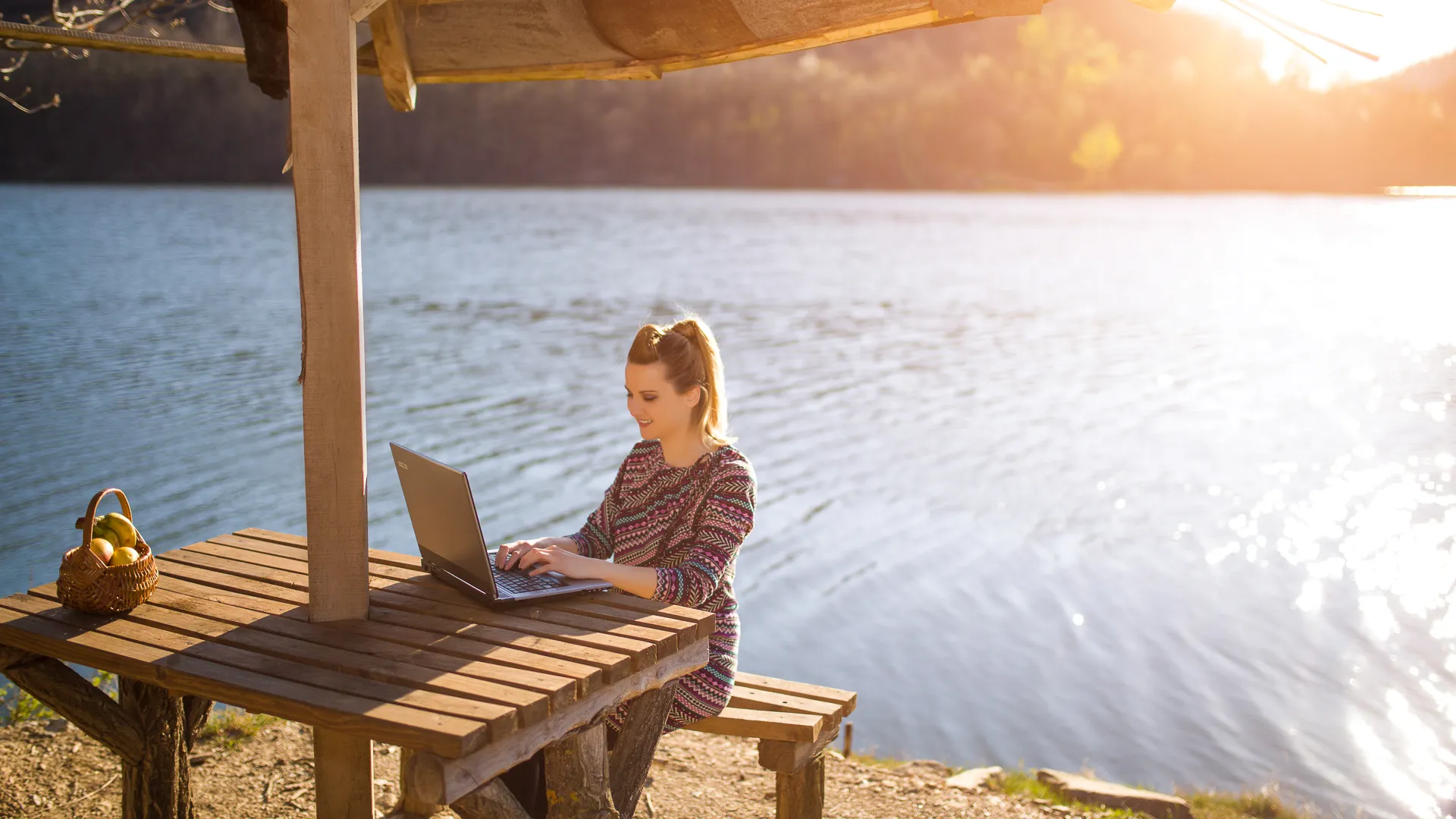 Working remotely can afford you the opportunity to pack up your laptop, travel to a new country and enjoy a fascinating culture while still getting your daily work done. In other words, it's like a work vacation — known colloquially as a "workcation."
See: 22 Side Gigs That Can Make You Richer Than a Full-Time Job
Find Out: Stimulus Updates To Know for Spring 2022
Although the term "workcation" existed long before the pandemic turned the world upside down, it was the pandemic that served as the catalyst for the working vacation to become a widespread trend due to so many workers finding themselves indefinitely working from home.
According to Holidu's Workation Index for 2021, the top places to workation include countries like Argentina, Portugal and Turkey, based on factors including the reliability of Wi-Fi, affordability of accommodations, cost of food and the quality of local attractions.
If you're wondering what it would be like to combine business and pleasure at an exotic international location, here's insight from people who have done it.
Make Your Money Work for You
Argentina
Sean Lau, founder of LivingOutLau, chose Argentina as his workcation spot due to factors such as its attractions and the food. 
"Before I visited Argentina, I had planned for an average budget of $50 a day, $25 dollars per night on accommodation, $20 on food, and $5 for miscellaneous things," Lau said. "This was from doing some research online, looking at Airbnbs, restaurants and things to do in the country."
Lau added, "But after spending six weeks there, my average daily spending was only a surprising $30. When I arrived in Argentina, I found out that the country was in serious inflation. This means that Argentinians are looking for ways possible to swap their Argentinian pesos for any other foreign currency, such as USD."
He concluded, "This led to a local exchange rate (called the blue dollar rate) that was often twice as much as the official bank rate. It meant that my $50 dollars per day budget was worth about $100 USD. In the end, I spent a lot less than what I was anticipating!"
POLL: Have You Skipped Any of These Essential Expenses Due to Rising Prices?
Hungary
Phil Scully, team leader at Haro Helpers, said as a remote worker he can workcation as he pleases. One of his favorite destinations is Hungary, specifically Budapest, in part due to its affordability, especially when it comes to food. 
"They have some wonderful food on offer, being able to easily dine out at local cafes while working makes the workcation extra interesting, because it means that I don't just have to stay at my Airbnb when working hours are needed," Scully said.
He added, "On top of the exciting and affordable cuisine that offers something a bit special to my visits, Budapest also has one of the most wonderful Bath Spas I have ever visited, located just in [its] central park. Meaning that when its time to unwind, I can visit the therapeutic spa and enjoy the 40+ variations of pools and steam rooms they have on offer."
Emma Gordon, the founder at USSalvageYards, also took a workcation to Budapes, and calculated that she spent 45% less than what she would have spent in America.
Make Your Money Work for You
Portugal
Antonina Pattiz, founder of Embrace Someplace, had visited Lisbon, Portugal, pre-pandemic and was completely impressed with the kindness of the locals, the charming, colorful town and the affordability. And once she left her office job to pursue her website full time, she said booking a workcation to Lisbon to escape the brutal New York City winter was a no-brainer. 
"Taking a month-long workation in Lisbon was more affordable than staying back home in NYC. My accommodations in Lisbon were 40% less than the rent I pay and the food (in restaurants and groceries) came out to be 50% less than what I paid at home. All told, I think I saved 40-50% by taking a workcation in an affordable city abroad and already made plans to return to Lisbon next winter as well."
She added, "It's easy to get around using English, the language barrier is completely removed. The Portuguese people are some of the kindest people. Lisbon is one of the most affordable European capital cities."
Romania
"I chose [Romania] because it promised the perfect blend of affordable experiences," said Diana Vicheva, a traveler specialist and editorial manager at Expo Travel Group, a B2B travel agency.  "And it delivered. Most Romanian cities (as well as the small towns frequented by tourists) offer a range of affordable accommodation options for visitors on a budget — hotels, B&Bs, guest houses and modern hostels. Locals are usually fluent in English and are very hospitable. Free Wi-Fi is viewed as a necessity, not as amenity, which means you can work from your hotel or some charming café."
Vicheva went on, "Romanian food is affordable, rich, and usually comes in large portions. If you're looking for a cheaper alternative, you can try the local street food — for example, a chimney cake for breakfast and mici (grilled minced meat rolls) for lunch. You can also explore farmers' markets and prepare your own meals — fresh produce in Romania is unexpensive and mostly organic."
"When it comes to attractions, Romania doesn't disappoint either. Nature, historical sites, architecture, arts …You'll find something interesting almost anywhere you go. Museums are cheap, plus they offer free admission on specific dates or between certain hours (you only need to check their schedules ahead of time). In addition, there are other free activities like walking tours, classes and workshops."
Make Your Money Work for You
Spain
"Spain is a great destination to take a short workation to," said Karen Rosenblum, founder of Spain Less Traveled. "It is affordable, friendly, and geographically diverse with so much to offer.
"In the coming months, we are hoping for long-awaited news about an official digital nomad visa to make working from Spain even easier. But for now, many are using it for short (less than three months) workations."
Rosenblum added, "For those with US hours, Spain's time zone and way of life can actually work out quite well. Most US-based workers will have the mornings off to explore, which is also when you have the best weather during the day (at least during the summer) and the fewest crowds. Then, when Spain starts to slow down for siesta time, it is time to start working, which is actually perfect as that is when it is the hottest and the least going on."
"In terms of affordability, Spain is still one of the best bargains in Western Europe! Outside of the major cities (Madrid and Barcelona) it is easy to find accommodations for a fraction of US prices. And since Spain has so many amazing and vibrant cities, the smaller cities such as Málaga and Valencia have so much to offer. From culture to culinary scenes, each region in Spain is so different. Food and daily goods are also much less costly in Spain than they are in the US or other parts of Europe. Many have reported actually saving money by basing themselves in Spain for a workation!"
Thailand
"Thailand is a dream destination for every single digital nomad out there and there is a good reason why," said Andreas Grant, founder of Networks Hardware. "I stayed there for a month and almost everything I needed was readily available. You can rent a flat in Bangkok near the metro for about $450-500. This rate includes access to a swimming pool, gym, and a great internet connection. My work requires having a strong internet connection and that was not really a problem in most of the popular cities like Chiang Mai and Krabi. You can also get a local sim card to use 4G internet. They have 7-Elevens everywhere so it is possible to get by without cooking easily. At night you will notice roadside restaurants offering street food which is definitely something you should try. You can go as low as spending $3-$4 per meal if you stick to these roadside restaurants. When you combine all the expenses, it is difficult to spend more than $1,000 in a month even if you try to."
Grant added, "The key reason I chose Thailand over other countries is because how easy it is to navigate. They have all the modern facilities you need to make a workation actually work. I didn't want to face any obstacles while working so having access to a great internet connection was my primary requirement. Even if you plan to explore other nearby countries in Asia, this can be a great base for you."
Make Your Money Work for You
Turkey
"My company has offices in California, Turkey, India, and Morocco, so it was easy to decide where to take a workation," said Ben Hyman, co-founder and CEO of Revival Rugs. "I settled on Turkey because I have friends there that I wanted to see. This Middle-Eastern country has a wonderful climate, delicious food, and hospitable people. It's also very affordable to fly to Istanbul if you avoid the high season which is May-September."
Hyman continued, "The shoulder season is my preferred time to go, and April in particular is beautiful due to their tulips being in bloom. It's not hot and there aren't as many tourists. You can also find better deals on accommodations, in addition to flights. When you're in Turkey, public transportation is the easiest and most affordable way to get around. You shouldn't expect to spend more than 25 euros on food per day, unless you want to splurge, and they have plenty of coworking spaces available if need be. I highly recommend Turkey for a workation."
More From GOBankingRates
About the Author