The Cheapest Destinations To Visit This Fall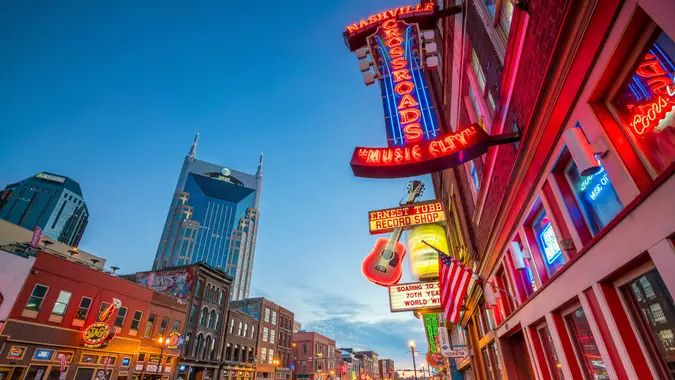 f11photo / Shutterstock.com
The pandemic isn't over, but Americans have been eager to resume travel plans and make the most out of the summer. The zeal for travel is already carrying over into autumn. According to a recent survey by IPX 1031, 85% of people are optimistic about traveling in 2021, with 23% of Americans planning to travel this fall. 
Read: 13 Insider Secrets From Travel Agents That Will Save You Money
See: 40 Pandemic Airport Secrets Only Insiders Know

In a July report, Expedia looked at customer data based on lodging demand for travel from September through November 2021 and found the top destinations where consumers can still get a good deal on hotel fare. 
"This year, it's looking like shoulder season isn't going to come with guaranteed lower prices or fewer crowds across the board, so travelers will have to look beyond the usual places and have a few tricks in their back pocket to find a great deal for fall," said Anna Brown, PR manager, Expedia U.S. "For customers eager to travel, we wanted to provide a list of destinations where the ADRs (lowest average daily rates) are still historically lower, ranging from 5% to 30% cheaper than average for the same timeframe in 2019."
Make Your Money Work for You
Helpful: Who To Tip When You're Traveling
Expedia drummed up 15 destinations where consumers can get the biggest bang for their buck, finding the following destinations as offering great prices for lodging.
September
New York: A trip to New York City costs $257 ADR (average daily rate). This is the perfect time to visit the Big Apple. The leaves are changing, there's a vigorous energy of change in the city and it's not too cold to spend hours walking around.  
Nashville, Tennessee: The ADR for Nashville in September is $264. This destination calls out to country music buffs and has gentle weather during the fall.  
Learn More: How To Save Money on Rental Cars for Your Upcoming Trip

Seattle: For $198 ADR, travelers can enjoy clement 70-degree weather in the famously rainy tech hub. This is a great destination for the outdoorsy types looking to camp, hike and kayak. It's also a must-visit for coffee lovers.  
Boulder, Colorado: Vast mountain scenery can be had for an ADR of $193. Touting more than 40,000 acres of open space, Boulder is the ultimate getaway for travelers eager to hike or ski down the slopes. 
Make Your Money Work for You
Toronto: Sporting an ADR of $189, Toronto in Ontario, Canada, is a promising location for travelers looking to hit up museums, concerts and sports and music venues. There's also plenty of craft beer to go around.
Find Out: How To Plan Future Travel Without Risking Your Deposits
October
Washington, D.C.: The nation's capital is always booming, but you can visit it for a pretty reasonable price of $215 ADR. Not only can you check out historical monuments and, you know, the White House, but you can also find tons of cute boutique hotels, sophisticated art galleries and top-notch restaurants. 
San Francisco: With a $216 ADR, the heart of the Bay Area is a cultural hotspot with its legendary art scene and picturesque landmarks. You can get around easily by foot and by bicycle, or hop on the trolley for a more relaxed sightseeing experience. 
Salt Lake City:  Salt Lake City is a bustling destination during the winter, but with a $156 ADR in October, outdoorsy types can fall in love with this increasingly hip city surrounded by towering red rocks and epic ski slopes.  
Make Your Money Work for You
Louisville, Kentucky: Tour the wonderland that is Louisville for $164 a day, on average. You can get your fill of Kentucky Derby history and venture along the swampy terrain of the Ohio River.  
Yellowstone National Park: One of America's most precious natural wonders, visitors can check out Yellowstone National Park for an ADR of $182. Travelers will likely find there's not enough time to take in the more than 3,4oo square miles of enchanting wilderness.  
November
Austin, Texas: At $236 ADR, November is an ideal time to saunter into Austin, Texas, where you can expect temperatures in the 70s and 80s. Enjoy live music, local food, outdoorsy fun and sumptuous sunsets over Lady Bird Lake. 
Boise, Idaho: The up-and-coming city of Boise is a steal at just $143 ADR. Check out the hot young culinary scene, adorable shops and recreational family fun at destinations such as the Saturday Indoor Winter Market and the World Center for Birds of Prey.
Boston: Centuries-old landmark buildings grace this happening metropolitan — which is located in one of the most popular leaf-peeping regions in the U.S. With an ADR of $213, travelers can enjoy a baseball game at famed Fenway Park and pop into the "Cheers" bar of sitcom fame.
Lisbon, Portugal: Lisbon is a cultural epicenter, brimming with local soul and medieval monuments. Sporting an ADR of $124, you can spend what you would have blown on hotel fare on the incredibly fresh seafood.  
Save Your Money: Things You Can Get For Free in Every State
Dubrovnik, Croatia: Another international city on Expedia's list is Dubrovnik, Croatia, with an ADR of just $113 in November. There's really no need to sell you on this city with its jaw-dropping ocean views and rocky beaches. Also, any "Game Of Thrones" fan will rejoice as much of the show was filmed here.  
Because the pandemic is ongoing, Brown recommends that travelers visit the Expedia COVID-19 travel resource page for information ahead of making travel decisions.
More From GOBankingRates
Last updated: Aug. 11, 2021
Make Your Money Work for You