13 Easy Ways To Save for Your Next Big Vacation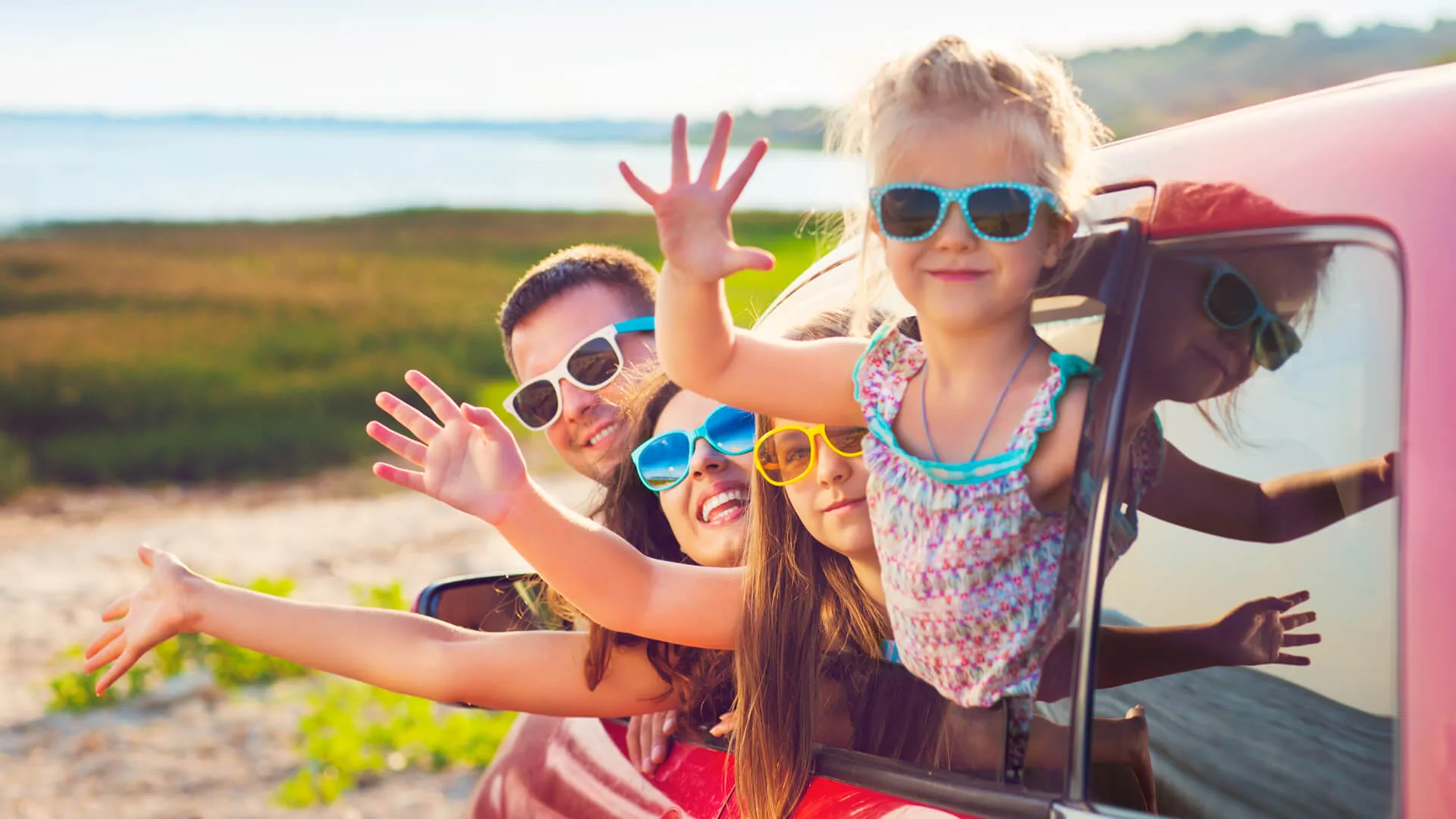 Over 88 million families had plans to take a vacation together in 2018, according to AAA travel research results. And those vacations aren't cheap. A vacation for a family of four can easily cost thousands, but that doesn't mean you have to drain your life savings to go on a family trip. With the right planning and tools, you can score huge savings on your next big trip.
1. Book Flights For Off-Peak Times
Avoid booking flights during holidays or other popular times to travel, such as spring break. Instead, opt to plan your trip right after these times when you can snag off-peak pricing. The day of the week you book your flight for also matters. You can save more money, in general, if you book a flight for earlier in the week as far in advance as possible. Opting for early morning or red-eye flights can slash ticket prices even further. And, you can save an average of $76 if you book your ticket on Wednesday instead of Sunday, according to the 2018 airfare study by CheapAir.com.
2. Use a Private Browser
Like any website, travel sites monitor your searches via cookies, which can result in the website displaying higher prices the more you search. To get the best price when trying to find and book a flight, use a private browser, use incognito mode or clear your browser history each time you search for flight information. That way, travel sites won't be able to know what you're looking for and hike the prices in response.
Apply for a New Credit Card
3. Book an Air and Hotel Package
Air and hotel packages are special deals that often have cheaper rates than if you were to purchase each component separately. If you want to make sure you're getting the best deal, research the individual prices you pay for the same hotel and air reservations and compare. Also, you can get tremendous deals if you book a last-minute hotel and air package, sometimes for less than the cost of the last-minute airfare by itself.
4. Contact the Concierge
Touch base with the concierge upon arriving at your hotel and ask about any room deals, upgrades or freebies that are available to you. A hotel concierge also can provide information about deals outside the hotel, such as local discounts on restaurants, entertainment or kid-friendly activities, which can help you score significant savings on opportunities you otherwise might not know about.
5. Get a Travel Rewards Credit Card
Before you next big trip, apply for a credit card with rewards that will benefit you the most both when you travel, but also in your everyday life. Look for a credit card that offers rewards on the things you spend on most — eating out and ordering in, gas stations, rideshares, flights, hotels, homestays and car rentals. Use the card for all the shopping you'd normally do in the months leading up to your vacation to rack up all the rewards you can. Then, redeem the rewards towards the cost of your trip.
6. Hit the Grocery Store
Eating out for every meal can add up quickly. But you can save a significant amount per day if you're willing to make the majority of your meals. Booking a hotel with at least a microwave and a mini-fridge can help you cut down on food costs. Stock up on cereal, sandwich fixings and microwaveable fare from the local grocery store to utilize for at least a couple of meals per day. When you're planning on being out and about, keep snacks and water on hand to avoid having to purchase pricey concession items at the venues you visit. And be sure to take advantage of any and all complimentary food and beverages your hotel offers.
Apply for a New Credit Card
7. Stick to Carry-On Bags
Unless you're planning to fly on an airline that offers customers free checked bags, checked baggage fees can really add up. Just recently, many major airlines increased baggage fees, like United Airlines, which upped fees for the first checked bag from $25 to $30. For a family of four, checked bags could cost an extra $120 each way.
Instead, when packing, find ways to fit all of your essentials into carry-on bags, such as rolling up clothing items to save space and leaving items that you don't really need behind. Taking a carry-on bag will also save you time, since you won't have to wait at baggage claim, allowing you to enjoy every minute of your trip.
8. Use Last-Minute Hotel Booking Websites or Apps
If you don't mind taking a risk, you could score a luxury hotel room at a great price by using HotelTonight up to a day or two before your expected stay. Luxury hotels that have received recent reservation cancellations will be willing to offer travelers attractive discounts just so they won't have to suffer the financial loss of unrented rooms.
HotelTonight also offers a Daily Drop deal that allows users to save at least 30 percent off the already discounted price on select hotels. Also, check websites like Expedia for same-day reservation discounts.
9. Check Deal Websites for Cheap Activities
Deal websites like Groupon and Living Social can offer both good activity ideas for when you're planning your vacation, plus deep discounts on a variety of activities and services for you to book ahead of time or after you've already arrived. No matter if you want to go ziplining, spend the day relaxing at a spa or take the kids to a local amusement park, check deal websites to save money.
Apply for a New Credit Card
10. Compare Car Rental Rates
Car rental rates at the airport might be much higher than the rates you can score at a nearby local branch. You'll have to take a cab or rideshare to the branch, but the amount you'll save on the rental might more than make up for it. Shop around to make sure you're getting the best car rental rate possible.
Before you book a rental car, look into the perks your rewards credit card offers you — some credit cards offer extra points for rideshares and rental cars. Additionally, your credit card might already come with cover car rental insurance if you book the rental using your credit card, so you can decline the pricey insurance offered by the car rental business. Consider how frequently you'll be driving as well as your credit card's rewards structure to determine which ground transportation makes the most sense for your trip and your wallet.
11. Use Travelmath
It could be that driving to your destination would be cheaper than the cost of airplane tickets. Find out for sure by using Travelmath, an online trip calculator that allows you to compare the price of flying against driving. With the trip calculator, you just plug in where you're leaving from and where you want to go. The calculator will determine which form of travel will allow you to save the most money.
12. Book an All-Inclusive Hotel
By booking an all-inclusive hotel, you can enjoy amenities like free food and drinks, complimentary airport transfers and free children's activities all to your heart's desire, which could save you a ton of cash. But the free perks might not be exactly what you're looking for, so investigate them before you book.
For example, complimentary airport transfers could take hours if you're sharing a ride with other people traveling to resorts. The free food might not be aligned with what you prefer to eat, especially if you're on a restricted diet, and the drink choices could be limited. Plus, the children's activities might not be as extensive or entertaining as you might hope. Read up on reviews before you book to ensure the perks offered by the resort are aligned with what you want.
Apply for a New Credit Card
13. Book Your Flight at the Right Time
Booking flights too late — or too early — could end up costing you a premium. To get the best deal, look for the sweet spot in between. According to CheapAir.com's 2018 airfare study, which looked at 917 million airfares in more than 8,000 markets, the prime buying time to save the most money on airfare is within a window of 21 to 121 days before you plan to depart.
For a more specific timeline, the study pinpointed the exact number of days you should book in advance when booking in winter, spring, summer and fall, so plan accordingly for the best rates:
Winter: 62 days
Spring: 90 days
Summer: 47 days
Fall: 69 days
More on Money
We make money easy. Get weekly email updates, including expert advice to help you Live Richer™.

BEFORE YOU GO
See Today's Best
Banking Offers