These Expensive Vacation Destinations Are Affordable Retirement Options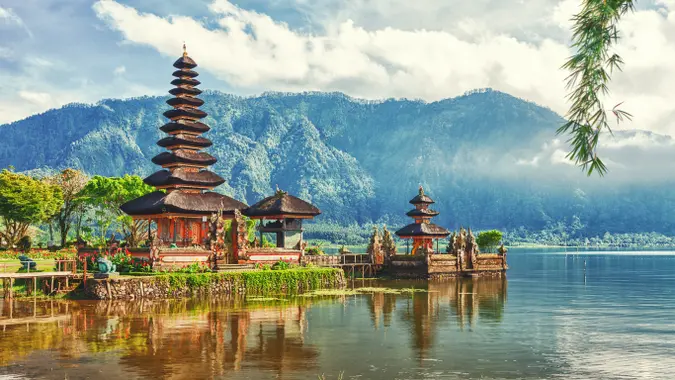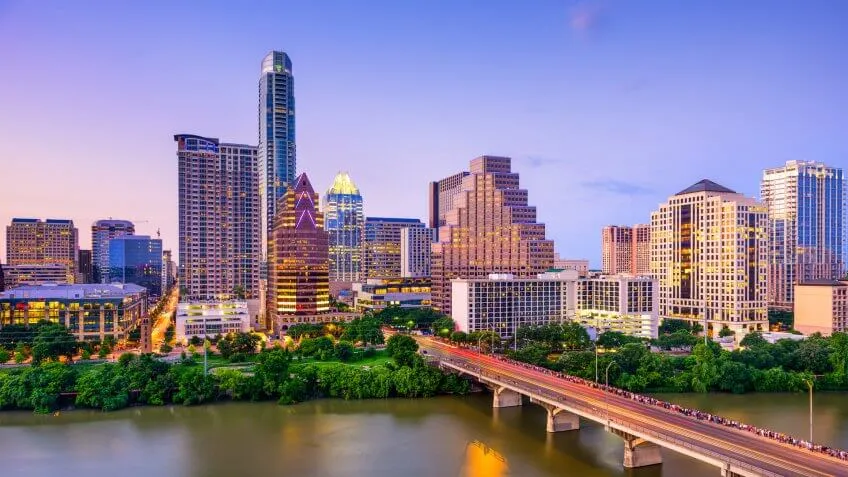 Sean Pavone / Shutterstock.com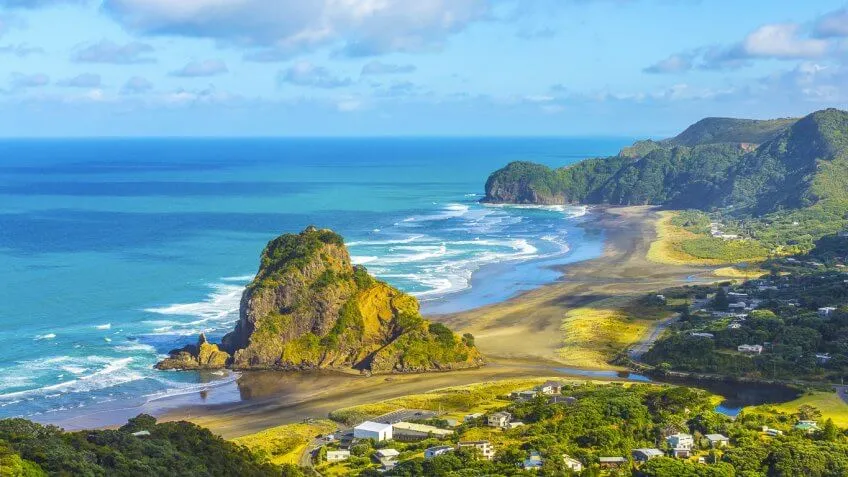 Sorang / Shutterstock.com
1. Auckland, New Zealand
New Zealand is one of the safest countries on the planet, and Auckland is one of friendliest and most livable cities anywhere. But it's no short hop from the United States, and the airfare isn't cheap. Still, many Americans head to New Zealand to enjoy the incredible natural beauty of Auckland's beaches, islands, parks and volcanic cones, as well as its diverse and exciting culture — not to mention Middle-earth from "The Lord of the Rings."
Auckland hotels seem inexpensive compared to those in urban beach cities in the U.S., but at an average cost of $20 a night, you'll pay $280 for a two-week stay. Add that to the airfare, and two people will pay almost $3,000 for that getaway — pricey on a retirement budget.
If you move to Auckland for retirement, you'll find rent in a one-bedroom apartment in the heart of the city averages about $1,150 per month. That's within reach for many retired couples, making Auckland a possible answer to the question of where to retire.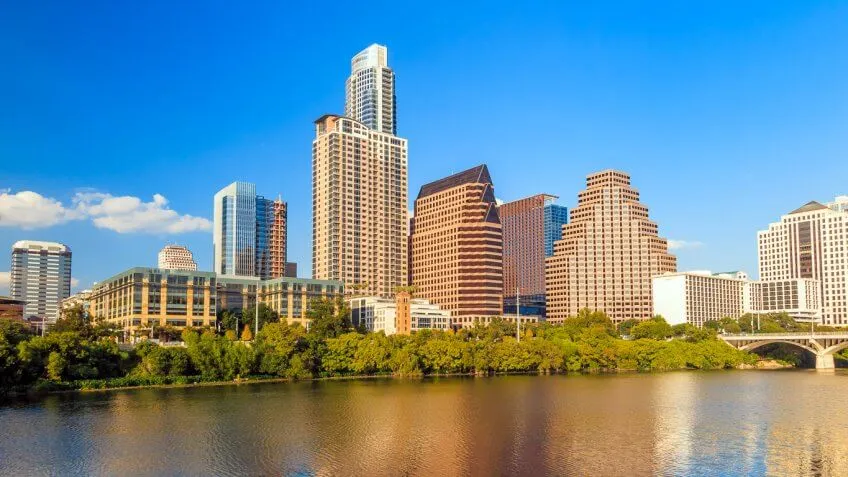 f11photo / Shutterstock.com
2. Austin, Texas
Austin, the capital of Texas, has built a reputation for its eclectic live-music scene, with more than 250 music venues, and for its arts community, including world-class museums like the Blanton Museum of Art. Outdoor enthusiasts also can enjoy cycling, golfing and hiking.
Air fares to Austin are affordable, with flights averaging $379. But Austin hotels will cost you about $86 a night. That means that a two-week stay will set you back more than $1,200 in hotel costs alone, plus all those meals out.
Retiring in Austin is feasible for some people, given that the average rent for a downtown apartment is $1,573. If you eat in, you'll still have money to enjoy the great music and museums.
More On: Retirement Costs for Austin, Texas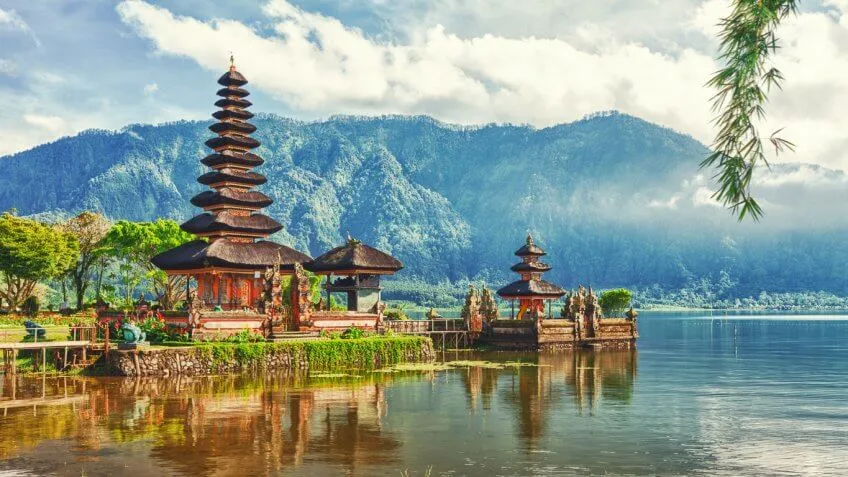 Khoroshunova Olga / Shutterstock.com
3. Bali, Indonesia
Dreaming of life on a tropical island? Consider beautiful Bali, a gorgeous island of Indonesia. With thickly forested mountains, fields of rice paddies, golden beaches and coral reefs, Bali offers sun, sand, culture and history.
Bali is already a cheap island getaway, where the hotels are ultra-affordable, averaging less than $7 a night. But travel costs add up fast when you consider the almost $1,000-per-person airfare. For two people, a 14-day stay tallies about $2,100.
Contrast that to the affordable delight of calling Bali your home, where renting a one-bedroom apartment averages just a bit more than $200 a month. That's feasible on any retirement budget. This could be one of the best places to retire.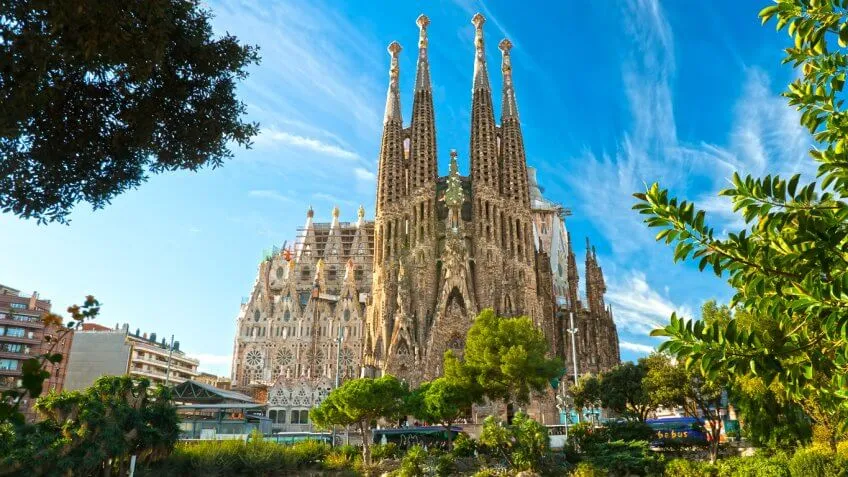 Luciano Mortula - LGM / Shutterstock.com
4. Barcelona, Spain
Big, bold Barcelona is the capital of Spain's Catalonia region. Tourists flood to the cosmopolitan city to see Antoni Gaudí's fabulous Temple of the Sagrada Família, stroll through great museums, dine on wonderful seafood and relax on the fabulous urban beaches.
Barcelona isn't a super-cheap place to visit. An average hotel costs $52 a night, or some $700 for a two-week stay. Add another $826 per person for the airfare, plus all that delicious restaurant food, and you've busted your entire annual travel budget in just 14 days.
But living in Barcelona costs less than you might think. You can rent a downtown apartment for only $868, then enjoy daily explorations of this fun and beautiful city. One of the best places to retire in the world? You be the judge.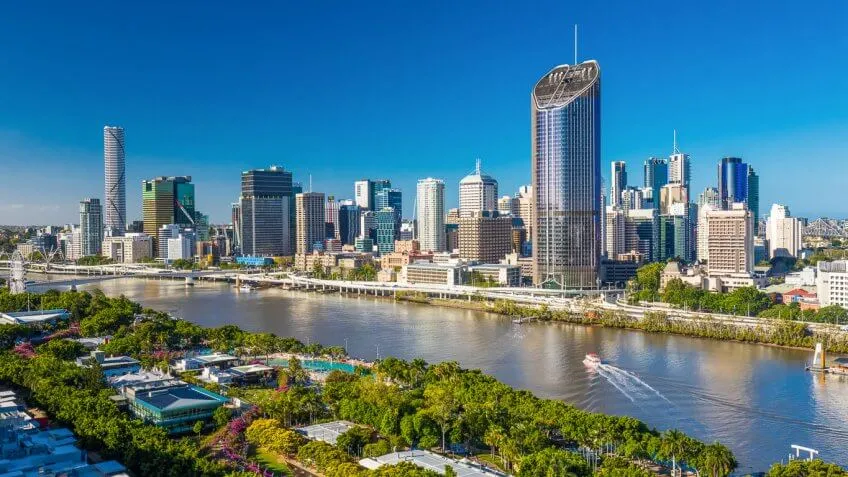 Martin Valigursky / Shutterstock.com
5. Brisbane, Australia
Brisbane is a good choice for a visit to the land down under. It's the capital of Queensland, right on the ocean. Visit idyllic islands and explore Brisbane's many museums, including the famous Queensland Art Gallery and Gallery of Modern Art.
Your biggest expense is the cost of getting there; a couple can expect to spend $3,500, plus about $800 in hotel fees for a two-week stay. Add in meals, and the vacation probably will exceed $5,000.
You'll do better retiring there. While Australia isn't one of the cheapest countries for retirement, you can rent an apartment in Brisbane for less than $1,300 a month — an amount that fits into many retirement budgets.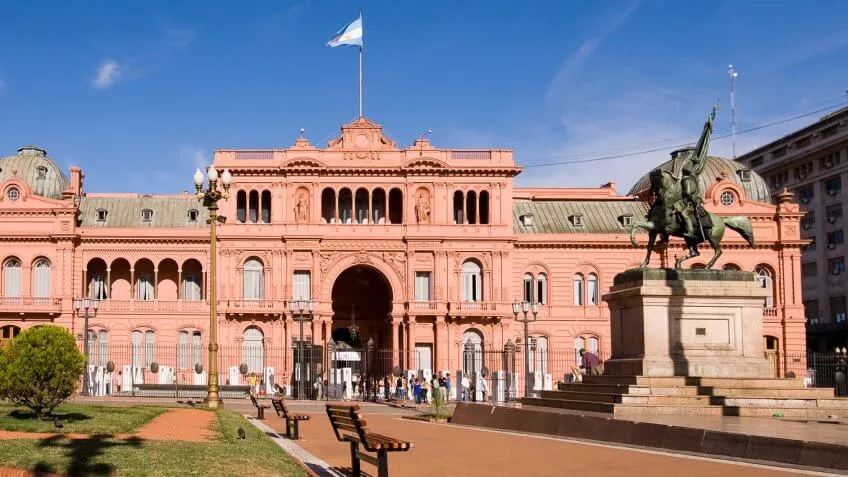 Eduardo Rivero / Shutterstock.com
6. Buenos Aires, Argentina
Buenos Aires is the sophisticated capital city of Argentina, offering beautiful and stately buildings, such as the presidential palace Casa Rosada. Its art scene is cosmopolitan; visit Teatro Colón, a nearly 110-year-old opera house, or the Latin American Art Museum of Buenos Aires, known locally as MALBA.
A visit to Buenos Aires starts with a whopping air travel expense that averages $1,453 per person. Hotels are inexpensive at just under $25 a night, but a two-week trip for two comes to more than $3,200 in airfare and hotels.
If you retire in Buenos Aires, however, it's another story. You'll stay well under budget with an average monthly rent of just $460. That price makes Buenos Aires one of the best — and most affordable — places to retire in the world.
More in Travel: 10 Best Destinations for Retired Couples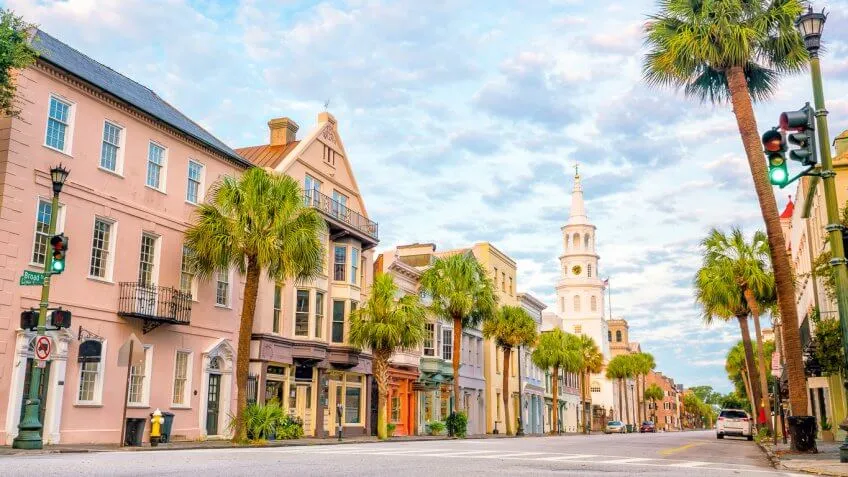 f11photo / Shutterstock.com
7. Charleston, S.C.
With its cobblestone streets, antebellum French Quarter homes and horse-drawn carriages, Charleston oozes charm. Parks and promenades overlook the busy Charleston Harbor. Travel + Leisure named Charleston the "Best City in North America" in 2015, calling it urbane but quaint, "balancing sophisticated tastes with small-town charm."
Since you don't have to cross an ocean to get to Charleston, air fare isn't astronomical, averaging $369 per person. But hotels cost about $118 per night, or some $1,652 for a fortnight, before food and activities. If you retire there, you can rent an apartment for less than $1,500 per month.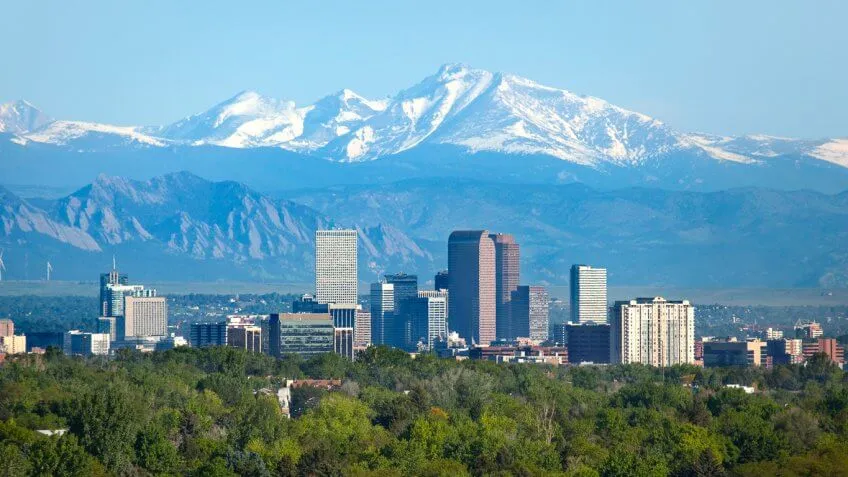 milehightraveler / Getty Images
8. Denver, Colo.
Colorado's capital city, Denver, mixes old west-era landmarks with modern gems such as the Denver Art Museum. It's a good city for bikers, beer lovers and those heading for ski resorts in the nearby Rocky Mountains, and it boasts 300 days of sunshine each year.
Flying to Denver will cost a couple a bit more than $600 per person, and add in an average of $1,260 on hotels for a two-week stay. Before visiting bars and museums or buying a ticket to see one of four major sports teams play, a 14-day vacation for a retired couple will approach $1,900.
If living in Denver appeals to you, retiring there could be an option for some couples. apartments rent for an average of $1,587 per month.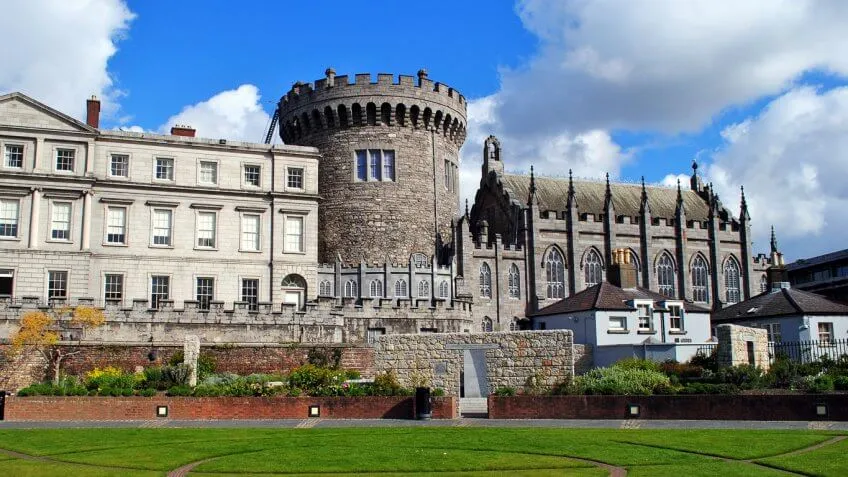 Matej Hudovernik / Shutterstock.com
9. Dublin, Ireland
Historic Dublin is on Ireland's east coast at the mouth of the River Liffey. Wedged between mountains and the sea, Dublin offers visitors many relaxing outdoor activities, as well as cultural monuments such as the 13th century Dublin Castle. Its myriad city parks include St. Stephen's Green and Phoenix Park, home to the Dublin Zoo.
Getting to Dublin is relatively cheap, for a European destination, with flights averaging about $568 a person. Hotels average $52 a night.
Dublin could make an interesting choice for a retirement city. Apartment rents are just under $1,500 a month, and English is one of the official languages.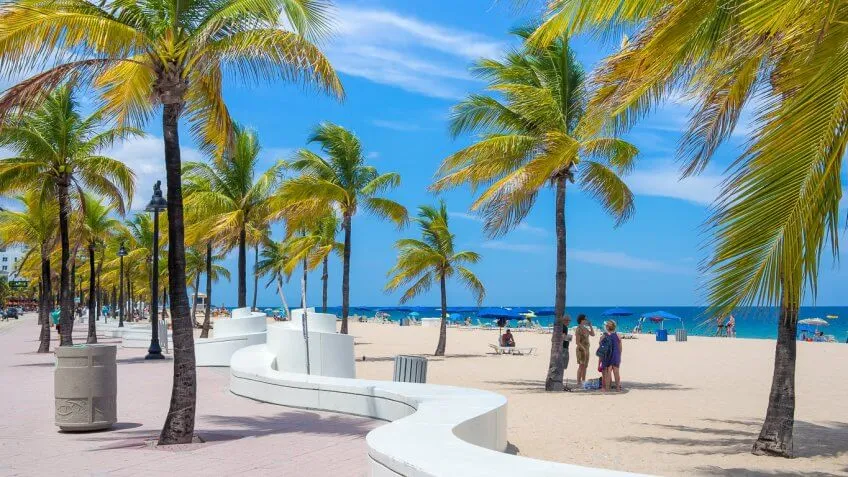 Kamira / Shutterstock.com
10. Fort Lauderdale, Fla.
Beaches and sunshine are two big draws of Fort Lauderdale, a vacation city on Florida's southeastern coast. Walk along the oceanfront Strip for a mind-boggling choice of hip outdoor restaurants, shops and luxury hotels.
You'll pay just under $300 per person for airfare to Fort Lauderdale, plus around $55 a night for a hotel. A couple would pay $600 to travel and another $775 for a place to sleep for two weeks. You'll spend even more on food and fun in this vacation paradise.
But if you are wondering where to retire, Fort Lauderdale might be the place. Apartment rentals average a little more than $1,475 per month.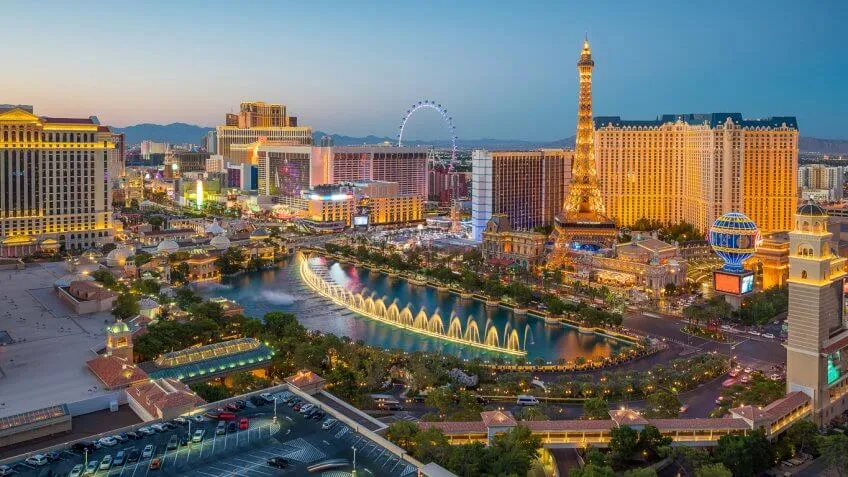 f11photo / Shutterstock.com
11. Las Vegas, Nev.
There's never a dull moment in Las Vegas, with round-the-clock nightlife, casinos, bars and restaurants. Las Vegas Boulevard, also known as The Strip, is jammed with elaborate themed hotels.
A two-week stay in Las Vegas won't break the bank unless you lose at the casinos. The airfare is about $225 each person, and travelers can stay in a less-glitzy hotel for about $20 a night. That means you and your spouse could spend two weeks there for about $700. Make sure to get vacation secrets from Vegas insiders.
Living in Las Vegas is an attractive option, given the low average rent. You'll pay just over $900 for a one-bedroom apartment.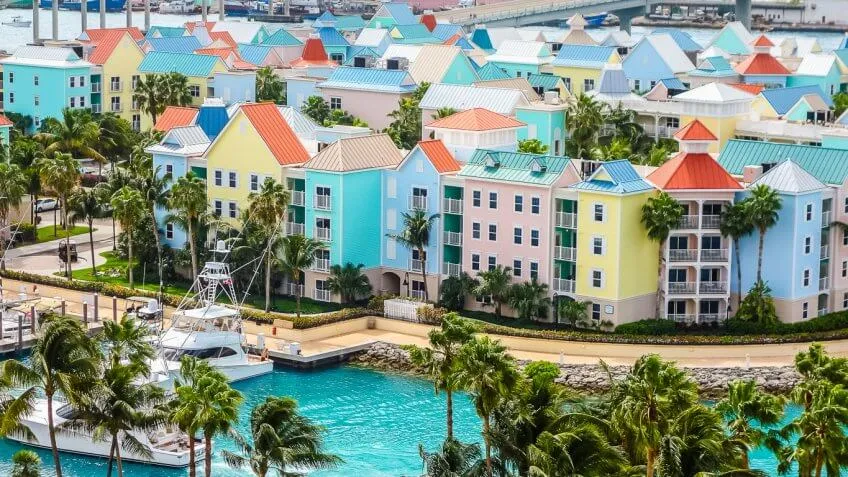 alarico / Shutterstock.com
12. Nassau, Bahamas
The blue Atlantic Ocean and warm beaches are synonymous with The Bahamas. Nassau is the capital, located on the island of New Providence. The city is a popular cruise-ship stop, with its beaches and offshore coral reefs.
Airfares for two to this island paradise will cost just under $1,000, but hotels are not cheap. Plan on paying almost $120 a night, or nearly $1,700 for a two-week visit.
Renting a retirement apartment represents a more affordable option to enjoy the sunshine and beaches of Nassau. Cost of a one-bedroom apartment? Less than $1,100 a month, which could fit into a retirement plan. The surroundings could make this one of the best places to retire in the world.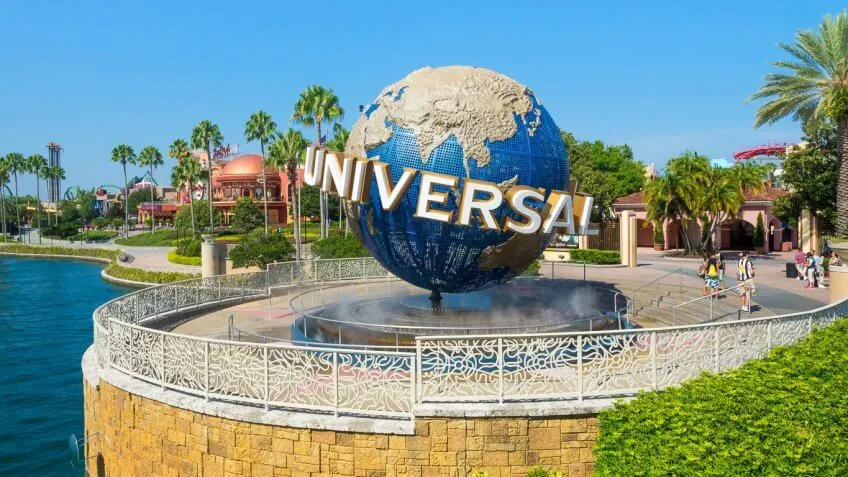 Kamira / Shutterstock.com
13. Orlando, Fla.
Orlando is a lively city in central Florida, known for its many theme parks. These include Walt Disney World and Universal Orlando. But Orlando also boasts great restaurants, shops, spas, the Orlando Shakespeare Theater and lots of inexpensive things to do.
Two people should expect to spend about $500 on air travel; add in about $700 for a hotel for 14 nights. Don't forget to plan for admission tickets to theme parks, restaurants and shopping.
Rents in Orlando are affordable, making it a potential retirement city. An average price for a one-bedroom apartment downtown is $1,220. If you have a bit more money and want a bigger place, opt for a three-bedroom place outside of the city center for an average of $1,473.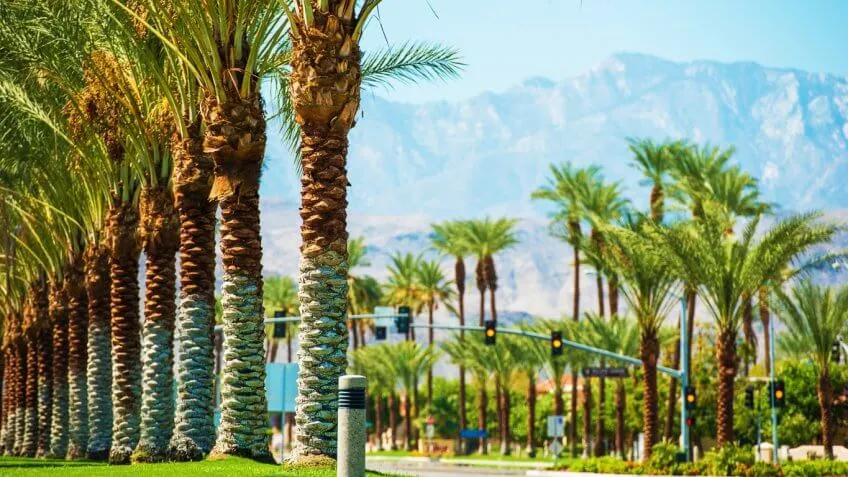 welcomia / Shutterstock.com
14. Palm Springs, Calif.
If you like hot weather and hot springs, head for Palm Springs in California's Coachella Valley. Located on the edge of the Mojave Desert, this is an upscale city with stylish hotels and many luxurious golf courses and spas. It's also a great spot to hike, bike or ride horses.
Palm Springs hotels average around $67 a night, so count on spending about $950 for a 14-day stay. You'll also probably pay around $325 each for air transportation, plus food and shopping expenses.
Actually living in Palm Springs does not cost as much as you might think. The city's average rents are well within the range of a retired couple, with a one-bedroom apartment downtown renting for an average of $978.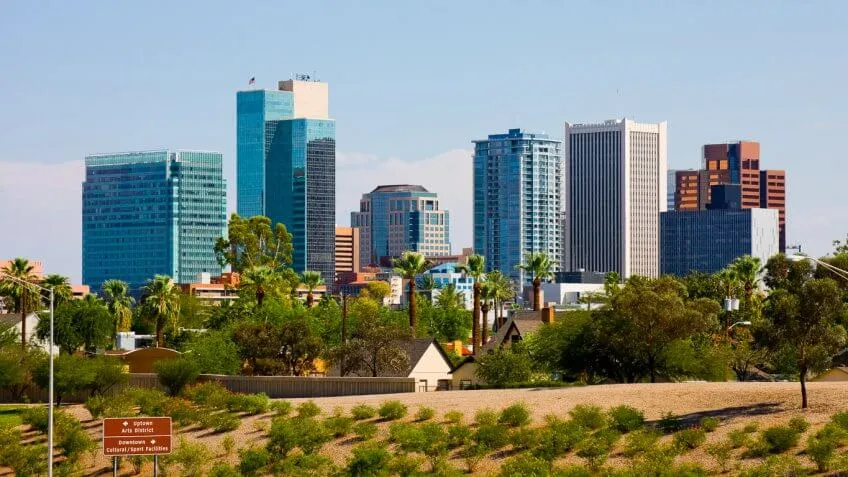 Andrew Zarivny / Shutterstock.com
15. Phoenix, Ariz.
Phoenix is famed for its great weather, with year-round sunshine and warm-to-hot temperatures. It is the capital of Arizona, a sophisticated city in the beautiful southwest. It's known for upscale spa resorts, designer golf courses and a lively nightlife.
The average cost for air tickets to Phoenix is $316. Once you're there, expect to pay almost $100 a night for a hotel.
Retirees flock to Phoenix for its affordability, amenities and atmosphere. You can find a place to rent in the heart of the city for an average of $967. Apartments outside the city center are less expensive.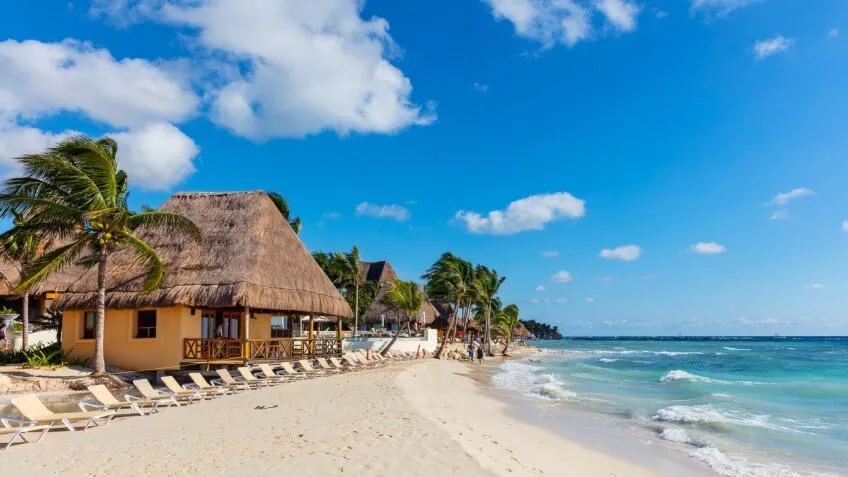 posztos / Shutterstock.com
16. Playa del Carmen, Mexico
Playa del Carmen on Mexico's Yucatán Peninsula is a sophisticated, European-style beach resort on the Caribbean coast. It's known for its blue water and palm-lined beaches. A stroll along Quinta Avenida takes you by shops, restaurants, laid-back bars and dance clubs.
Playa del Carmen's hotels won't break the bank, as you can expect to pay just over $20 a night in this resort city. The price of an air ticket from the U.S. averages $277.
Consider Playa del Carmen as a retirement city if you would thrive in this naturally gorgeous and cosmopolitan — but funky — environment. You'll pay only a little more than $400 a month for an average apartment.
David Gn Photography / Getty Images
17. Portland, Ore.
Many people know Portland because of the television show "Portlandia," but for years, it has been known as a green city — and a cool one. Sitting on the confluence of the Columbia and Willamette rivers, Portland has microbreweries, coffeehouses, bike paths galore and massive urban parks.
Getting to Portland will cost you an average of $321 airfare per person from continental U.S. cities. But once you are there, you'll have to pay a hefty $108 per night for a hotel. That comes to about $1,500 for two weeks in a hotel in this trendy Pacific Northwest city.
Many people choose to retire in Portland, where an apartment in the city center averages $1,573. This might be one of the best places to retire on the West Coast. Known as the Rose City, Portland is blooming.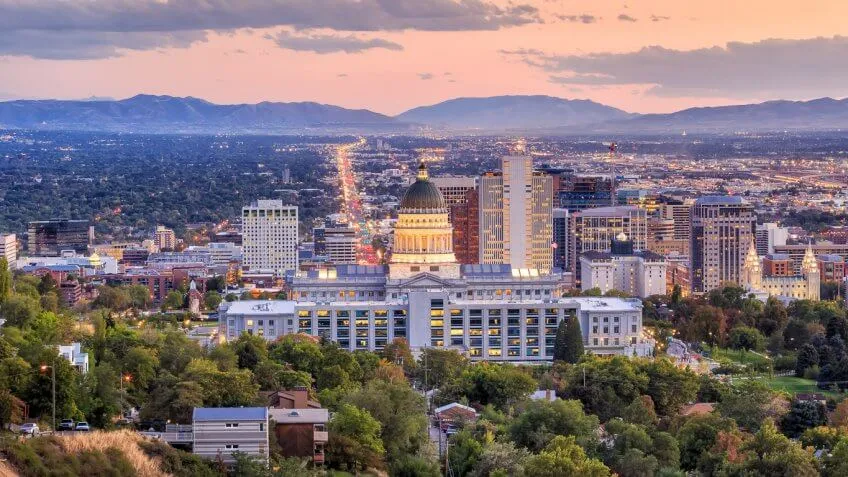 f11photo / Shutterstock.com
18. Salt Lake City, Utah
Salt Lake City, the capital of Utah, sits southeast of the Great Salt Lake in the shadow of the Wasatch Range. The headquarters of The Church of Jesus Christ of Latter-day Saints and the famed Mormon Tabernacle Choir are in Salt Lake City. Several ski areas dot the surrounding area, which hosted the 2002 Winter Olympics.
Getting an airplane ticket to Salt Lake City costs an average of $350 per person. While you are there, expect to pay around $77 a night for a hotel.
Living in Salt Lake City is cheaper than visiting, since you can rent a centrally located apartment for an average of $1,138.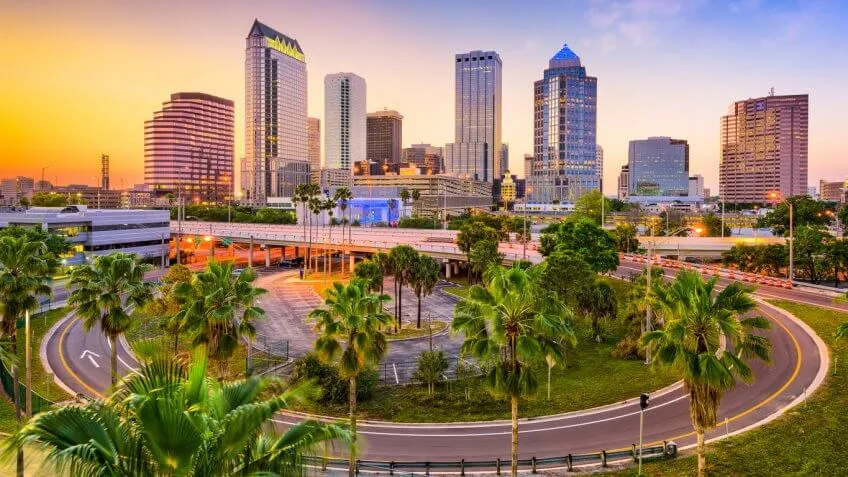 Sean Pavone / Shutterstock.com
19. Tampa, Fla.
Tampa, located on Florida's gorgeous Gulf Coast, is both a business center and a resort city, with excellent upscale eateries, cultural activities and sun and fun on the beaches of Tampa Bay.
It costs an average of $311 per person to fly into Tampa. Hotels in this lively town average $81 a night. That means a two-week stay will cost almost $1,150.
Living in Tampa is within the means of many retired people, so you might put it on your short list. A one-bedroom apartment in central Tampa averages $1,233 per month.
More in Travel: Your Guide to Florida Travel on a Budget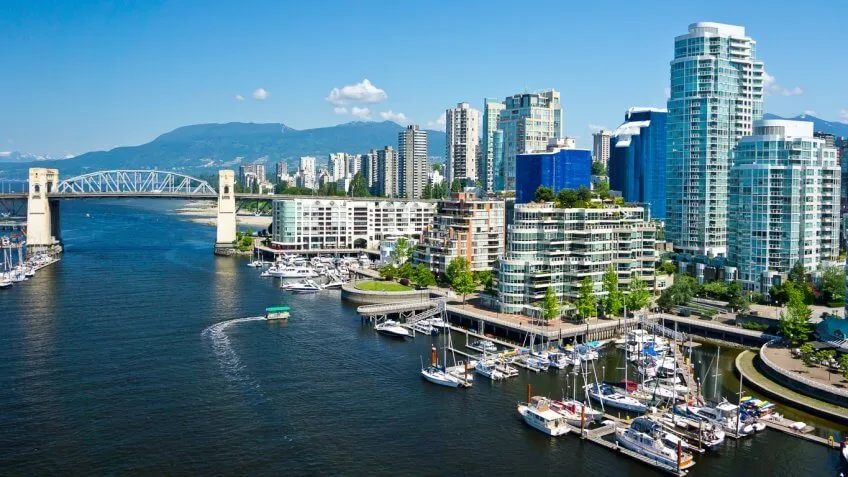 mffoto / Shutterstock.com
20. Vancouver, Canada
Vancouver, a seaport in British Columbia, is known for its ethnically diverse population and beautiful setting. Backed by the Coast Mountain range, Vancouver boasts several excellent museums. The city's Stanley Park is a recreational and relaxation oasis, providing nearly 1,000 acres of open space in the middle of the city.
You can fly into Vancouver from the U.S. for about $250 per person. Expect to pay around $80 per night for a hotel.
If you are still wondering where to retire, Vancouver is a possibility for people seeking a diverse, active lifestyle. The average rent for a one-bedroom apartment in the downtown area is $1,253.
Up Next: 10 Best and Worst Things to Do When Looking for a Place to Retire
Methodology: To identify hotel prices, we found the three cheapest hotels with a three-star rating or higher on Google Hotel that were 5 miles or less from the city center and averaged those prices. Prices checked on May 10, 2017. To identify domestic travel costs we used Q4 2016 average roundtrip airfare prices from the Bureau of Transportation Statistics; for international travel costs we searched Google Flights for the lowest roundtrip flight to each destination from the two busiest airports in the U.S. (LAX and ATL) for dates between Sept. 9 and Sept. 16, 2017 and averaged those prices. Prices checked on May 10, 2017. Monthly rent prices for a 1-bedroom apartment in the city center are from Numbeo. Prices checked on May 10, 2017.