How Gas Shortages and Prices Will Affect Summer Trips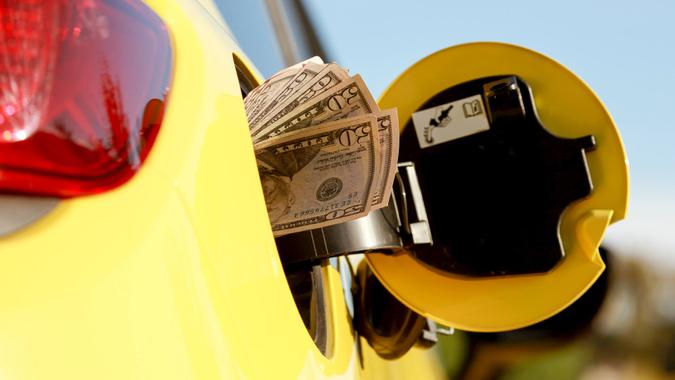 123ducu / Getty Images/iStockphoto
The second major holiday of the first summer with COVID-19 vaccines rolling out is right around the corner and the question on everyone's mind is still the same — what's up with those high gas prices? If you're feeling pain at the pump, you are not alone, but if you're one of the millions of Americans who plan to travel this summer, it could get even worse. Here's what you need to know. 
Tips: How To Save Money on Rental Cars for Your Upcoming Trip
Helpful: 10 Tips for Keeping Your Summer Road Trip Affordable
Another Holiday, Another 7-Year High
The world was more than ready for summer when Memorial Day weekend rolled around, but $3-per-gallon gas prices did their best to throw cold water on the party. It was the highest average price in seven years. The Colonial Pipeline incident was still recent then and pent-up demand from the pandemic was surging. There was talk that high prices were just a temporary reaction to those factors and others, not a trend that would consume the summer. 
Make Your Money Work for You
Flying vs. Driving: Which Is More Cost Effective for Travel This Year?
Fast-forward to July 4 and prices haven't budged. In fact, they've actually ticked up a little. According to GasBuddy, the national average on Independence Day is expected to be $3.11. That, too, is a holiday record dating back seven years — and it's especially steep considering last year's bargain-basement pandemic price of $2.18.
Be Prepared: 5 Ways Your Vacation Will Cost More Because of the Pandemic
Good To Know: How Much a Road Trip Mishap Will Cost You
The Big Summer Trip Is Still On — But Budgets Need Tweaking
Another change from last year, of course, is the number of people traveling. GasBuddy's annual summer travel survey found that 57% of Americans are planning at least one road trip this summer, nearly double the 31% who said the same thing in 2020.
Almost half of the study's respondents, 46%, said high gas prices were affecting their summer travel plans, but it appears not enough to stay home — yet. Analysts at Wells Fargo conclude that high gas prices will not keep families from their summer travel plans in large numbers, which would send the economy into a recession, but only if prices don't stay above $3, which so far, they have.
Make Your Money Work for You
See: 10 Money-Saving Summer Travel Tips Only Insiders Know
You're Paying — Even If You're Not Driving
You don't need to visit the pump — when it comes to rising gas prices, the pain will find you. The oil rally has made jet fuel more expensive for airlines, and could mean air travel will be more expensive for you. Even if you're not driving or flying, hotels spend more on things like free shuttle service to and from airports when gas is high and they raise their own room rates to make up for it. 
Even if you're working straight through the summer, sending your kids to summer school, and not traveling at all, your whole life gets pricier when gas prices rise. That's because virtually all merchandise spends at least some time on a truck, and trucks run on gas.
Find Out: The Hidden Costs of Traveling To Hawaii and Other Popular Destinations During COVID-19
Where Is All This Coming From?
Rising gas prices aren't all bad. The Detroit Free Press recently pointed out that much of the increase comes from booming economic activity. People are driving to work again, heading into the city for a show again, and yes, packing up the SUV and hitting the road again, expensive gas or no expensive gas. All that activity leads to increased demand and rising prices.
Make Your Money Work for You
But there are other forces at work, too.
A shortage of specially certified tank truck drivers is throwing a wrench in the gears — as many as 1 in 4 tankers are now sitting idle due to a lack of qualified drivers, according to CNN.
Worth It? The Cost To Book Last-Minute Summer Travel to Top US Destinations
What Can Road Trippers Do?
If you're like most people, things would have to get worse quickly in order for you to cancel your summer trip altogether. But if you don't want to be relegated to the discount rack at the souvenir shop when you arrive, you'll have to pay extra special attention to fuel economy while you're on the road. Consider the following tips:
Use a gas app

Pay attention to price changes at state lines

Keep your tires inflated to the proper psi

Slow down — fuel economy plummets after 50 mph

Travel as light as possible — weight gobbles gas

Retain your vehicle's aerodynamics by keeping gear off the roof
Last updated: June 29, 2021
Make Your Money Work for You