How To Get Back in the Habit of Budgeting for Travel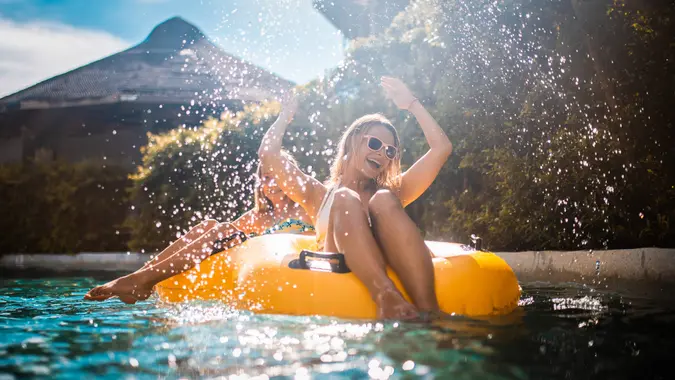 AzmanL / Getty Images
Americans are ready to travel again. A recent survey conducted by IPX 1031 found that 58% of Americans plan to travel in 2021 — and many already have. Over the Memorial Day weekend, air traveler volumes hit the highest levels since before the coronavirus pandemic, CNBC reported.
And while it's exciting that more people feel safe enough to go on vacations and visit family for the first time in over a year, travel can be a major added expense. That same survey found that the average amount people plan to spend on travel in 2021 is $2,470.
Show Support: It's Not Too Late To Nominate Your Favorite Small Business To Be Featured on GOBankingRates — Extended to June 5
If you've abandoned your travel budgeting amid the pandemic, now is the time to start saving again so you can take that much-awaited (and probably much-needed) vacation. Here are some helpful strategies to help you get back into the habit of budgeting for travel.
Account for Discretionary Spending in Your Monthly Budget
You may have found it easier to make ends meet during the pandemic when much of your typical discretionary spending was put on hold. Now, "fun" expenses like traveling and dining out should be accounted for in your monthly budget.
"Look at your take-home pay and compare it to your fixed expenses such as rent, mortgage, auto loans, insurance, etc.," said Tom Mingone, an advisor with Equitable Advisors. "The remaining amount is your discretionary budget."
Helpful: 10 Tips for Keeping Your Summer Road Trip Affordable
However, you shouldn't actually spend all of this budget.
"Take at least 10% of your discretionary budget and save it automatically into an investment program," Mingone said. "Once you are done, you are left with your discretionary spending budget. Take a certain amount and put it aside for large expenses — such as travel — so you do not get hit with large unexpected expenses, and feel free to enjoy the rest."
Make Your Money Work for You
Be Prepared: What To Expect To Pay If You'll Be Flying This Summer
Evaluate Where You Are Spending Less
Although your discretionary spending will likely be going up in a post-lockdown world, there are other expenses that you will likely be cutting back on.
"Your spending may shift, so try to anticipate reintroducing new budget items and scaling others back. For example, you may be spending less on delivery fees and more on gas," said Anne Marie Ferdinando, member outreach manager at Navy Federal Credit Union.
See if you can shift any savings from your scaled-back expenses — like delivery fees and streaming service subscriptions — into a travel budget.
Summer Travel You Don't Have To Splurge On: Cities You Can Stay in for Less Than $140/Night
Use a 'Spare Change' App
If the idea of budgeting for discretionary expenses seems overwhelming after not having to worry about these costs for so long, just start small.
"It's tough to get back into the habit of saving after a break," said retail and money-saving expert Trae Bodge. "I suggest starting with a 'spare change' app, like Acorns. Simply linking this (or a similar) platform to your debit or credit card can get the savings ball rolling. It essentially siphons the spare change from every transaction you make and saves, then invests that money for you. When you have a little more wiggle room in your budget, you can also set up automatic withdrawals through the platform to save even more."
Make Your Money Work for You
Travel Options: 10 COVID-Safe Locations To Visit Across the US
Make Short-Term Sacrifices
If you want to travel ASAP but don't yet have the funds, you may need to start cutting other discretionary expenses out for the time being.
"This is a bit old school, but I've found success saving for travel by giving something up — like coffee at my favorite barista or takeout lunch, and setting aside the money I've saved in a jar," Bodge said. "My husband and I saved up for a scuba diving trip to Honduras that way."
See: The Hidden Costs of Traveling To Hawaii and Other Popular Destinations During COVID-19
Optimize Your Spending
One way to build up funds for travel is to be strategic about the credit cards you use. Consider using a card that offers travel rewards.
"Using a credit card wisely that offers rewards like cash back or travel miles can ensure you earn something back for the purchases you have to make," said Andrea Woroch, a consumer savings and family finance expert.
Avoid These: 21 Mistakes That Can Blow Your Budget While Traveling
Start Saving Now for a Future Vacation
Vacations are easier to budget for when you have a long time horizon to do it. So start saving now for a trip you want to take next year.
"Determine the amount you expect to spend, then divide that number by 12 months to determine how much you need to add to your monthly budget," said Alok Deshpande, co-founder and CEO at SmartPath. "Every month, transfer that amount into your savings account or a separate 'vacation/travel' account. Typically, we recommend setting aside 3-5% of your take-home pay for vacation and travel."
More From GOBankingRates
Last updated: June 2, 2021