Comic-Con 2018: How Much Are Comic-Con Tickets?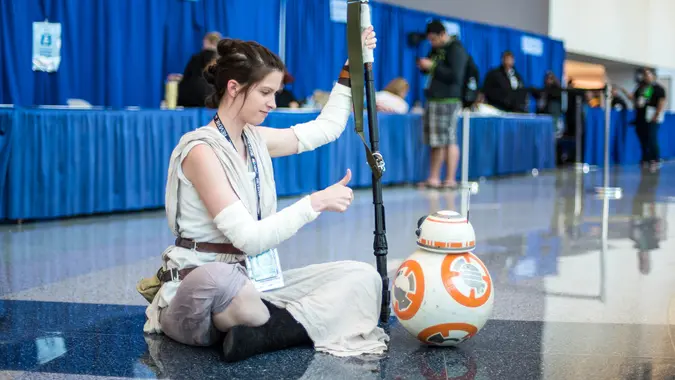 ©Sue Hwang
The days when comic books were considered a niche market are long, long gone. Aside from the series of wildly successful Marvel movies, including all three of 2018's top-grossing films thus far — "Black Panther," "Avengers: Infinity War" and "Deadpool 2" — there might be no better sign of this than San Diego's incredibly popular gathering of the geeks: Comic-Con. Here are the details on 2018's convention:
Dates: July 19-22 with a special preview night on July 18
Location: San Diego Convention Center, 11 W. Harbor Dr., San Diego, CA 92101
Cost of Tickets: $45 to 63 per day; $276 total for all four days and the preview night
Before you start scrambling for that $276, though, you should be aware that 2018's Comic-Con has sold out. In fact, it has been sold out since December 2017, making it the 11th straight year it has done so. And if 2017's convention is any indication, it should make for a monster economic impact. The 2017 Comic-Con saw more than 130,000 fans descend on San Diego to use up nearly 70,000 hotel room nights, spend over $80 million and create an estimated $140 million in economic impact, according to the San Diego Union-Tribune.
Make Your Money Work for You
With tickets selling out so far in advance, you'll want to start planning now if you want to attend Comic-Con 2019. Take a look at how much Comic-Con tickets cost and how much it would cost to attend in total to start your savings and budget planning.
Keep reading to see a breakdown of all the expenses you can expect to encounter to make all of your comic book fan dreams come true.
Cost to Attend Comic-Con 2018: $2,480.19
Since its founding in 1970 with a modest 100 or so attendees, Comic-Con has grown to a larger-than-life annual event. As the demand for badges continues to rise, so does the base price for fans, reaching an estimated $2,480.19 for the 2018 event. This projected Comic-Con cost is just a guideline and doesn't include souvenirs or any extras, so your total cost could easily be much more.
Price of Comic-Con Badges: $276
Comic-Con passes cost between $45 and $63 per day. Attending all four days of Comic-Con 2018, including preview night, will cost you — or rather would have cost you, had you picked up a badge prior to them selling out — $276. You can still try to visit a scalper if you're so inclined, but that's going to cost you, too: Passes for just one day are fetching $700 or more on secondary markets.
Check Out: The 9 Richest Superheroes and Villains
Make Your Money Work for You
Flights to San Diego: $332.06
Unless you're picking up a free flight to San Diego or you live locally, airfare will likely be one of your larger Comic-Con expenditures. The average price of a domestic round-trip fare is $348, according to data from the U.S. Bureau of Transportation Statistics, with flights to San Diego averaging a slightly lower $332.06.
Cost of San Diego Hotels: $1,404
As expected, San Diego hotels cost a premium during Comic-Con. The 2018 hotel rates start at $351 per night for rooms in Hotel Circle, according to Hotels.com. If you'll be staying all four nights of the convention, your total bill will be at least $1,404.
Keep in mind that although rooms in San Diego's Hotel Circle might be cheaper than at a place downtown, you'll be about 9 miles from the Convention Center, so you'll need to rely on the Comic-Con shuttle, rent a car or use Uber to get to and from the event.
Save Money: 50 Hotel Secrets Only Insiders Know
Cost of Transportation for Comic-Con: $227
Speaking of which, if you don't want to pay extra to stay within walking distance of the Convention Center — or you're just not interested in being outside in a full Wookiee suit in the July heat — you'll need to find alternate means of transportation, and those won't always be free.
Make Your Money Work for You
If you don't want to use Uber or the Comic-Con shuttle, you can opt to rent a car. For example, the cost of renting a Hyundai Accent sedan at the San Diego International Airport from July 18 to July 22 is about $37 per day, and including estimated taxes and fees, totals $227, according to estimates using CarRentals.com. Comic-Con parking permits start at $20 per day, and they're going fast, so if you take this route you'll want to reserve a spot soon.
You can also choose to Uber around town if you don't want to deal with the hassle of driving. Taking an UberX from Hotel Circle to the Convention Center costs an average of $8 to $12 per trip, but prepare to endure surge pricing at least some of the time due to the influx of passengers.
Comic-Con 2018 Food and Drink Expenses: $155
You certainly need to eat while attending Comic-Con, but you have more leeway with food and drink expenditures than with most other travel cost categories. Food and drink expenses average $155 per person for a four-night domestic trip, according to a survey conducted by ValuePenguin.
Make Your Money Work for You
Price of a Costume for Comic-Con: Varies
Costumes aren't required at Comic-Con, but for many attendees, that's part of the fun. If you're planning to wear a costume, you'll likely spend around $86.13, according to 2017 National Retail Federation figures on how much the typical Halloween shopper planned to spend on costumes that year. Of course, you might also want to make your own costume, which could cost hundreds, depending on the materials used and complexity of the design.
Click through to discover the most — and least — profitable movie reboots of the past decade.
More on Saving Money
Laura Woods contributed to the reporting for this article.