How Much It Costs To Sail Aboard These 10 One-of-a-Kind Cruises for Seniors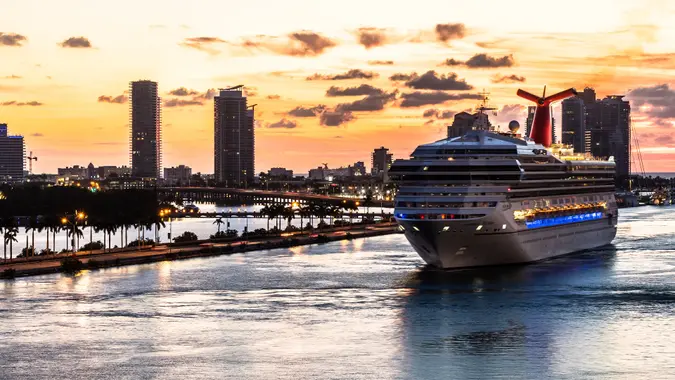 Debbie Ann Powell / iStock.com
Welcome to the world of luxury and adventure that awaits you as gracefully navigate the splendid seas of retirement in style. You've earned your savings, as well as the right to savor life's finest moments. As you embrace your golden era, get ready to embark on an unforgettable journey as we set sail to discover sensational cruises tailored just for you.
Imagine experiencing the allure of full-service hospitality, accessible adventures and maybe off-season travel while experiencing the pristine beauty of destinations near and far. The gift of time is yours, and with it comes the privilege of indulging in senior-centric cruises, each tailored to create new, extraordinary memories. Now, you might be wondering, "How much is this going to cost me?" Fear not, savvy seniors, we've got all the answers you need. Get ready to set sail on the voyage of a lifetime!
Windstar Cruises
Windstar welcomes you to a yacht-like experience, with smaller boats that can enter ports where massive ships cannot. Guests must be 8 years old and up, making for a calmer ambiance. Plus, three of Windstar's five ships have elevators and wheelchair-accessible suites.
Viking
Viking offers packages with everything from cooking classes to curated libraries on board, plus educational lectures and cultural tours. All guests must be 18 years and older, so retirees can enjoy a relaxing, all-adult voyage.
Uniworld Boutique River Cruises
If you're looking for an all-inclusive, high end luxury experience, Uniworld Boutique River Cruises may be for you. Farm-to-table meals, Picassos on the wall and stops at some of the most enticing Christmas and holiday markets in the world are a few things you'll find on one of these cruises.
Crystal
Crystal provides another luxury option, with butlers for staterooms and suites and noteworthy entertainment and activities including tech skills, ballroom dancing and lectures by luminaries in their fields. If you really want to get lost, sign on for the 123-night 2025 World Cruise to visit 62 destinations in 31 countries on a path from Florida to Spain.
Holland America Line
Taking the grandkids? This family-friendly option offers sports equipment and spas, as well as shore excursions for all levels of experience and ability. Accessible staterooms are available on all ships, plus some of the most disability-friendly services of any cruise line.
Azamara
The four ships on this line have all-inclusive dining and drinking packages and lots of activities seniors will love, including arts and crafts, shuffleboard, trivia contests, bingo and dance lessons.  
Cunard Line
Cunard boasts onboard films, lectures, a huge library and even a planetarium. Formal attire and high tea round out this elegant cruising experience.
Aurora Expeditions
Has a trip to Antarctica been on your dream list? This once-in-a-lifetime, 100% climate neutral, laid-back cruise may be just the ticket. Nature lovers enjoy a view of the ocean from every room and activities like birdwatching, photography and lectures on wildlife.
American Queen Voyages
With river cruises and coastal trips in the U.S., this line oozes charm in a calm and friendly environment. Go at your own pace and enjoy nightly entertainment with live music and fascinating historical lectures.
AmaWaterways
The 26 river vessels in this fleet mostly travel the Danube and Rhine rivers in Europe. Local food and entertainment provide character, and guests can choose port activities at every level of ability, from driving or walking tours to biking and golf.
Thinking About Cost
When it comes to cruises, you can expect a wide range of prices, as there are plenty of options from budget to ultra-luxury. Consider trip length, cabin type, the specific ship and cruise line, and what time of year you travel — off-season trips and booking early can mean discounts! You'll be paying cruise fare, port fees, meals and extras on board, gratuities and shopping or sightseeing during port stops. You'll also need to cover your travel to the point of departure and home.
Many cruise lines sell packages that cover some or all of these charges, so it's important to understand what's included. Here are some of the average anticipated costs for the coming year, according to travel site Cruzely: 
$150-$250 per person, per day for cruise fare
$85-$120 per day for onboard expenses like extra meals and gambling
$16-$20 per day for gratuities — often added automatically and split among the staff
$50 per port, typically two or three stops per voyage
$100-$200 total for port fees
Transportation to the boat will vary depending on your circumstances, as well. In total, for a shorter five-day trip, plan for between $1,500-$2,225 per person, while a more typical seven-day trip would be an average cost of $2,000-$3,100 per person, going up from there. Luxury lines can run much higher.
Takeaway
So, there you have it, wise wanderers of the silver sea — a roundup of senior-centric cruises that promise the memories of a lifetime. Sailing into retirement is about more than just counting the cost; it's about embracing new adventures. Whether you're craving cultural immersion, breathtaking landscapes or exotic cuisine, these cruises cater to every taste and budget. Bon voyage for the next chapter of your life — may it be filled with unforgettable moments!
More From GOBankingRates