How Points Can Make a Difference When Booking (and Changing) Pandemic Travel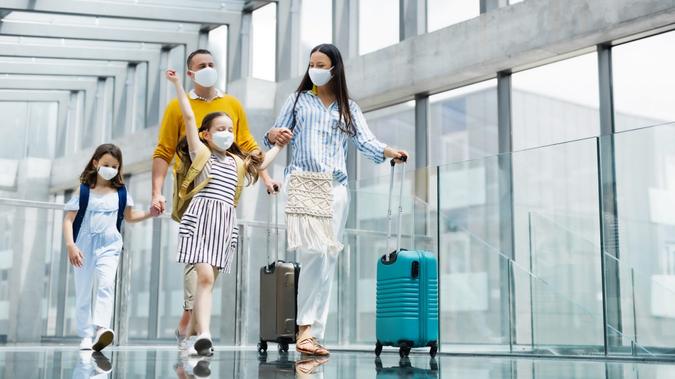 Halfpoint / Getty Images/iStockphoto
If you've traveled even a little bit, you've probably heard the term "points" tossed around and may wonder what the heck people are talking about. Travel points are incentives you earn in a number of different ways, through loyalty programs with airlines and hotels or through opening certain kinds of credit cards, that can be redeemed for travel and other purchases, according to The Points Guy. Most points require you to spend money to earn them, though you can sometimes take advantage of sign-up bonuses and other specials, while loyalty programs tend to offer them as rewards for regular stays or travel.
Find Out: Here's How Much You Need To Earn To Be 'Rich' in Every State
Important: 40 Pandemic Airport Secrets Only Insiders Know
Points or Miles, Which Is More Valuable?
It can be confusing to determine the difference between points and miles, as you can often redeem your points for airline miles, and in some programs, they are equivalent but not always. "Points are seen as more valuable in the eyes of rewards program providers, and they will be used before miles when booking travel-related things," said Christine Wang, founder of TheSkiGirl.com.
Make Your Money Work for You
If you booked your flights with points and have to make any changes, Wang said, "You'll typically be more likely to lose points than miles if you make changes as a result of any pandemic-related situations."
Also, miles don't translate as you might imagine. Particularly with credit card miles or points-earning programs, you don't necessarily earn one mile for every mile you actually fly in the sky, according to LifeHacker. Your points accumulate and eventually add up to a certain number of miles or cash value that can be redeemed.
Many cards offer sign-up bonuses, as well, that give you a nice number of miles upfront just for signing up, and then you have to continue to spend money on the card to earn more. Be careful, when using a card to earn miles or points, you want to make sure you pay off your balance each month so you don't end up paying exorbitant interest.
Can You Use Points To Upgrade?
While points have a cash value (which varies from program to program and may be in the very small print), you can't use them like cash, per se. Most points programs have parameters for use, according to Ni Wayan, travel expert and editor at Balipedia. "Points make a difference in a number of ways–suppose you want to upgrade to business class, this would be difficult to achieve when using points alone. If you combine your points with cash, you will have a better chance of getting the upgrade."
Make Your Money Work for You
Points Make Cancellations and Rescheduling Easier
Wayan also cautions that airlines offer better rates to people paying with cash over points.
However, when it comes to refunding your money if you need to change or cancel a flight or hotel, Wayan said that having points works in your favor here. "When trying to cancel or rebook your flight after using your miles, it is a lot easier as companies are more amenable to crediting points rather than cold hard cash."
Lanie van der Horst of Make More Adventures said that you typically only lose points or miles "if the price of the flight goes up after you try to reschedule. This has happened to my family a few times. We have had to cancel and rebook flights due to covid restrictions, and the prices seem to increase."
Don't Count On Points for Last-Minute Changes
Even if you are a loyalty member or have accrued a lot of points, cancellations may not always mean you get your points back. "Try not to book any flights on a whim that you are unsure whether or not you will actually be able to take," said Brian Donovan, CEO of Timeshatter.
Make Your Money Work for You
Find Out: 13 Insider Secrets From Travel Agents That Will Save You Money
Getting Started
If you want to start earning points, LifeHacker recommends you pick a credit card linked to airlines that have a hub in your nearest airport, so that your points can be redeemed for flights you're actually likely to take. Additionally, sign up for free loyalty programs through your most-used airlines and hotels, and pay attention to how points are awarded (i.e., number of points earned for every dollar spent). Sometimes you can get points bonuses at special times of the year.
More From GOBankingRates
Last updated: Oct. 5, 2021