85% of Millennials and Gen Z Use Travel Hacks To Save Big: These Are Their Top 4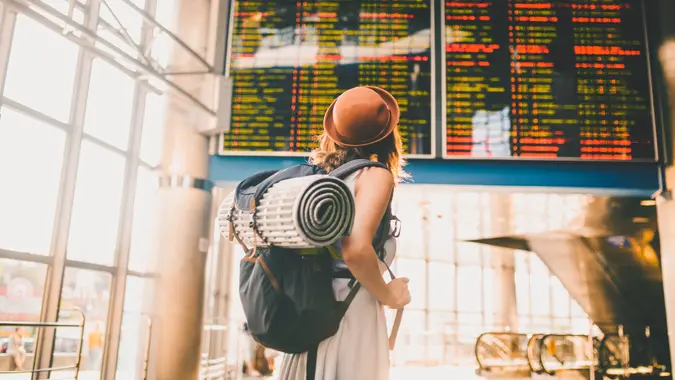 Yelizaveta Tomashevska / Getty Images/iStockphoto
The cost of travel has surged since the pandemic lows. A 2023 Hopper study found that airfare is up to 13% more expensive this year compared to last while hotel prices are up by 60%.
With prices on the upswing, it's no wonder that so many young travelers are looking for ways to save — a new Amex Trendex report found that 85% of millennials and Gen Zers are very likely to use "travel hacks" to save money when booking trips over the next six months.
Here's a look at the most common travel hacks millennials and Gen Z will be using, and how much you can expect to save by using these hacks too.
68% of Millennials and Gen Zers Book Trips on Specific Days and Times That Seem Less Popular
Prices for flights and hotels can vary based on the days of travel and even the time of day in some cases.
Chris Watson, founder of MyAdventureDiaries.com, recommends booking travel during the week for significant savings. "By booking during the weekdays, travelers can save up to 20% to 30% on their trip," he said.
Additionally, choosing the time of your flight strategically can lead to savings.
"That dreaded 6 a.m. flight that calls for a 3 a.m. wake-up is cheaper than the leisurely 10 a.m. flight," said Olivia McDonald, founder of the travel blog Defining Decade. "Early mornings and late nights tend to be cheaper than flights during daylight hours."
Make Your Money Work for You
62% Use a Credit Card With Travel Benefits
Many credit cards that offer travel benefits do charge an annual fee, but oftentimes these cards pay for themselves through all of the perks offered. For example, the American Express Platinum Card offers a number of money-saving benefits to travelers.
"The Platinum Card offers annual hotel and airline credits, a CLEAR credit and access to the best airport lounge network," said Anthony Cirri, executive vice president of U.S. consumer product management and lending at American Express.
If you're loyal to a particular airline, you may consider using an airline credit card, such as the Delta SkyMiles American Express cards, to book your trip.
"The Delta SkyMiles American Express cards help card members get the most out of Delta's SkyMiles program, like status upgrades and extra SkyMiles points on Delta purchases," Cirri said.
Other money-saving benefits you should look out for when choosing a credit card include no foreign transaction fees, travel insurance, free checked bags, and discounts on hotels and rental cars.
57% Use Credit Card Points To Book Trips
Credit cards often offer multiple ways to redeem points for trips. It's worth comparing the different point conversions to find what's actually the best deal.
For example, American Express allows card members to redeem points in a variety of ways. "Membership Rewards Points can be redeemed [by] using Pay with Points to pay for a trip, or they can redeem points with one of our 20 airline and hotel partners to redeem for things like airfare and hotel stays," Cirri said.
Make Your Money Work for You
Watson said that you will typically get the best deals if you book directly through the credit card provider. However, not every travel pro agrees.
"The best way to use credit card points is to transfer them to a hotel or airline," said Adam Sterling, founder of The Sterling Traveler. "The value of the points can be worth much more when transferring than when using the points via the credit card provider's portal. This does depend on the hotel or airline's loyalty program, but this is a good rule of thumb."
Before booking, see what your points will be worth across multiple redemption options, and then choose based on the best value.
54% Use Wi-Fi Over Roaming When Traveling Internationally
Roaming charges can be significant, so opting to use Wi-Fi instead can save travelers big time.
"Depending on the country, travelers can save up to 80% on their data usage by using Wi-Fi," Watson said.
More From GOBankingRates