10 Ridiculous Travel Fees To Watch Out For, According to Experts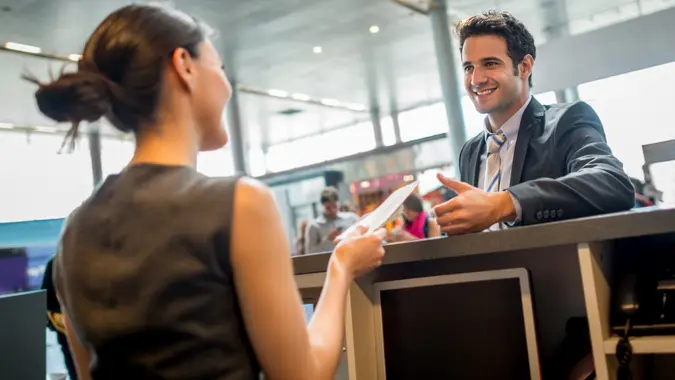 andresr / iStock.com
Traveling often comes with a lot of extra fees that aren't included in the base price — for example, we've all gotten used to paying $70 for checked bags on flights or $40-plus resort fees. But airlines, hotels and rental car companies can sometimes charge outrageous fees that you could never have anticipated — and even pro travelers often fall into these fee traps.
GOBankingRates spoke to travel experts to find out the most ridiculous fees they've ever been charged. Look out for these on your next trip.
$96 Seat Selection Fee
While seat selection fees have (unfortunately) become the norm, some airlines charge a pretty penny if you want to secure a window or aisle seat.
"Depending on the airline and route, this extra cost can range from $8 to hundreds of dollars," said Jenny Ly, professional travel blogger and founder of Go Wanderly. "Even if you are in business or first class, British Airways is one of the worst offenders here, charging passengers between 10 GBP ($16) and 60 GBP ($96) merely to receive a seat assignment outside the 24-hour check-in window."
Frequent Flyer Sign-Up Fee
Frequent flyer programs often incentivize repeat customers — but one airline now charges a fee to sign up for these typically free loyalty programs.
"I can't think of a worse way to start a relationship with a frequent flyer program than to charge those who want to join for the privilege, but that's exactly what Qantas does to travelers who are based in Australia and New Zealand who want to join its Frequent Flyer club," Ly said.
Make Your Money Work for You
$60 Tolls
Whether you're road-tripping across the country or abroad, you may end up running into a toll road — but usually, these tolls are pretty nominal. This wasn't the case for Jessica Schmit, co-founder of the travel blog Uprooted Traveler, who ended up on a very pricey toll road in Mexico.
"When traveling between Cancun and other parts of the Yucatan peninsula, like the city of Merida, you have the option to go on a faster toll road that costs $30 one-way or $60 roundtrip," she said. "This is an egregious amount of money for locals living and working in Mexico and is a way for the government to leverage the wealth of the visiting tourists who want a more efficient and 'safer' route to explore the Yucatan."
To avoid paying high toll fees, Schmit recommends using Google Maps when driving during your travels.
"It usually tells you how much tolls are along your route and helps you easily navigate around them by simply turning 'Avoid Tolls' on," she said.
Flight Booking Fees
Some airlines will now charge you extra to book flights over the phone or in person instead of online.
"As a frequent traveler, one of the most ridiculous fees I have been charged is an airline ticket booking fee," said Jessica Corson, travel expert and founder of The Belle Voyage. "For example, United Airlines charges a $25 fee to issue a ticket by phone in the U.S. and Canada, and $50 to issue a ticket in person."
Make Your Money Work for You
The only foolproof way to avoid this charge is by booking your air travel online, she said.
"If you have questions about a booking or need more information before you buy a ticket, you can call a telephone agent who will address your questions free of charge, and even stay on the line while you purchase the ticket on the airline's website," Corson continued. "You'll avoid the extra charge while still getting the benefit of professional guidance, which can be helpful if you have a complicated itinerary or are trying to buy a ticket with multiple stops."
Table Setting Fees
Some countries may charge you for the privilege of having a clean, freshly set table to eat on.
"One day in Italy, my friends and I were waiting to be sat outdoors and the waitstaff told us to wait a few minutes so that they could set up our table. When the bill came, there were multiple charges for the table being set, including the use of two tablecloths," said Lanie van der Horst, founder of the family travel blog Make More Adventures. "They put two tablecloths on the table and charged us for each one separately!"
Hotel Iron Use Fee
"I was once charged a $25 fee for using a hotel iron," said Matt James, founder of Visitingly.com. "I was traveling on business and needed to look my best, so I decided to use the hotel iron to press my clothes. When I went to check out, I was shocked to see a $25 fee on my bill. The hotel explained that the fee was for using the iron, and that it was a 'luxury' item. I was outraged and argued with the hotel staff, but they would not budge. I ended up paying the fee, but I was determined to never let this happen again."
In-Person Flight Check-In Fee
Just as you can get charged fees for booking flight tickets in person, some airlines are now charging to check in in person.
"The most egregious fee I've incurred related to travel happened with the budget airline, Ryanair, when I was flying from Paris to Rome," said travel blogger Katie Caf. "I normally check in online before my flight, but I was traveling without my laptop and Ryanair's mobile website was glitching and not allowing me to check in. I thought nothing of it until I arrived at the airport and they charged me a huge fee for checking in for my flight in person."
Caf's "in-person check-in fee" was 50 euros — the same amount she paid for her flight tickets.
"Now I have made it a habit to always check in online for a flight, and always screenshot it if the airline's website doesn't allow me to — no matter which airline I'm flying with," she said.
Boarding Pass Printing Fee
Allison Baxley, founder of the blog Renovating Life, which documents her move from New York to Portugal, also was charged an outrageous fee when flying Ryanair.
"When I was traveling with girlfriends through Europe, we were flying out of Barcelona to Portugal on Ryanair. We were staying at an Airbnb and had no way to print our boarding passes as requested by the airline," she said. "When we arrived at the check-in counter, we were told we would each have to pay 90 euros to have our boarding passes printed for us — for a tiny piece of paper!"
$90 Rental Car Cleaning Fee
Jennifer Gregory, CEO and founder of Vegas Food & Fun, was hit with a hefty rental car fee when she and her husband rented a car in Las Vegas a few years ago.
"Usually, we always make sure to keep the car clean, and we dispose of any trash. However, this time, we forgot to get rid of a small bag of trash that we were keeping in the back of the car. After we returned it, we were billed a cleaning fee of $90," she said.
"The car was clean, except for that small bag of trash. All they had to do was pick it up and throw it somewhere else, so we were shocked at the huge fee they charged. We definitely made sure to double-check each car every single time from then on!"
Refrigerator Use Fee
Having a refrigerator in your hotel room is pretty standard, but one hotel charged Raj Mahal, founder of the travel booking site PlanMoreTrips, for actually using it.
"The craziest fee I was charged was at the MGM Aria Resort, where they have advanced minibars that employ sensors that can detect when an item is moved or the size or weight changes. We brought our own alcohol and used the mini-fridge to keep it cool and when we checked out, MGM charged us a $25 a day 'personal use fee' for the refrigerator," he said.
More From GOBankingRates