Traveling? 7 Refunds You Didn't Realize You Could Get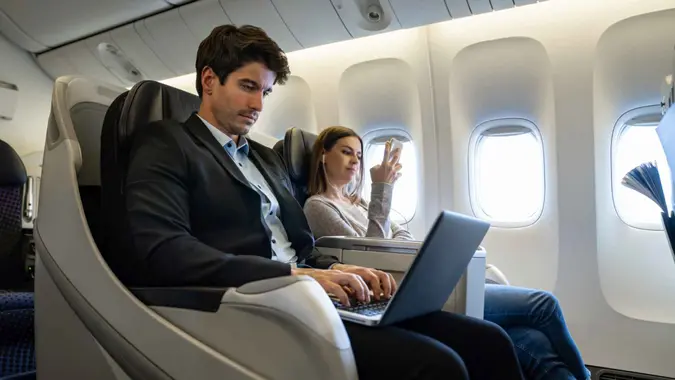 andresr / Getty Images
Traveling can be one of the most memorable experiences, but the expense of the adventure can quickly add up. Flights, accommodations, car rentals, dining and entertaining activities are among the most expensive aspects. 
Fortunately, there are some ways to save money on your travels by getting refunds, credits or vouchers for parts of the journey. However, many travelers need to be aware of the numerous opportunities available. This guide of seven traveling-related refunds explores some lesser-known ways to get your hard-earned cash back when you travel. Once you know what's available, you can plan to take advantage of the opportunities (or inconveniences) as they arise.
1. International Tax Refunds on Purchases
Many countries charge a relatively high tax on purchases. For example, European countries have a value-added tax (VAT) of 21%. Sweden and parts of Brazil charge 25%. Purchasing $100 worth of souvenirs could cost you as much as $125 after taxes. 
Fortunately, you can get a tax refund on overseas purchases. However, you'll need to know how the process works to ensure you take every step to receive the tax refund. Keep in mind that most tax refund programs require that you are a non-resident of the country you are visiting and have made purchases above a certain amount. Here are five steps:
Identify Participating Retailers
Stores typically display the tax-free shopping logo or ask the salesperson for assistance. Ask about any requirements, such as a minimum purchase amount, to be eligible for a refund. Ensure that your purchases meet this threshold to claim your money back.
Make Your Money Work for You
Carry Your Passport When Shopping
While the common advice is to store your passport at the hotel safely, you'll need to carry and present your passport at participating retailers to get started. Once you request the tax refund and present your passport, the retailer will print out the necessary proof of purchase to present at the airport before you leave the country, which includes your name and passport number. 
Get to the Airport a Few Minutes Early
You'll need to visit a couple of offices for your refund before your flight, so be sure to allow yourself enough time to process the refund. Review the receipts you were given — in many cases, you may need to fill out a short form on each receipt with your name, address and signature.
Get the Forms Stamped 
Your first stop at the airport is at the customs desk. Besides showing the receipt and tax refund form, you may be asked to present your purchased goods for review, so wait to check your bags. The customs officer will stamp the forms, verifying your eligibility for a refund.
Visit the Refund Office
After customs stamp your forms, visit the tax refund office within the airport. Present your form and passport to complete the refund process. In some cases, you may be offered a cash refund on the spot, while others might provide the refund as a credit to your credit card or through another method.
2. Hotel Price Guarantees 
Hotels often promise you'll get the best available rate when booking directly with them. If you reserve a room directly with the hotel and then find a lower rate for the same room on another website, many hotels will refund you the difference or greater.
Make Your Money Work for You
Keep in mind that the lower rate must be for the same room type, dates and conditions. Hotel price guarantees are a straightforward way to save money and ensure you're getting the best deal on your accommodations but they could take time and effort to achieve. Fortunately, you don't have to waste valuable time checking on your hotel's rates — there are apps and websites such as Rebookey that will alert you of price drops.
3. Airfare Price Drops 
Similar to hotel bookings, airline ticket prices tend to be unpredictable. Policies vary between airlines, but some carriers may refund the difference in fare or provide travel vouchers if the price of your ticket drops after you've purchased it. When booking, it's worth checking with the airline to see if they have a price-drop policy, especially if you're booking well in advance. You may be eligible for a refund or voucher.
As with hotel-rate-tracking apps, there are airfare-tracking websites and apps that do the work for you, including:
Airfarewatchdog
Google Flights
Hopper
KAYAK
Skyscanner
4. Foreign Transaction Fees
When using your credit card abroad, you may incur foreign transaction fees, which can add up to an extra 3% to overseas purchases. One way to get a refund (with no work required) is to use the right credit card when traveling internationally. To save money, consider using a travel-friendly credit card that offers foreign transaction fee reimbursements as a perk.
5. Denied Boarding Compensation 
If you've been bumped from a flight due to overbooking or other reasons, airlines may offer you a travel voucher as compensation. These vouchers can often be used on future flights with the same airline. While they may not be as flexible as cash refunds, they can help you save on future travel expenses. 
Make Your Money Work for You
When faced with involuntary bumping, it's a good idea to know your rights and negotiate compensation to maximize the amount you receive. According to the U.S. Department of Transportation (DOT), "Passengers who are denied boarding involuntarily due to over sales are entitled to compensation that is based on the price of their ticket, the length of time that they are delayed in getting to their destination because of being denied boarding and whether their flight is a domestic flight or an international flight leaving from the United States."  
The amount depends on the delay. Short delays are eligible for "compensation equal to double the one-way price of the flight they were bumped from, but airlines may limit this amount to up to $775." Passengers dealing with longer delays are entitled to four times the one-way value of the flight they were bumped from, with some airlines limiting the amount to a maximum of $1,550.
6. Baggage Delay or Loss Compensation
Air travel can be stressful, especially if your baggage is delayed or lost. While airlines work hard to reunite you with your luggage, they may provide compensation for the inconvenience and expenses incurred while you wait for your bags. Airlines will make good on the compensation, even if the airline eventually finds and delivers your baggage.
The amount and conditions for baggage delay compensation vary by airline, but the DOT provides guidelines. Domestic passengers can receive as much as $3,800, while international flyers are eligible for up to $1,700.
To receive reimbursement for your expenses, file a claim with the airline's lost baggage desk when the issue arises. Keep receipts for essential items you purchase during the delay, like clothing and toiletries, to submit and get money back. 
Make Your Money Work for You
In addition, many of the best travel credit cards offer free baggage delay compensation, which may be an additional source of cash back for the inconvenience of lost or delayed bags.
7. Free Checked Bags or Travel Allowances
As mentioned, some credit cards are designed to provide perks and benefits for frequent travelers. Select cards offer free checked bags, airport lounge access at no charge or a refund for up to a certain amount in-flight purchases such as onboard Wi-Fi or meals and drinks. Cards providing travel-related refunds or credits include:
Alaska Airlines Visa Signature: Free checked bag or a companion ticket for just the cost of taxes
American Express Platinum: $200 annual airline fee credit with the airline of your choice
Chase Sapphire Reserve: Premium car rental insurance included for free
Capital One Venture Rewards: Free access to Capital One airport lounges
Takeaway
Traveling is often a memorable experience and knowing how to navigate the refund landscape can make it more affordable. While travel expenses can accumulate quickly, there are numerous refund opportunities available to savvy travelers that can help reduce the financial impact of your journey. The key is to know about them before you travel so you know what to do when the moment arises.
Baggage delay and flight disruption refunds or vouchers, hotel price guarantees or value-added tax refunds are a few ways to get part of your money back, especially in cases you've been inconvenienced. Take some time to review the terms and conditions of your bookings in advance to know the steps you would need to take. In many cases, communication with service providers and documenting your experiences can lead to the compensation you're looking for. You have the right to get reimbursed or compensated for unforeseen inconveniences and unmet promises, so don't be afraid to speak up.
Make Your Money Work for You
By staying informed and taking advantage of these lesser-known refund opportunities, you can enhance your travel experience while keeping your wanderlust on a budget. And don't underestimate the power of a credit card with plenty of travel perks. Some come with no annual fee or enough benefits to offset the yearly cost.
More From GOBankingRates