The Best Vacation Destinations and Activities for Seniors & Retirees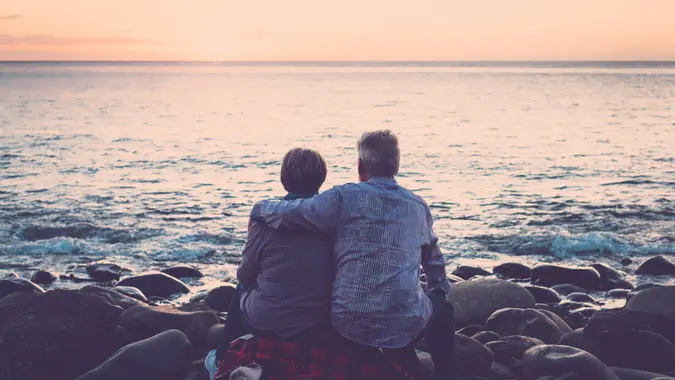 simonapilolla / Getty Images/iStockphoto
If you're an older millennial or Gen Xer looking for vacation ideas for elderly parents, you might be overwhelmed by the sheer volume of choices. Likewise, if you're seeking the best vacation spots for seniors to enjoy in your own retirement, there's a wide world to explore. It can be hard to narrow down options to a specific country or region, much less a resort or specific activities. Keep reading to learn where to start and what the best vacation destinations are for seniors and retirees.
7 Best Vacation Destinations for Seniors and Retirees
When planning a vacation, it helps to first think about the interests, desires and even limitations of those who will be traveling. "There are some people who like history, some people who just want to relax and some who like being out in nature, like a national park. When you take those things into consideration, you get a wide variety of places to go," said Michelle Morris of M & K Cast Away Travel.
With that in mind, here's a look at the best vacation spots for seniors:
Best for comfort and convenience: Caribbean Cruise
Best bucket list item: Alaskan Cruise
Best for a tech-free trip: Lake Forest, Illinois
Best for family vacations: Casa de Campo, Dominican Republic
Best for spa treatments: Majestic Elegance, Dominican Republic
Best for accessibility: Sedona, Arizona
Best for history buffs: Charleston, South Carolina
Best for Comfort and Convenience: Caribbean Cruise
The cliché of seniors enjoying cruises is grounded in practical reality, according to our experts. "Cruises are very easy to enjoy and, often, accessible without long plane flights or drives," Morris said. "Seniors are all about being comfortable and [things] being convenient. Vacationers on a cruise, including older adults, can do whatever they want, whether it's playing bingo, gambling at a slot machine or just sitting by the pool. Seniors who are more active can enjoy an evening of dancing or a day of swimming or watersports and excursions."
Make Your Money Work for You
Choosing a cruise line can be a personal decision. MSC Cruises is one line to consider due to their affordable prices. With cruises from Orlando, Florida and New York to the Bahamas, these trips are also accessible for seniors who may not want to spend hours on a plane.
Best Bucket List Item: Alaskan Cruise
For seniors seeking the ultimate in luxury and a getaway off the beaten path, consider a cruise to Alaska. Crystal Cruises offers journeys to Alaska, Canada, the Caribbean or European locations. But an Alaskan cruise may be a senior bucket-list item worth pursuing.
The company has newly refurbished ships — Crystal Serenity and Crystal Symphony. These ships offer personalized service, spacious accommodations and an extensive choice of spa treatments. "Active seniors and retirees will also love the pickleball courts onboard the ships," said a Crystal representative.  
A cruise on one of these luxury vessels may be especially appealing to seniors traveling alone or with other older companions. "[E]very room gets assigned their own dedicated Butler, who can assist seniors with everything from unpacking luggage / setting up the room accordingly to helping with various errands," the representative said.  
Best for a Tech-Free Trip: Lake Forest, Illinois
If you want to reconnect with loved ones, consider a technology-free vacation. The Deer Path Inn is a historic landmark in Lake Forest, Illinois. They feature a "Gramping Getaway" package for grandparents and grandchildren — and presumably, adult children, as well. This package allows you to explore the North Shore city and enjoy service reminiscent of old English innkeeping.
Make Your Money Work for You
A spokesperson for the Deer Path Inn had this to say, "The package includes screen-free experiences ranging from an easy scavenger hunt around our town square to a milkshake making class at the hotel. Whether our senior travelers choose to unplug with a book by the fire in The Hearth Room, share a laugh over tea in The Garden Room or spend quality time with their grandchildren, we offer highly curated and tech-free experiences that embrace the spirit of old-fashioned hospitality."
Best for Family Vacations: Casa de Campo, Dominican Republic
There are additional benefits to bringing your parents on a family vacation, as Michael Cohen, CEO of The DBL Center, pointed out. "Since my father passed away six years ago, I always offer to take my mother on vacation with my wife and two sons when we go away," he said in an exclusive interview. "Having Grandma join us on vacation gives our boys a different perspective than we could provide as parents. It also allows Mom and Dad to grab a quick date night."  
One of his favorite locations is Casa de Campo, Dominican Republic, which spans 7,000 acres along the Caribbean. Enjoy watersports, shopping, golf, shows and more. Every guest receives a complimentary golf cart for transportation. This makes it easier for older travelers and younger kids alike to traverse the vast resort.
Best for Spa Treatments: Majestic Elegance, Dominican Republic
Morris also recommends Caribbean resorts for family getaways. She said that she often suggests all-inclusive resorts "someplace warm" for her older clients.
The newly renovated, Majestic Elegance, is an all-inclusive resort in Punta Cana. It features wheelchair-accessible common areas and accessibility features in select rooms. Its private beach makes it easy and convenient for seniors to enjoy the surf and sand.
Make Your Money Work for You
The resort also features a fully equipped spa with 10 treatment rooms and a host of offerings, from mud baths to couple's treatments. "A lot of older people, as well as their adult children, look for spa amenities such as massages, and extra pampering," Morris pointed out.
Best for Accessibility: Sedona, Arizona
When looking for vacation spots for seniors you should consider the level of accessibility you might need. "Whether its accessibility for a wheelchair or walker, special accommodations or [proximity] to medical facilities, research the area before you go," Morris said.
She said she often recommends Sedona, Arizona, for the warm, dry climate. This area also has great culture, scenery and accessibility. "A lot of their walking paths are designed for seniors or those using walkers. You can find spa and wellness retreats."
Everything from golf courses to Jeep tours are available in this city steeped in mysticism and beauty. Plus, you'll find plenty of choices in places to stay, including Morris' favorite, The Wilde Resort and Spa. This spa overlooks the Red Rock mountain vista.
Best for History Buffs: Charleston, South Carolina
Morris pointed out that many seniors seek travel spots steeped in culture and history. This may mean exploring their own roots or our country's storied past. Charleston, South Carolina, is a highly accessible city with a rich culture.
The HarbourView Inn is a 52-room boutique hotel in the Historic District. It provides luxury accommodations and is nestled away from high-traffic tourist areas. Those inclined can borrow a complimentary cruiser bicycle to explore the city.
Make Your Money Work for You
Final Note
Opportunities abound for vacation spots for seniors. It all starts with setting your budget and deciding how you'd like to spend your time. From there, you can book the perfect retirement getaway for yourself or plan a vacation that includes the whole family.