Get Paid To Travel: 5 Ways To Travel While Making Money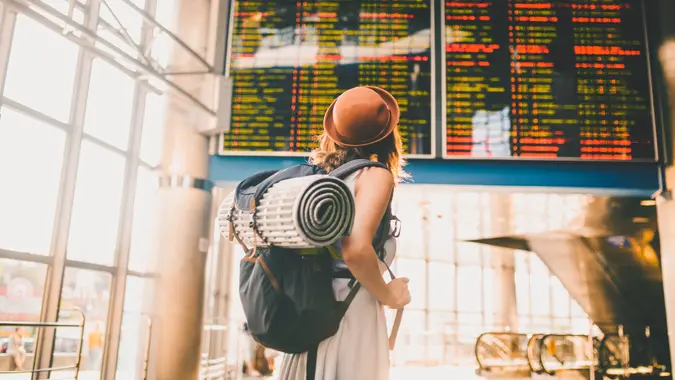 Yelizaveta Tomashevska / Getty Images/iStockphoto
Getting paid to travel might seem like some kind of idyllic fantasy, but it may be more within your reach than you realize. The line between working in travel and getting paid to vacation is a thin one, but there are a few creative ways to get paid to travel. While there's still no such thing as a free lunch, these opportunities offer the best chance to see the world while earning some dough in the process.
Get Paid To Travel: 5 Best Ways
Sometimes daily work can be difficult, but when the globe is your office, you may feel like you never worked a day in your life. Here are five amazing ways to get paid to travel:
Work as a travel blogger
Teach English
Become a social media influencer
Work on a cruise ship
Organize a group trip
Whether you enlist in a full-time travel job or are just looking to do some traveling long-term, you can play to your strengths on the road and get paid to travel the world.
1. Work as a Travel Blogger
If you have skills with a camera or the written word, you can look into how to publish some of the blog posts you create as a digital nomad. Not only can you earn money by following your passion for travel blogging but you could also get access to some top-of-the-line VIP packages offered by hotels and resorts across the world. 
You can start by researching companies that align with the style of your content. Try to reach out in a personal way — generic contact forms are great but they don't usually set you up for a payday success.
Make Your Money Work Better for You
2. Teach English
Becoming an English teacher abroad is another way to earn a salary while immersed in a foreign culture. If you don't mind public speaking and are confident in your communication skills, the fastest route to a teaching job is obtaining a certificate. Look for one of the following programs:
Teaching English as a Foreign Language (TEFL)
Teaching English as a Second Language (TESL)
These certificates can be obtained by taking a short course. Here are some key takeaways to know:
Although you can teach with a basic certificate, to earn a professional accreditation, you'll need to complete at least 100 hours of in-class instruction as well as 6-20 hours of live classroom practice. Getting an accreditation will help you get more opportunities and higher pay.
There are other teacher preparation certifications, but TESL/TEFL are the most universally recognized and accepted around the world.
You should also expect to invest anywhere from a few hundred dollars for a basic certificate to a few thousand for a complete certification.
For your time investment, a complete certificate can take up to a year to complete. 
When you're considering what country to teach in, make sure to take into account the salary expectations. You should compare this to the local cost of living, which can vary widely by region. 
3. Become a Social Media Influencer
This one might be easier said than done. Influencers typically have thousands of social media followers, primarily on Instagram or YouTube. Tourist destinations and hotels often court them with free travel, with the expectation that they'll share their experiences with their audience. Here are some things to consider:
For influencers with large followings, these brands will also pay for content creation on top of providing free travel. 
You can partake in affiliate marketing to post links to booking websites, hotels and more. Doing this will get you paid directly from companies for your experience and audience reach.
Individual rates for sponsored posts vary dramatically. If your favorite Instagrammer has 100,000 followers, you can expect they're making in the neighborhood of $800 to $1,000 per sponsored photo. On the other hand, someone with fewer than 1,000 followers is likely to earn $100 or less. 
It may sound like easy money, but it can be hard work. Photographers and content creators can spend hours setting up and editing the perfect shot or video. There is also a lot of effort that goes into writing blogs and graphic design to further engage audiences.
Make Your Money Work Better for You
4. Work on a Cruise Ship
What jobs will pay you to travel the world? Many jobs in the travel industry will have you constantly on the go, but cruise ships have one of the lowest barriers to entry. It's a great job if your goal is to see the world for free.
Here are some key takeaways to know about working on a cruise ship:
Once hired, employees typically complete training courses for up to 13 weeks that cover various aspects of crew life, including safety and customer service.
Contracts generally last for up to nine months, with the option of taking a six- to eight-week break during that time.
Crew members also get time off between cruises, and often have the opportunity to visit different ports or enjoy crew-only amenities on the ship.
Pay starts at an average of $24 per hour, with many crew members earning significantly more when gratuities are factored in.
5. Organize a Group Trip
While travel agents have become an underappreciated profession, they're still out there offering valuable travel tips and more. For anyone interested in a job in the field, a great way to dip your toes in the water is to plan a group trip for your circle of friends. Here's how to start:
Some tour companies will discount your trip as the leader if you get a certain number of friends to register with you. 
The best of the bunch will actually comp your trip and pay you a commission on top of that. 
Get Paid To Transport Goods While on a Trip

One way to travel while making cash that's gaining in popularity is transporting items along the way.

Grabr, a peer-to-peer marketplace, connects travelers with shoppers looking to acquire items abroad or items that are too expensive to ship. Users make requests for specific products they want and anyone traveling to that country can accept the job. Earnings will vary depending on what you're transporting and how far, of course.
Make Your Money Work Better for You
Final Take To GO 
There are many options if you want to travel but also want to get paid. If you are about to embark on a trip anyway make sure to research what part-time or full-time money-making opportunities are out there.
FAQ
Here are the answers to some of the most frequently asked questions about getting paid to travel.
How can I get paid to travel without a degree?

Certain travel jobs or companies don't require a degree such as the following:

Virtual assistant for varying companies
House sitting abroad
Social media influencing
Working on a cruise ship

Can you win trips to travel?

Yes, you can win trips to travel if you know where to look. For example, being a brand ambassador and enticing new users to opt into email lists are important for the travel industry, and trip giveaways are a popular way to do so. While there are usually different entry requirements and prizes, at the most basic level, there are two different types: sweepstakes and contests. Sweepstakes are random drawings, whereas contests are skill-based, often focused on writing, video or photography.

Do exchange programs pay?

Though they technically don't pay, exchange programs are a great way to see the world without having to pay for airfare, room and board or local transportation.

Who will pay you to travel?

If you are a travel blogger or social media influencer, certain hotels or tourist destinations will pay you to travel to visit them. In exchange for the trip, you will have to document your trip and promote the services to your followers.
Lauren Monitz and Caitlyn Moorhead contributed to the reporting for this article.
Information is accurate as of Aug. 24, 2023. 
Our in-house research team and on-site financial experts work together to create content that's accurate, impartial, and up to date. We fact-check every single statistic, quote and fact using trusted primary resources to make sure the information we provide is correct. You can learn more about GOBankingRates' processes and standards in our editorial policy.