I'm a Travel Agent: You Should Visit These Up-And-Coming Destinations Before Prices Go Up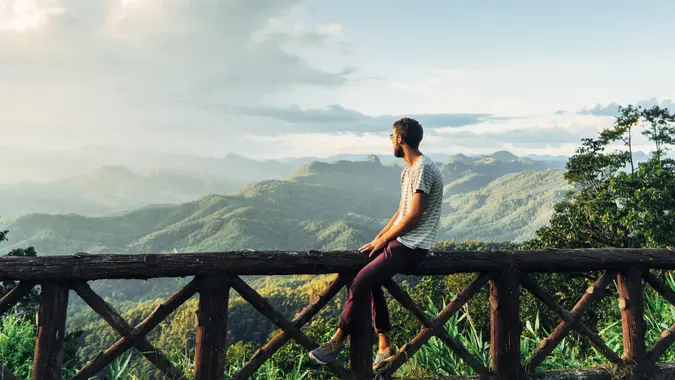 Oleh_Slobodeniuk / Getty Images
With traveling on the rise there can be an overwhelming number of places on your trip bucket list. If funds were unlimited you could get to every award-winning luxury hotel opening, white sand beach, hot spring, national park or food scene on the planet. However, if like much of the world you are traveling on a budget, it may be best to listen to the experts when picking your next destination.
Read: How To Save $200 on Your Grocery Bill Every Month
7 Great Destinations Deals You Should Travel To In 2023
Cheryl Bunker, vice president of global member partnerships at Virtuoso says, "A good advisor will always keep the client's needs in mind, including how much they want to spend." Visitors will find this to be good advice when finding a travel agent that understands their needs. Here are some hot spots and hidden gems travel agents are pushing for as they are a good deal for domestic and international travelers alike.
Quebec, Canada
Bend, Oregon
Buffalo, New York
Asheville, North Carolina
San Diego, California
Ocean City, Maryland
Hvar, Croatia
1. Quebec, Canada 
If you've been wanting to go to France, but can't quite afford it, this Canadian province is the next best thing. A great destination in its own right, Quebec is filled with culture and cuisine and has everything from historical architecture to outdoor adventures filled with natural beauty. Whether you want to take in some incredible views or just some French-inspired street food, you shouldn't sleep in Quebec when considering your next trip.
2. Bend, Oregon 
Nature lovers, budget travelers and travel agents all unite on their fondness for Bend. With everything from mountain ranges to desert scenery, this central Oregon city is packed with hiking, rock climbing, fishing, camping or a lazy float down the Deschutes, River. 
Make Your Money Work for You
3. Buffalo, New York 
Buffalo is a funny little tourist town that hasn't lost its charm. No matter if you are looking for a breathtaking ferry ride to see Niagra Falls or just want to visit the birthplace of the delicious Buffalo wing, this food and wine mecca has you covered. 
4. Asheville, North Carolina 
If you've heard someone reference Asheville and thought they said Nashville, it's a common mistake, but the former is an up-and-coming tourist attraction that fits neatly in a charming southern town. Not only are there local eateries and breweries sprinkled throughout the city, but it is also conveniently located near many adventure parks and nature centers to balance out your trip.
5. San Diego, California 
When you think of vacation you often conjure images of beaches and family fun. If this is your idea of a good time, then San Diego might be the way to go. You can enjoy movies on the beach, surf school or even a day at the famous San Diego Zoo which the whole family will love. 
6. Ocean City, Maryland 
Tucked away in a little seaside resort town lies Ocean City, Maryland. This hidden gem hosts miles of public beaches lined with boardwalks, old-timey Ferris wheels and carousels. It's budget-friendly and like visiting a town time has forgotten, in the best way.
7. Hvar, Croatia 
The coastline of Croatia is known for its beautiful islands and Hvar is no exception. This popular idyllic island is filled to the edges with lavender fields, wineries and culture. Don't miss out on an opportunity to travel here before the prices go up.
Make Your Money Work for You
3 Top Ways To Travel Cheaply According To Travel Agents
Mel Dohmen, a senior brand manager at Orbitz says, "Travelers can save hundreds of dollars by simply following the same cost-saving steps they'd normally take for themselves." Here are a few pieces of advice travel agents give to help you travel cheaply:
Try checking for one-way tickets as opposed to round-trip tickets. You can book them separately, sometimes from different airlines, to save money.
Don't book tickets on weekends. Higher demands for weekend flights drive up the price, so if your dates are flexible book your flight for less popular days such as midweek for a cheaper price.
The deals you get could depend on the credit card you have and the day you book, so make sure to double-check which booking platforms have better deals for your card.
Final Take To GO 
Booking with a travel agent always removes a few headaches from your trip as they can handle anything unexpected that pops up for little to no fee. It's also a good idea to take their advise on what destinations are up and coming, and when you should book them to save a few bucks. 
FAQ
Here are the answers to some of the most frequently asked questions about general travel and booking with travel agents.
Is it smart to book with a travel agent?

Booking with a travel agent can be a good idea as they can help you handle unexpected occurrences such as natural disasters, flight cancellations and weather delays. Essentially you are paying them to help with details you don't want to handle as well as act as your advocate when navigating travel challenges.

What are the disadvantages of using a travel agent?

One main disadvantage of using a travel agent is the extra cost it adds to your trip or travel budget.

 Do you pay more for a trip if you use a travel agent?

In general, when you use a travel agent the fee you pay is minimal, and sometime there is no charge whatsoever as they can be paid via commission from hotels you book or other wholesalers.
Make Your Money Work for You
Our in-house research team and on-site financial experts work together to create content that's accurate, impartial, and up to date. We fact-check every single statistic, quote and fact using trusted primary resources to make sure the information we provide is correct. You can learn more about GOBankingRates' processes and standards in our editorial policy.