Top 8 Richest TikTok Influencers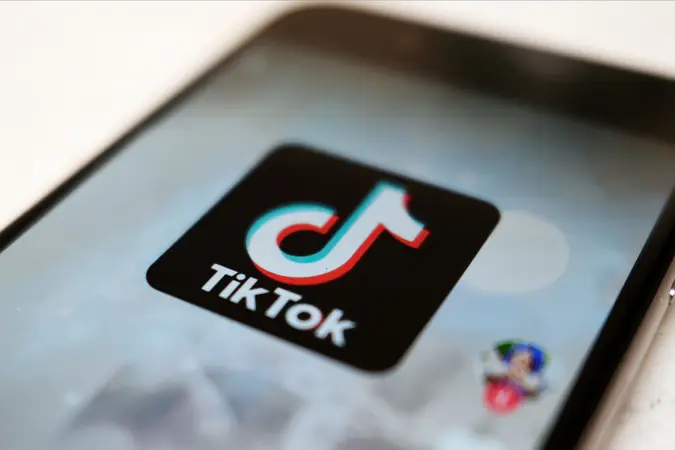 Kiichiro Sato/AP/Shutterstock / Kiichiro Sato/AP/Shutterstock
As the world becomes more digitally connected and social media continues to sway younger generations, the power of influence has become a job that lucky and talented young people can successfully parlay into millions of dollars. The social media channel TikTok is especially popular and has catapulted many aspiring young entertainers into fame and fortune. Many TikTok influencers make their name through dancing, singing, lip-syncing to music and other kinds of performance.
Many influencers on this list became millionaires before they were legal adults, several dropped out of or postponed college to focus on their careers, and all continue to rake in cash across multiple social media channels through sponsorship deals. Here are 8 of the richest TikTok influencers, ranked by net worth as reported by Celebrity Net Worth and other sources.
Will Smith
Charli D'Amelio
Addison Rae
Dixie D'Amelio
Kimberly Loaiza
Spencer Polanco Knight
Zach King
Bella Porch
Richest TikTok Influencers
Here is a look at some of the richest TikTok stars, how they make their money and how much they earn per post, as reported by Hopper HQ.
1. Will Smith
Net worth: $350 million
Earns $53,741 per post 
Will Smith is better known as an actor than a TikTok influencer, but he wears many hats. Aside from being an actor, rapper, producer and songwriter, Will Smith is a popular TikTok influencer who earns more than $53,000 every time he creates a new post. Today, he has more than 72 million followers and has made over 160 videos for the platform. 
2. Charli D'Amelio
Net worth: $20 million
Earns $105,770 per post 
The 17-year-old's star rose on TikTok for the first time in June 2019 due to the competitive dancer's viral dance videos. She was soon invited to dance with singer Bebe Rexha, who opened for the Jonas Brothers at the Barclays Center in New York that same year. According to Celebrity Net Worth, her net worth is $20 million. Along with selling her own merchandise, she published her first book, "Essentially Charli: The Ultimate Guide to Keeping It Real," in December 2020. She and her sister, Dixie, star in their own TV show on Hulu.
Make Your Money Work Better for You
3. Addison Rae
Net worth: $15 million
Earns $65,194 per post 
As of December 2021, 20-year-old Addison Rae Easterling has more than 88 million followers on TikTok. She became so successful, with a net worth valued at $15 million, according to Celebrity Net Worth, that she quit college to pursue her TikTok career full-time. She became a global spokesperson for American Eagle clothing company and started a weekly Spotify podcast with her mom, Sheri Nicole, called "Mama Knows Best." She has also appeared in the movie "She's All That."
4. Dixie D'Amelio
Net worth: $10 million
Earns $42,567 per post
Charli D'Amelio's older sister, Dixie, age 21, is not far behind in TikTok success. She has 57.4 million followers, according to her TikTok profile, and has inked deals, along with her sister, with the clothing company Hollister and makeup company Morphe. While sister Charli D'Amelio focuses on dancing, Dixie is working on a music career. She released her first single, "Be Happy," which trended ahead of Kanye West on the day of its release. She appears with Charli on Hulu's "The D'Amelio Show," which helped her achieve a net worth of $10 million.
5. Kimberly Loaiza
Net worth: $8 million
Earns $47,374 per post 
Kimberly Loaiza is one of the most popular Mexican vloggers on TikTok and YouTube. She's known for taking a bold approach to vlogging and posting challenge and tutorial videos. Kimberly is also viewed as a fashion diva who has become an icon to countless young ladies worldwide. She has amassed more than 72 million followers on TikTok and 39.5 million followers on YouTube.
6. Spencer Polanco Knight
Net worth: $6 million
Earns $40,934 per post
Spencer Polanco Knight is most well-known as a beatboxer, where he got his start in social media fame. Better known to his followers as Spencer X, the beatbox artist was born and raised in Manhattan, New York. With more than 55 million followers, Spencer is one of the most popular stars on TikTok today — and one of the richest, with a net worth of $6 million, according to Hopper HQ. He's also ventured away from solely beatboxing. While he still creates beats for his followers, he also uses random items to make creative and unique sounds, keeping him one step ahead of his competition at all times.   
Make Your Money Work Better for You
7. Zach King
Net worth: $3 million
Earns $44,225 per post
Thirty-one-year-old Zach King started posting videos on YouTube in 2008 and Vine in 2013. He won the Hewlett-Packard commercial contest in 2010 and YouTube's NextUp Creators contest in 2013. He's gone on to compete in the reality show "The Amazing Race" and direct several short films, and he has become wildly famous for his creative magic on TikTok and elsewhere. He's worth $3 million, according to Celebrity Net Worth. 
8. Bella Poarch
Net worth: $2 million
Earns $66,829 per post
Bella Poarch is a 24-year-old TikTok sensation who has taken the internet by storm and, according to Hopper HQ, has amassed a $2 million net worth in the process. Her TikTok career took a moon-facing trajectory in late 2020 when a video of her lip-syncing Millie B's hit song, "M to the B," went viral. Today, just a couple of short years later, she has more than 92 million followers on the platform and is one of the highest-paid TikTok influencers from a per-post standpoint, raking in nearly $67,000 every time she publishes a new post. She may not be the wealthiest TikTok star today, but considering her channel's growth and the amount she makes per post, she may climb this list quickly. 
Final Take
The TikTok influencers mentioned in this article are the richest by net worth, and some are the wealthiest TikTok stars by per-post earnings. Nonetheless, there are countless influencers on the platform who earn a meaningful income by doing nothing more than posting short videos. Those who have a creative idea should consider opening a TikTok account of their own. After all, anyone with a great idea can become a TikTok millionaire. 
TikTok Influencers FAQ
The biggest influencers on TikTok have amassed followings in the tens of millions. Whenever something's so popular, it's natural for people to have questions about it. Some of the most common questions about TikTok influencers are answered below.
Who is the best TikTok influencer?

From a net worth perspective, the best TikTok influencer is Will Smith, but that may not be a fair gauge because most of his $350 million came from his activities as an actor, rapper, producer and songwriter. Next on the list in terms of net worth is Charli D'Amelio, who has earned the brunt of her net worth from producing social media videos.
Charli D'Amelio is also the best TikTok influencer by per-post earnings. She earns a whopping $105,770 every time she publishes a new video. 

What do TikTok influencers pay?

TikTok Influencers don't pay to publish on the platform, they make money. There is no set pay for being a TikTok influencer. Instead, the amount of money they make depends on multiple factors. The most important being:

Monetization methods. How the influencer decides to monetize videos.
Traffic. The number of views the influencer receives on videos.

What are influencers on TikTok?

TikTok Influencers are video bloggers who have used the TikTok platform successfully. These video producers have the ability to influence the decision-making processes of their fans. 

How do I get in touch with TikTok influencers?

There are multiple ways to get in touch with TikTok influencers, but one of the best is to reach out to them on the TikTok platform itself.
Make Your Money Work Better for You
Jordan Rosenfeld and Daria Uhlig contributed to the reporting for this article.
Earnings-per-post data was reported on Oct. 5, 2022. Other information is accurate as of Jan. 26, 2023.
Editorial Note: This content is not provided by any entity covered in this article. Any opinions, analyses, reviews, ratings or recommendations expressed in this article are those of the author alone and have not been reviewed, approved or otherwise endorsed by any entity named in this article.
Our in-house research team and on-site financial experts work together to create content that's accurate, impartial, and up to date. We fact-check every single statistic, quote and fact using trusted primary resources to make sure the information we provide is correct. You can learn more about GOBankingRates' processes and standards in our editorial policy.