When Is Flying First Class 'Worth It'?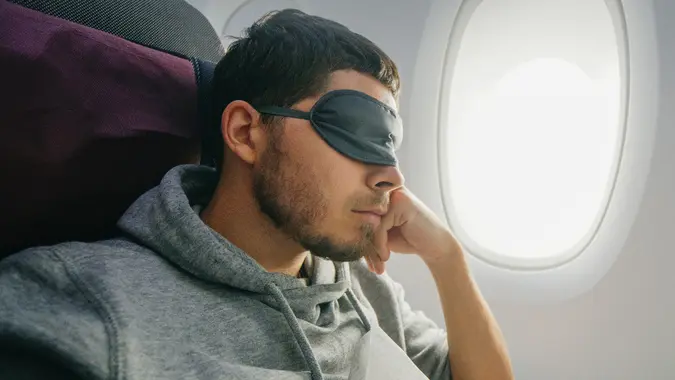 ©Shutterstock.com
There are a few guarantees that come with flying first class. There's extra leg room to stretch out and relax in a wider seat, complimentary beverages, snacks and meals to satisfy your appetite, priority onboarding and disembarking and a selection of amenities to ensure you are always comfortable during your flight. 
Holiday Spending: Get Top Holiday Shopping and Savings Tips
And More: 5 Things You Must Do When Your Savings Reach $50,000
Aside from accommodations designed to meet your every need, there are certain moments when flying first class goes beyond being a satisfying flight. Sometimes flying first class has the potential to change your life. If you are contemplating whether your next flight should be booked with a first-class ticket, these stories of first-class fliers who discovered booking this ticket was absolutely worth it may inspire you to make that purchase. 
It's Exciting, and Relaxing, To Fly First Class
Michelle Snell, founder of travel content creation company That Texas Couple, received a free upgrade to first class during a recent trip to Cancun, Mexico. It was Snell's first time ever flying first class and she was extremely excited for her flight.
"From the minute I stepped foot on the plane, I was attended to at all times," Snell said. "I was greeted with a warm towel and a glass of sparkling wine that was continuously filled the minute I took even one sip from it."
Make Your Money Work for You
Snell's flight was only 3 1/2 hours, but during that time she received a meal and several cocktails of her choice for free and reclined in a comfortable seat. Snell enjoyed the experience so much that she was sad to see the flight end. 
However, even Snell's experience disembarking from first class was just as enjoyable as onboarding the flight.
"When the flight landed, I didn't have to jump into the aisle to keep people from running up the aisle to pass me," Snell said. "I just casually got up when it was my turn, retrieved my carry-on bag and was one of the first people off of the plane and into the customs line."
Take Our Poll: How Has Inflation Impacted Your Holiday Shopping Plans?
Flying First Class May Relieve Anxiety
Ericka Goodwin, MD — psychiatrist and podcast host of Better with Dr. Ericka — is a frequent first-class flier. Amid the ongoing COVID-19 pandemic, Goodwin said flying first class has completely transformed the flying experience. 
Flying first class may allow COVID-19-conscious passengers to experience a bit of relief during their flight, especially those with mixed feelings about the ending of mask mandates.
"It allows me to get on and off the flight quickly, along with feeling a bit physically distant with more space and less people next to me," Goodwin said. "I feel less anxious about flying in COVID, only seeing a few people in front of me rather than seeing a lot of people in front of me."
Make Your Money Work for You
First Class Rethinks How You Spend Time on a Plane
Renata Castro, Esq., is a founding immigration attorney at Castro Legal Group. Castro travels extensively and has a Delta Platinum Status. For Castro, flying first class is a necessity and an experience that allows passengers to rethink how they use their time wisely during a flight. 
"I am a big believer in using my flight time as productive, uninterrupted time – to either focus on my reading, or my writing," Castro said. 
While time spent flying first class may differ for everyone, whether you use it to rest before a busy day at work, relax after a particularly tough week at work or find the opportunity to network with other passengers who are open to having a conversation together, try not to let that time slip entirely away from you. Pull out your laptop and revisit a short story you were writing, doodle or sketch creative images that have been percolating in your imagination or bring along a book you're midway through and would like to finish reading. 
Make Your Money Work for You
"If you can develop the discipline to rethink how to approach time spent on a plane – it can either be lost time, or it can be a valuable tool in your toolbox as you repurpose this use of time," Castro said.
You May Convert Others To Fly First Class
The experience of flying first class, in some cases, may become so worth it that it not only shapes the way you fly moving forward, but it gives you, the seasoned flier, the opportunity to encourage others to try out this experience.
This happened to Castro, who co-authored a book with small-business strategist James Chittenden. Chittenden is the founder of One Click Advisor where he advises entrepreneurs on how to start, finance, market and operate their businesses successfully. 
After doing presentations in Brazil last January, Castro and Chittenden were preparing for their flight home. Both exhausted, Castro suggested to Chittenden that they upgrade to Delta One which offers a lay-flat seat on certain Delta flights. Chittenden agreed and is now a convert to flying first class, believing it's one of the best investments in one's business and self-development. 
"I fly first class any time I can and now James does too," Castro said. "Maybe my next professional project will be to convert nonbelievers into first class fliers."
More From GOBankingRates
Make Your Money Work for You