38% of Recipients Say the Child Tax Credit Is Reducing Their Refund — Will This Be the Case for You?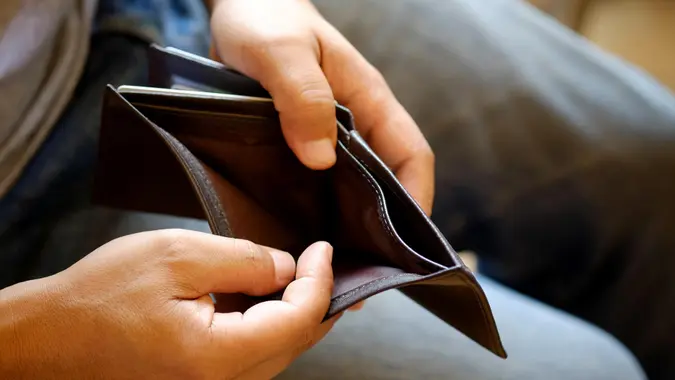 BongkarnThanyakij / Getty Images/iStockphoto
In 2021, as part of the American Rescue Plan, advance payments of the child tax credit were sent to 61 million eligible recipients. Though this was a welcome surprise for many families, taxpayers are wondering what impact these payments will have on their refund.
Tax Credit Filing Help? These IRS Taxpayer Assistance Centers Are Open Saturdays
Need Help: Here Are Some Free Tax Programs You May Qualify For
According to a recent GOBankingRates tax survey of 1,000 Americans across the country, 38% of child tax credit recipients think they'll owe money or get less of a refund. GOBankingRates lead content data researcher Andrew Murray attributes this attitude to the thought that the extra money is too good to be true. "You could file this under the strongly held idiom 'there is no such thing as a free lunch,'" Murray said in regards to the results of the survey.
The GOBankingRates tax survey also revealed that 34% of child tax credit recipients simply don't know how it will affect their taxes, so to help both groups out, GOBankingRates spoke to tax experts to find out what to expect when filing this year.
How Was My Child Tax Credit Amount Decided?
The amount you received as an advanced payment for your child tax credit is based on your 2020 tax return. If your 2020 tax return had not been processed by the time the advance payments were being issued (July 2021), the amount you received was based on your 2019 tax return. The payments reflected half of what you were eligible for based on these prior tax returns. 
For each qualifying child age 5 or younger, taxpayers generally received $300 each month. That was determined by dividing $3,600 in half, which is $1,800. Six monthly payments of $300 equals $1,800. For kids ages 6 to 17, an eligible recipient generally received $250 each month. That was determined by dividing $3,000 in half, coming out to $1,500. Six monthly payments of $250 equals $1,500. If you received payments, these calculations are also laid out for you in Letter 6419 that you should have gotten in the mail between December 2021 and January 2022. Hold onto this, as it has vital information you need when filing your taxes. You can also find this information in your IRS account online. If the number on your Letter 6419 differs from the amount online, refer to the amount online.
How Can I Find Out If My Tax Refund Will Be Reduced?
Your refund isn't necessarily reduced simply because you received the child tax credit. CPA Wendy Barlin suggested that you look at the child tax credit as if you received some of your refund early. "Taxpayers are not 'losing' any of their refund. It is simply a timing difference. Refunds were, in essence, prepaid," Barlin said. 
However, if you're trying to determine if your refund total will be the same as it was last year, there are other factors that could influence that. Richard Lavina, who is a CPA and the CEO and co-founder of Taxfyle, said that Letter 6419 can help determine the state of your refund. "This letter will help [recipients] reconcile what they received last year and claim the correct amount this year." Reconciling means you need to compare what you received with what you're eligible to claim. 
Situations Where Your Refund Might Be Affected
Because the amount you received is based on last year's tax returns, some aspects of your life might have changed in 2021 that could adjust your refund, like if your dependents changed, for example. "If you received an advanced payment for a child that isn't your dependent anymore, you might be in a situation where your refund might be reduced," Lavina cautioned. This could also be a situation where you owe money since you basically received a tax credit for a child that you no longer claim.
Another situation that could affect your refund is if your income changed. "If you received advanced tax payments in 2021 and your modified adjusted gross income is higher in 2021 than 2020, then you may need to pay some of that money back," said Mark Puzdrak, CPA. 
In short, the money you received last year is technically part of your refund, and though the amount you receive this year might be lower than the previous year's, if all of your circumstances are the same as they were in 2020, you received the same refund, just at different times. 
More From GOBankingRates
Methodology: GOBankingRates surveyed 1,000 Americans aged 18 and older from across the country between January 31 and February 1, 2021, asking six different questions: (1) How do you plan on filing your taxes for this year?; (2) When do you expect to file your taxes this year?; (3) How much do you expect to receive in a tax refund?; (4) What do you plan to do with your refund? (Select all that apply); (5) Do you feel confident you are receiving all the deductions you feel qualified for?; and (6) If you received the Child Tax Credit this past year (2021) how do you feel it will affect your taxes? All respondents had to pass a screener question of: Do you plan to file taxes in 2022?, with an answer of "Yes". GOBankingRates used PureSpectrum's survey platform to conduct the poll.