Americans & Filing Taxes: Here's How Many Plan To Use Tax Software vs. a CPA in 2023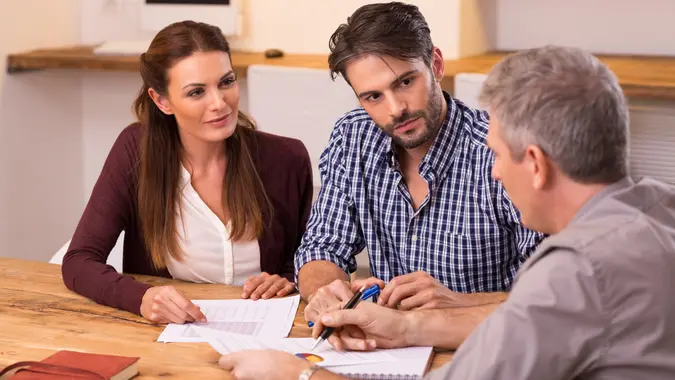 Ridofranz / iStock.com
What's the preferred method for filing taxes in 2023? GOBankingRates' 2023 tax survey of 1,002 Americans reveals that 44% of overall respondents plan to use tax software. In contrast, just about 18% will work with a CPA to file their tax returns. 
Find Out: What Is the Standard Deduction for People Over 65 in 2023?
More: 3 Signs You're Serious About Raising Your Credit Score
These are two of the most popular methods for filing taxes. While the outcome will be the same in the end — your tax returns will be filed at the federal and state level — there's the question of why a taxpayer chooses to file using software vs. teaming up with a tax professional. Why do one over the other? Let's look at some of the key benefits associated with filing taxes with software vs. working with a CPA.
Benefits of Filing Taxes Using Software
Taxpayers who file using tax software may receive these filing benefits, among others.
Good Option for Simple Returns
Tax software is generally recommended for those filing fairly simple tax returns. If a filer only has a W2 form, works one job and hasn't experienced any major milestones in the tax year like having a kid or buying a home, they may not need a significant amount of outside filing help. The better approach may be to choose tax filing software.
It Is Cost-Effective
Taylor Eason, tax strategist for TSP Family Office, said working with a CPA can cost at least $100 an hour. Depending on the amount of time you need to work with a CPA, Eason said tax clients could pay anywhere from $250 to thousands of dollars to file their taxes.
Take Our Poll: How Much of a Tax Refund Do You Expect in 2023?
Most software services, on the other hand, are either free or very affordable to use. While Eason said there are options to upgrade for special services, most basic packages are extremely cost-effective.
Quick Turnaround
"From experience, CPAs have a lot of clients and are working up until deadlines and extending tax returns," said Eason. "Software has a faster turnaround. You can do your taxes when you want and submit an electronic copy the same day."
Benefits of Filing Taxes With a CPA
Working with a CPA? Taxpayers will pay a little bit more money but will receive the following benefits.
Knowledge and Expertise
If you don't know much about filing taxes or have a complicated tax situation, Eason said working with a CPA can be a significant help. Most CPAs are familiar with tax deductions and credits and can make sure you're filing your return properly and getting a max refund if you are owed one.
IRS Correspondence
In the event a taxpayer needs to communicate with the IRS, Eason said a CPA may be able to offer assistance with this type of correspondence.
What's the Ideal Choice for Tax Planning?
Brian Rellihan, CFP and enrolled agent (EA) at Wise Wealth Partners, said tax software tends to focus on tax preparation. This is not the same as tax planning. Working with a CPA on a year-round basis can provide clients with a deep dive of tax planning which looks at even greater tax savings.
Consider Filing With an Enrolled Agent (EA)
While findings in GOBankingRates' 2023 tax survey did not specifically indicate whether respondents work with an enrolled agent (EA), Rellihan recommends considering an EA when filing your tax return.
"They are specifically trained on income tax whereas CPAs are more generalists. EAs can, at times, also cost less than their CPA counterparts," said Rellihan.
More From GOBankingRates