How To Do Your Taxes Last Minute If You Filed an Extension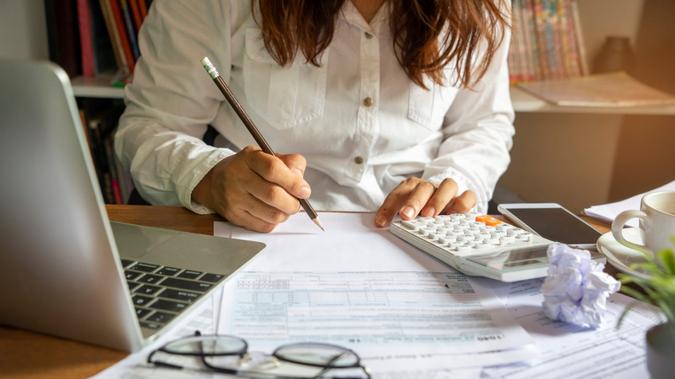 Pra-chid / Getty Images/iStockphoto
If you filed a tax extension for the 2020 tax year, your tax return will be due on Oct. 15 — which means if you haven't started the process of filing yet, you need to get going ASAP.
Did You Know: Here's the Average IRS Tax Refund Amount
Find Out: What To Do When You Can't Pay Your Tax Bill
Here's everything you need to know about filing your taxes last minute if you filed an extension.
Take the Necessary Steps To Ensure You Can File on Time
"At this point in the year, individual tax filers have already filed an extension return and paid some amount of tax due," said Kalimah White, vice president and wealth strategist at TD Wealth. "Individual extended returns for 2020 are due by Oct. 15. It is very important to ensure that you have all of the information necessary to file the extended return. Also, ensure payment of any additional tax due related to an increase in income, etc. As always, waiting until the last minute is never a good idea, so filing as soon as possible will give you time to cure any major issues."
See: 10 Tax Loopholes That Could Save You Thousands
By this point, you've had plenty of time to gather all of your relevant documents, so hopefully, you have used that time wisely.
"Most taxpayers do not need to file an extension," White said. "However, it is a great option and advantage to have — especially if you don't have all of the information necessary to file a complete return in April. Despite the implications of the word 'extension' as a tax deferral mechanism, taxpayers are required to make an estimated tax payment along with the extension filing. So, there is no great advantage to filing an extension unless one needs more time to gather information for tax filing purposes."
Don't Miss the Oct. 15 Deadline
"The IRS charges penalties and interest daily on overdue tax payments," White said. "Delinquent tax payments can snowball over time into significant debt as penalties and interest accrue."
If you miss the Oct. 15 deadline, you will be subject to a "failure to file" penalty. This penalty is 5% of the unpaid taxes for each month or part of a month that a tax return is late, up to 25% of your unpaid taxes.
Take the Quiz: Are You Filing Your Taxes Correctly?
Start Thinking About the 2021 Tax Year
As you review and submit your 2020 taxes, you should also start thinking about moves to make by the end of the 2021 tax year to reduce your tax burden next year.
"Gifting to family or charity is always a good way to decrease income and estate tax liability," White said. "Shifting income or bunching deductions in certain years can also help to decrease income tax liability — especially in years when your tax bracket may be lower."
More From GOBankingRates
Last updated: Oct. 12, 2021