Waited Until October To File Taxes? Here's How To Meet the Extension Deadline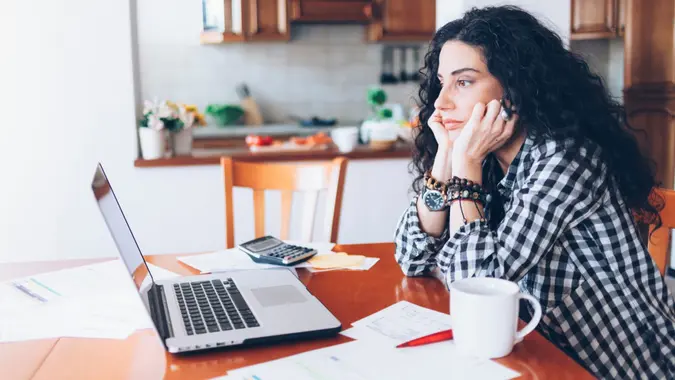 Vladimir Vladimirov / Getty Images
Procrastinating taxpayers rejoiced when the IRS extended the filing deadline from April 15 to May 17. Even so, many still weren't ready and had to request a filing extension. Plenty of others simply skipped that step and just never filed at all.
Either way, the extension deadline is Oct. 15 — and you don't want to miss your chance to file again this time around.
With a Handful of Exceptions, Everyone Must File By Oct. 15
The IRS grants some taxpayers with special circumstances an extension beyond Oct. 15, virtually all of whom fall into one of three categories:
Qualifying people and businesses affected by Hurricane Ida in designated parts of New Jersey, New York, Pennsylvania, Louisiana and Mississippi

Taxpayers with valid extensions in federally declared disaster areas.

Members of the military and others serving in combat zones
If none of these apply to you, then the Oct. 15 deadline almost certainly does.
See: 10 Tax Loopholes That Could Save You Thousands
First, Create an IRS Tax Account
If you haven't already, create a free account at IRS.gov. Your IRS account is your home base for things like:
Taxes owed

Payment history

Scheduled payments

Estimated tax payments

Notices from the IRS

Economic Impact Payment amounts

Important identity-verification information like your previous year's AGI
Start With the IRS' Free File Service
Free File is a partnership between the IRS and third-party tax software services. Choose an offer through the Free File section of IRS.gov and you'll receive free guided tax preparation and filing services for your federal and, depending on the partner service, state returns. Keep in mind:
The full free service is available only to taxpayers with AGIs of $72,000 or less. 

Those making above $72,000 can get free fillable forms, but they have to fill them out and file them themselves — use this option only if you're comfortable doing your taxes unassisted. 

Sites like CreditKarma.com — and many competitors — offer free guided tax preparation and filing services to most taxpayers. 

The Volunteer Income Tax Assistance (VITA) and Tax Counseling for the Elderly (TCE) programs offer free tax services to those who qualify.
Do Everything Electronically
The IRS repeatedly stresses that taxpayers should file their returns, update personal information, check their refund status and do everything else electronically for faster, more reliable service. When making payments, direct withdrawals from bank accounts are the best and fastest. If you're due a refund, choose direct deposit.
Take the Quiz: Are You Filing Your Taxes Correctly?
Major Penalties Start Piling Up on Oct. 16 — File Even If You Can't Afford To Pay
If you don't owe any taxes, if you're due a refund or if the IRS granted you an extension, you won't pay interest or penalties as long as you file on or before Oct. 15. If you do owe a tax bill or if you failed to file by May 17 without being granted an extension, you'll likely pay a penalty. But the IRS states that you can "generally avoid additional penalties and interest by filing the return as soon as possible and paying any taxes owed." 
But if you let Oct. 15 pass without filing, things will quickly get much worse.
After Oct. 15, the IRS will hit you with a late-filing penalty of 5% of taxes owed per month up to a maximum of 25%. If you let 60 days pass without filing, you'll owe a minimum of $435 or 100% of your unpaid tax, whichever is less. 
If you've been putting off filing because you owe a tax bill that you don't have the money to pay, you haven't been doing yourself any favors. The modest late payment fee of 0.5% per month is much more forgiving than the late-filing fee, which moves that decimal point one place to the right.
Waiting Could Cost You Your Stimulus Payments — and Maybe Even Your Refund
It's not too late for anyone who still hasn't received the first two rounds of stimulus payments, according to the IRS, but time is quickly running out. Even if you don't normally file, the IRS urges you either to file a return or use the Child Tax Credit Non-filer Sign-up Tool to give the agency the information it needs to process the payments.
The IRS does not explicitly state that taxpayers who overpaid will forfeit their refunds if they don't file by the Oct. 15 extended deadline. But the agency's website does state that "people who wait too long to file and claim a refund, risk losing it altogether."
More From GOBankingRates
Last updated: Oct. 1, 2021