Today Is IRS Free File Day — But You Can't Officially Submit Taxes Until Jan. 23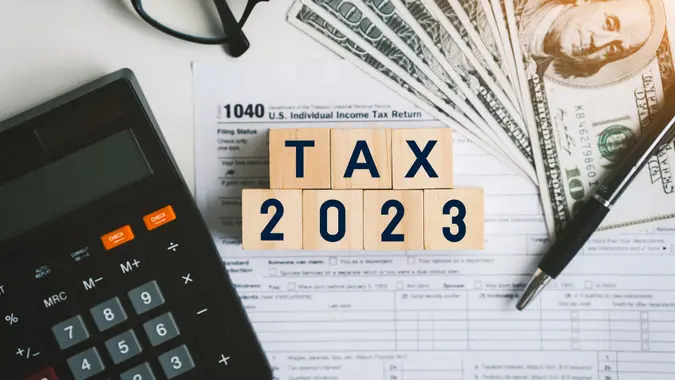 Khanchit Khirisutchalual / Getty Images/iStockphoto
Today is IRS (Internal Revenue Service) Free File Day, meaning that some providers will accept completed tax returns and hold them until they can officially be filed. that's because the official start of tax season is Jan. 23 for individual tax return filers, the agency announced on Jan. 12 — a date which will allow "the IRS time to perform annual updates and readiness work that are critical to ensuring IRS systems run smoothly."
Taxes: 4 Tax Filing Assistance Programs That Can Save You Money
Find: 3 Ways Smart People Save Money When Filing Their Taxes
See: How To Write Off Pet Expenses on Your Taxes
Today, taxpayers who made $73,000 or less in 2022 can use the IRS's Free File program which enables them to file their taxes electronically for free and can be found on the agency's website here.
"The IRS Free File Program is a public-private partnership between the IRS and many tax preparation and filing software industry companies who provide their online tax preparation and filing for free," according to the IRS.
In addition, as part of this effort, taxpayers whose income is greater than $73,000 can use Free File Fillable forms, which provide free electronic forms that they can fill out and file themselves also at no cost.
"This filing season is the first to benefit the IRS and our nation's tax system from multi-year funding in the Inflation Reduction Act," acting IRS Commissioner Doug O'Donnell, said in the announcement. "With these new additional resources, taxpayers and tax professionals will see improvements in many areas of the agency this year. We've trained thousands of new employees to answer phones and help people. While much work remains after several difficult years, we expect people to experience improvements this tax season. That's just the start as we work to add new long-term transformation efforts that will make things even smoother in future years. We are very excited to begin to deliver what taxpayers want and our employees know we could do with this funding."
The IRS also said that the tax filing deadline in 2023 will be April 18 and taxpayers requesting an extension will have until Monday, Oct. 16, 2023, to file. Most taxpayers can expect a refund within 21 days of when they file electronically if they choose direct deposit and there are no issues with their tax return. 
Social Security: No Matter Your Age, Do Not Claim Benefits Until You Reach This Milestone
See: Don't File Your Taxes Early Says IRS, Wait for Form 1099-K
The IRS had one of the most complicated seasons in 2022, as a combination of the pandemic, several tax law changes, backlogs and fewer employees triggered numerous delays.  
The agency said that as of Dec. 23, 2022, it still had 1.91 million unprocessed individual returns received this year. It added that of these, 1.49 million returns require "error correction or other special handling, and 414,000 are paper returns waiting to be reviewed and processed," according to a statement.
More From GOBankingRates