When Does It Make Sense To Pay Taxes With Credit?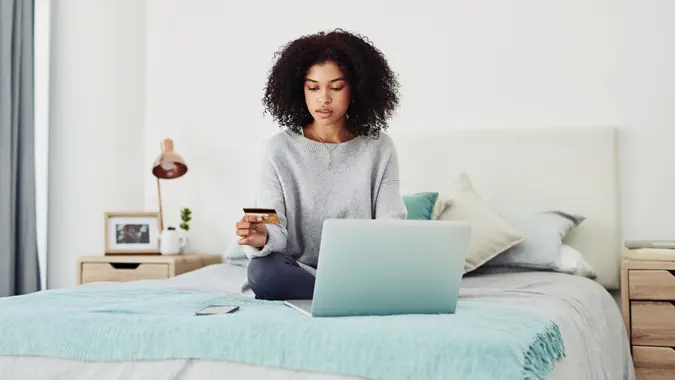 LumiNola / Getty Images
Though some finance gurus, like Warren Buffett, advise against using credit cards, there is usually a time and place for using them responsibly. For one thing, it's important to build a credit history in order to appeal to lenders. Additionally, many credit cards come with perks such as cash back and/or travel rewards. But part of responsible use of credit cards is knowing when to use them. Could paying taxes be the right time to do so?  
See: 10 Genius Things Dave Ramsey Says To Do With Your Money
Find: If Your Credit Score is Under 600, Make These 3 Moves ASAP
First, you should know that you can indeed pay taxes online with a credit card, but not for free. The IRS doesn't charge a fee for paying this way, but the third-party service providers that process tax payments do.
ACI Payments, Inc.: 1.98% fee, or a minimum fee of $2.50
PayUSAtax: 1.85% fee, or a minimum fee of $2.69
Pay1040: 1.87% fee, or a minimum fee of $2.50
You could pay even more if you use an integrated IRS e-file and e-pay service provider.
PAY1040.com/SpecialOffers/TurboTax (Link2Gov Corporation): 2.49% fee, or a minimum fee of $3,95
1040paytax.com (WorldPay US, Inc.): 2.35% fee, or a minimum fee of $3.95
TaxBandits.com (ACI Payments, Inc): 2.95% fee, no minimum
PayUSAtax.com has the lowest credit card fee, but even a 1.85% fee can be steep if you're paying a large amount in taxes. So is it worth it? There are scenarios where it may actually make sense for you to pay your taxes with a credit card, despite the fee.
Qualify for Your Welcome Bonus 
If you just signed up for a new credit card and have a high spending threshold to meet in order to nab your signup bonus reward, paying your taxes with that card could be just what you need to push you over the edge and get that "free" money. 
Earn Elite Status 
Some credit cards have spending thresholds you can pass to access a higher status. Perhaps you can tap a hotel loyalty program or an airline rewards program. By spending a significant amount of money in one sitting (i.e., paying your taxes), you can possibly bump yourself up to a more VIP level.  
Take Our Poll: How Much of a Tax Refund Do You Expect in 2023?
Discover: How To Save Money When Filing Taxes
Get More Rewards 
You may have to fork over the 1.85% fee to pay your taxes with a credit card, but maybe you'll get 2% or 3% back in cash back or another reward type from the credit card company. You can do the math and figure out if it's actually worthwhile.
More From GOBankingRates