The IRS Has Refunded $15.7B As of Feb. 3 — Here's How Much the Average Taxpayer is Getting Back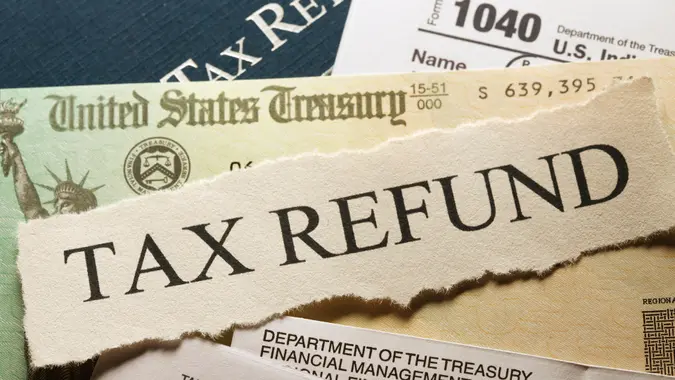 DNY59 / Getty Images/iStockphoto
The IRS advised taxpayers that they may see smaller refunds this tax season, and as of early February, it appears the agency was right. While the IRS has issued $15.7 billion worth of refunds as of Feb. 3, the average refund amount dropped by almost 11%, from $2,201 in 2022 to $1,963 this year.
Taxes 2023: What Is the Standard Deduction for People Over 65 in 2023?
Discover: If Your Credit Score Is Under 600, Make These 3 Moves ASAP
The good news is that the IRS is operating much more efficiently than last year. Thanks in part to hiring 4,000 new customer service agents and adopting more modern technology, the agency has processed 16.7 million tax returns so far this season, up 29% from 2022. Plus, the IRS is issuing more than 90% of refunds within 21 days of receiving and reviewing tax returns.
Track Your Tax Refund
You can see your refund status by using the "Where's My Refund?" tool on the IRS website, but you must wait at least 24 hours after e-filing your return for your information to appear. If you submit a paper tax return, it may be six months or more before your refund status becomes available.
Take Our Poll: How Much of a Tax Refund Do You Expect in 2023?
Discover: GBR's Tax Resource Center
Make the Most of Your Tax Refund
While you may have hoped for (or expected) a larger amount, you can still improve your life and finances with a small tax refund. Consider beefing up your savings, paying off debt, taking an online course, or making needed repairs to your home or car.
More From GOBankingRates