Why Suze Orman Thinks You're Doing Something Wrong If You Get a Tax Refund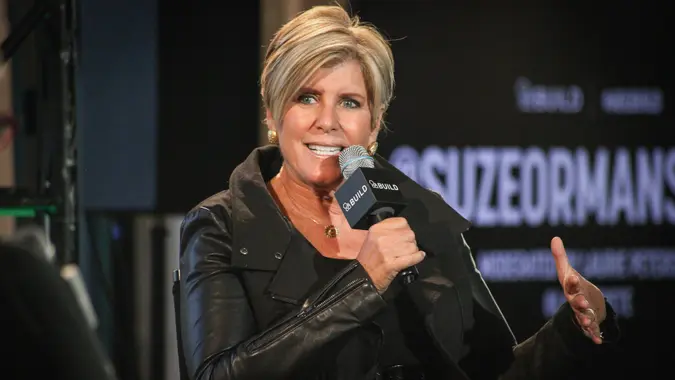 Mediapunch / Shutterstock.com
Last year, the average tax refund was over $2,500, the IRS reported. And while you may be looking forward to getting another couple thousand dollars as a refund this year, financial expert Suze Orman says this isn't a good thing.
Find Out: How Do Your Stimulus Payments Affect Your Taxes?
"When it comes to taxes, if you're getting a tax refund, you are making one of the biggest mistakes out there," she told CNBC. "Why would you want to get a tax refund? It's not as if the government pays you interest on that money."
Orman believes that if you got that money as an extra $100 or $200 in your paycheck each month, it could be put to much better use.
Make Smart Moves: The 6 Most Important Tax Deductions You Need to Claim
"You could be getting that extra $100 or $200 a month and be paying down your credit card, $100 or $200 a month to go into your retirement accounts, $100 or $200 a month to do all kinds of things with that you could use to create more for yourself — but, no, you just love when you get this tax refund," she said. "It's the biggest waste of money you will ever get."
If you do end up getting a refund this year, "adjust everything so you don't have to get a tax refund" next year, Orman advises.
Exclusive: Americans' Savings Drop to Lowest Point in Years
What To Do If You Do Get a Refund This Year
It's too late to adjust your withholdings for tax year 2020, so if you do get a refund, there are some ways to use it smartly.
Pay Off Credit Card Debt
Focus on paying down balances on your credit cards with the highest interest rates, Orman wrote in a post on her website.
"For this to work, you also need to be ready to live below your means and within your needs," she said. "It makes no sense to pay off this expensive debt if you are going to turn around and just charge up big balances you can't pay off."
Important: Never Got Your Stimulus Check? Claim It on Your Taxes
Put It Into Your Emergency Savings
"If you're working toward having eight months of living expenses tucked away, your tax refund can be [a] huge step forward," Orman wrote.
See the Differences: Surprising Ways Gen X and Millennials Are Worlds Apart Financially
Contribute To Your Retirement Savings
"A Roth IRA is a fantastic place to park a tax refund," Orman wrote. "Invest $2,800 in a Roth IRA today and in 15 years it will be worth nearly $6,000 assuming a 5% annualized return."
More From GOBankingRates
Last updated: Feb. 22, 2021