Here's What Financially Savvy Women Will Be Doing With Their Tax Refund in 2023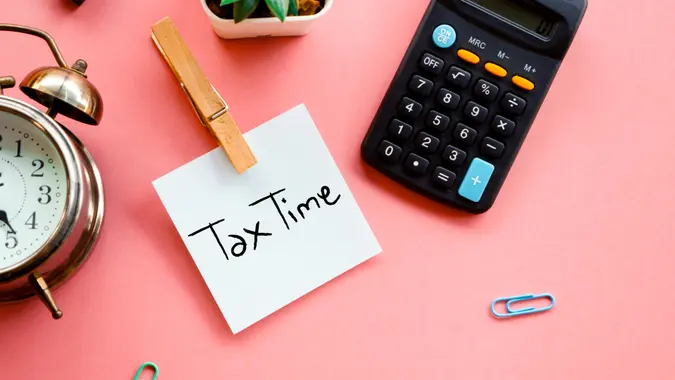 Doucefleur / iStock.com
GOBankingRates surveyed over 1,000 American men and women to find out what they will be doing with their tax refunds this year, and found that the most common response among women was to put the money into savings (26%). Other ways women will be using their tax refunds include paying bills (22%), paying off debt (21%), treating themselves (6%), investing (3%), traveling (3%) and donating (>1%).
But what's the best way for women to use a tax refund? In this "Financially Savvy Female" column, we're chatting with Cindy Scott, CFP with Schwab Intelligent Portfolios Premium, about the savviest ways to use this influx of cash.
How To Decide the Best Use for You
"A tax refund provides the opportunity to make progress on your most important financial goals," Scott said. "Figuring out the best way to use a tax refund is all about establishing and prioritizing those goals and making sure you're addressing the fundamental principles of saving money."
Scott said that it's also important to note that a tax refund is not "free money."
"It's not the typical windfall — it's the result of overpayment of taxes throughout the year, and tax time is when you get your money back. So, consider using your refund toward important financial goals first, and spending on a splurge only after the priorities have been funded," she said.
"If you are consistently getting a refund each year, consider adjusting your withholdings to avoid overpaying taxes in the future and using that money throughout the year on high-priority financial goals instead," she continued. "You can use the IRS's online Tax Withholding Estimator tool to check your withholdings. To change them, submit a new W-4 to your employer."
Take Our Poll: What Do You Plan To Use Your Tax Refund For?
Prioritize Needs Over Wants
"It's important to prioritize your goals, and addressing them in order makes your financial plan more manageable," Scott said. "I'd recommend the following order when considering how to use your tax refund: (1) pay bills, (2) pay off debt, (3) put it into savings, (4) invest. Finally, when it comes to the discretionary options like treating yourself, traveling and donating, prioritize them in whatever order is right for you."
If you have outstanding bills to pay, this is the savviest way to use your refund.
"Between rising interest rates and inflation, everyone is facing higher bills in some capacity, and covering these expenses should be first on your list of how to spend your tax refund," Scott said. "If payments have been delayed on essential needs, using a refund to bring your bills to current could help you avoid services being shut off, late penalties and a negative impact on your credit score. It's important to prioritize bills for essentials like utilities, medical and transportation over splurging on nonessential purchases like vacation."
If you don't have outstanding bills for essential services but you do have debt, putting your refund toward paying this down is a smart choice.
"Paying off debt is one of the most financially savvy ways for women to use their tax refund this year," Scott said. "Make sure you focus on the highest interest category of debt you carry first to save money in interest payments down the road. As an added bonus, paying off this type of debt can also boost your credit score. I recommend this as a top priority item when determining how to use a refund this tax season."
Putting a refund into savings is also a financially savvy move.
"If you don't have one yet, building an emergency fund is one of the smartest ways to use a tax refund," Scott said. "Having emergency cash on hand is an essential part of an overall financial plan. Emergency funds help people avoid going into credit card debt or selling long-term investments at inopportune times in the market. And when — not if — the unexpected happens, you'll be prepared."
If you're in a good spot financially and have built up an emergency fund, consider investing your refund.
"Investing is one of the smartest ways women can use their tax refund this year," Scott said. "Contributing the maximum allowed to tax-advantaged retirement accounts, such as a traditional or Roth IRA, is a great way to help secure your financial future. The more you set aside, the more secure your retirement could be. Contribute to your company's retirement plan up to the maximum match first and, if you're eligible, contribute to an Individual Retirement Account (IRA) as well."
Should You Use Your Refund for Discretionary Spending?
"While it may be tempting to use an infusion of cash on fun things like entertainment, furniture or clothes, this may not be the best use of a tax refund," Scott said. "Consider your longer-term goals and financial needs when deciding if a short-term splurge is worth it. That's doesn't mean treating yourself is never in the cards — if you really want to splurge, consider a compromise, which could look like using half of your refund for savings and half for a fun purchase."
Among the women surveyed, travel and donating to charity were two ways some women planned to use their refunds.
"Travel is an important goal for a lot of people. If you have other, more critical financial necessities and priorities squared away, you can consider using a tax refund to fund an upcoming trip or to set aside in a rainy-day travel account," Scott said. "Just be careful not to prioritize this ahead of more pressing things like debt, bills or building an emergency fund."
Donating to charity can also be a fulfilling way to use your refund if you've dealt with other more pressing needs first.
"Charitable giving can be incredibly rewarding," Scott said. "Before donating, consider using your refund to pay off debt weighing you down or to build an emergency fund if you don't have one already. I encourage people who are interested in charitable giving to incorporate it into their overarching budget and long-term financial plan. That said, if you are in good shape with savings and debt, using your refund for charitable giving is a great idea."
More From GOBankingRates
Methodology: GOBankingRates surveyed 1,002 Americans ages 18 and older from across the country between Jan. 30 and Feb. 1, 2023, asking 14 different questions: (1) How do you plan on filing your taxes for this year?; (2) When do you expect to file your taxes this year?; (3) How much do you expect to receive in a tax refund?; (4) What do you plan to do with your refund?; (5) Do you feel confident you are receiving all the deductions you feel qualified for?; (6) Do you believe your tax dollars are being spent effectively?; (7) Do you believe you are paying too much, too little, or a fair share in taxes?; (8) Have you ever been audited before?; (9) Who will/would use your tax dollars the best?; (10) How much is the standard deduction for a single filer (and married filers) in 2023?; (11) What concerns you the most about Tax Day?; (12) Do you expect your tax refund this year to be more or less than last year?; (13) What do you understand the least about your taxes?; and (14) What would you rather be doing than your taxes? (Select all that apply). GOBankingRates used PureSpectrum's survey platform to conduct the poll.