Freelancers and Side-Hustlers: Your Last Estimated Tax Payment for 2022 Is Today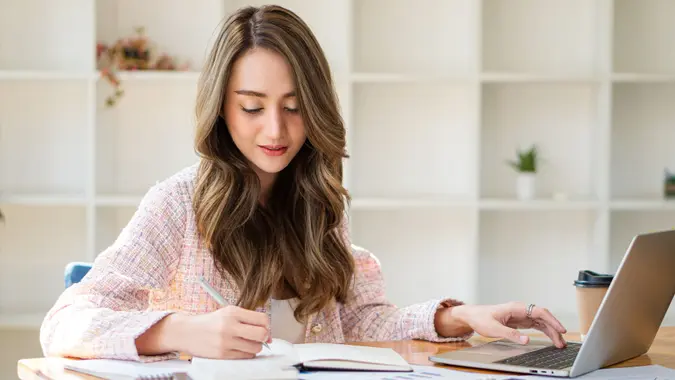 ArLawKa AungTun / Getty Images/iStockphoto
When a worker's job type changes, so does the way in which they must file and pay taxes to the government. For certain taxpayers — freelancers, landlords, independent contractors, investors, people who earn royalties, those running side-hustles — who receive or earn income not subject to tax withholding, this means having to make "pay-as-you-go" quarterly installments called estimated tax payments.
See: Why Buying Property in These Vacation Destinations Could Be a Great Investment
Read: 3 Ways Smart People Save Money When Filing Their Taxes
Find: How 2023 Recession Will Differ From 2008 and How You Should Prepare Differently
According to an Internal Revenue Service (IRS) news release, the last quarterly estimated tax payment (at least concerning 2022's taxes) is due today (Jan. 17, 2023) for self-employed and gig economy workers. Not doing so may result in an unexpected tax bill or penalty of 0.5% of your unpaid balance per month or partial month, up to 25%, when you file in 2023, per CNBC.
Who Must Make Estimated Tax Payments?
In general, you will need to make estimated quarterly tax payments if you anticipate a tax liability of greater than $1,000 ($500 for corporations) after any withholding and refundable credits.
Other workers that may need to pay estimated tax payments are those who have opted out of voluntary withholding and need to make estimated tax payments on other taxable income, like unemployment compensation and the taxable part of your Social Security benefits — or those who have earnings withheld by employers but have additional income to declare, such as rental property income or divided income.
How Are Estimated Tax Payments Calculated?
Federal quarterly estimated tax payments are calculated using estimates of your adjusted gross income, taxable income, taxes, deductions, and credits for the calendar year 2022. Form 1040-ES includes an Estimated Tax Worksheet to help you calculate your federal estimated tax payments.
There are several online payment methods available to those paying estimated taxes, including using IRS Direct Pay, through your IRS online account, via the Electronic Federal Tax Payment System (EFTPS) or by debit card, credit card or digital wallet.
Take Our Poll: Are You In Favor of More Inflation Relief in 2023?
More: How To Make Big Bucks as a Freelancer in 2023, According to Someone Who's Done It
Below are the estimated tax deadlines for the last quarter of 2022 and forthcoming 2023 tax seasons.
Estimated Tax Deadlines
| | |
| --- | --- |
| Earning period | Taxes due |
| Sept. 1 to Dec. 31, 2022 | Jan. 17, 2023 |
| Jan. 1 to March 31, 2023 | April 18, 2023 |
| April 1 to May 31, 2023 | June 15, 2023 |
| June 1 to Aug. 31, 2023 | Sept. 15, 2023 |
| Sept. 1 to Dec. 31, 2023 | Jan. 16, 2024 |
More From GOBankingRates