Grocery Tax Could Finally Be Cut in Half in This State — Where Else Are Groceries Still Taxed as High as Other Purchases?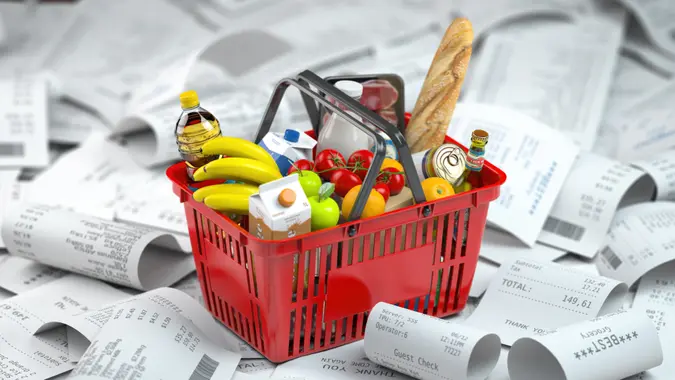 Bet_Noire / Getty Images/iStockphoto
Alabama residents could soon pay less for their groceries, following Sen. Andrew Senator Jones' legislation to cut the state's grocery tax rate in half over time — a welcome relief as inflation has taken a toll on food prices, and in turn, on Americans' wallets.
The new bill would decrease the state portion of grocery taxes by 0.5% per year over time from 4% to 2%, according to the senator's website, and now, Gov. Kay Ivey will review it when she receives it, according to the Associated Press.
"This is going [sic] be great for working Alabamians. Folks are struggling to put food on the table," Sen. Andrew Jones, sponsor of the Senate version, said after passage, according to the Associated Press.
Specifically, it would reduce the tax to 3% on Sept. 1, then to 2% on Sept. 1, 2024, if tax collections to the Education Trust Fund are projected to rise at least 3.5% to offset the loss, according to the Associated Press.
The price of groceries has been particularly hit by inflation, but seems to ease a bit. In April, the food index remained unchanged, while the food at home index fell 0.2%, according to the Consumer Price Index (CPI). While this is good news, prices are still up a whopping 7.1% over the last 12 months. Meanwhile, food away from home increased 0.4% for the month- a 8.6% increase for the year.
Take Our Poll: Are You Concerned About the Safety of Your Money in Your Bank Accounts?

Nonetheless, more than a dozen states still charge a sales tax on food. According to Finance Buzz, they include:
Alabama
Mississippi
South Dakota
Illinois
Missouri
Virginia
Utah
Arkansas
Hawaii
Tennessee
Oklahoma
Idaho
Kansas
More From GOBankingRates