5 Best Banks for Long-Term Deposits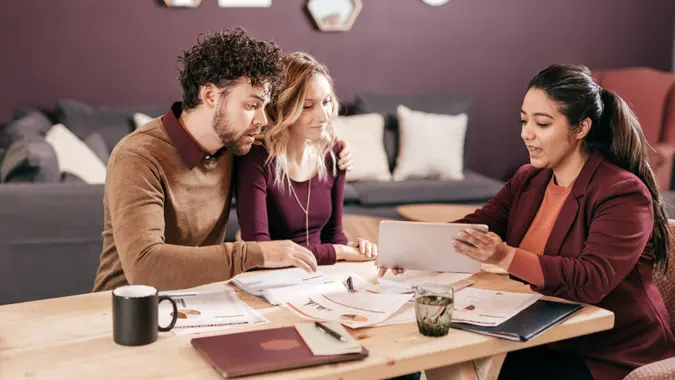 kate_sept2004 / Getty Images
There are many reasons you may want to deposit your money for the long term. Maybe you are working toward a long-term savings goal, like a down payment on a house or your child's education. Or perhaps you don't have the risk tolerance to stomach stock market volatility.
See the List: GOBankingRates' Best Banks of 2023
More: GOBankingRates' Best Neobanks of 2023
Find: GOBankingRates' Best Online Banks of 2023
Reasons for stashing money away will vary, but the objective is the same: you need a bank that incentivizes long-term deposits. In reality, most banks encourage long-term deposits because those provide them with financial stability. However, some banks like to sweeten the deal for customers a little more than others.
Those banks will be our focus. They tend to provide higher rates on savings, especially on longer-term savings products like certificates of deposit (CDs). Here are the five best banks for long-term deposits.
CIT Bank
CIT Bank is a division of First Citizens BancShares, Inc. As an online-only bank, CIT is known for having some of the highest rates in the industry. Currently, its 18-month CD has a rate of 4.75%. That's an excellent rate for a CD, especially for one with a term of only 18 months.
That may sound like a long time, but CDs typically have terms lasting up to 60 months. If you want a shorter term, the APY on its 13-month CD is only slightly lower at 4.65%.
Alternatively, if you are looking for very short-term savings, CIT has a high-yield savings account with an APY of 4.05%. However, you do need a minimum deposit of $100 to open a high-yield savings account with CIT.
BMO
BMO Harris Bank, N.A., also known as just BMO, mainly serves the Midwest. However, it also has branches in Arizona, California and Florida. BMO is a solid choice for long-term deposits thanks to its stellar rates on CDs. It currently offers a 4.50% APY when you open a 59-month CD. Its 13-month CD currently has a 4.00% APY. BMO also has a high-yield savings account with the same 4.00% APY.
However, an important caveat to BMO's great rates is that they are only available in states where the bank doesn't have physical branches. If you have a BMO branch down the street, your rates will be unimpressive: 0.25% for a 60-month CD and 1.00% for high-yield savings.
Live Richer Podcast: How To Leverage Your Investments
Sallie Mae
Sallie Mae was established in the 1970s as a student loan servicer, and you might still think of it as a student loan company. However, Sallie Mae has significantly expanded its portfolio since the 1970s to include a variety of products, including savings accounts, CDs and money market accounts. Currently, all three of these products from Sallie Mae have competitive interest rates.
Like the other banks on this list, the highest APY from Sallie Mae is on its CDs, with a 4.40% APY on 24-month and 36-month terms. The APYs on its 6-month and 12-month CDs aren't bad either, at 3.50% and 4.25%, respectively. Meanwhile, its high-yield savings account has a 3.20% APY, and its money market account has a 3.40% APY.
Capital One
Capital One is a well-known bank with a variety of products, including checking accounts, credit cards, savings accounts and CDs. While the best rates on savings products are often limited to lesser-known banks, Capital One is one of the exceptions. In fact, its CDs and savings accounts have rates among the best you'll find anywhere.
Currently, Capital One has APYs of up to 4.40% on its CDs, but to claim that rate you'll have to lock in a 60-month term. However, even Capital One's 12-month CD has a 4.15% APY. For 6-month and 9-month CDs, the APY is 3.30%. That rate of 3.30% matches the APY you get on Capital One's high-yield savings accounts.
Bask Bank
Bask Bank is a relatively new name in the banking world, as it was established as a division of Texas Capital Bank in January 2020. Although Bask isn't a household name at this point, the bank is a member FDIC, so you know your money is safe.
Currently, it doesn't offer a checking account but has high-yield savings accounts and CDs. It also has a savings account that earns two American Airlines AAdvantage miles for every $1 in your account annually.
Bask is a great place to keep your money for the long term, thanks to its great CD rates. It offers a 4.45% 12-month CD and a 4.30% 6-month CD — these are the bank's highest rates for CDs. If you prefer to keep your money in a high-yield savings account, Bask currently has an APY of 4.15%.
More From GOBankingRates