How to Read Your Bank Statement
Review your bank statement to spot fraud, bad spending habits and excessive fees.
Whether you've just opened your new bank account or you've had one for years, understanding your bank statement is an important factor in managing your finances. Review how to read your statement to make sure you know how to catch fraudulent charges, manage your spending, dispute fees and more. Whatever you do, don't ignore your bank statement.
Your Bank Statement Information Explained
What is a bank statement? It's that document you receive every month from your bank — or have access to online — that enables you to track all your account activity for the past month. As a general rule, bank statements contain information from the previous 30 business days.
If you get anxious at the thought of deciphering all the numbers on your statement, relax. Check out these examples of things that might appear on your statement summary and what each one means.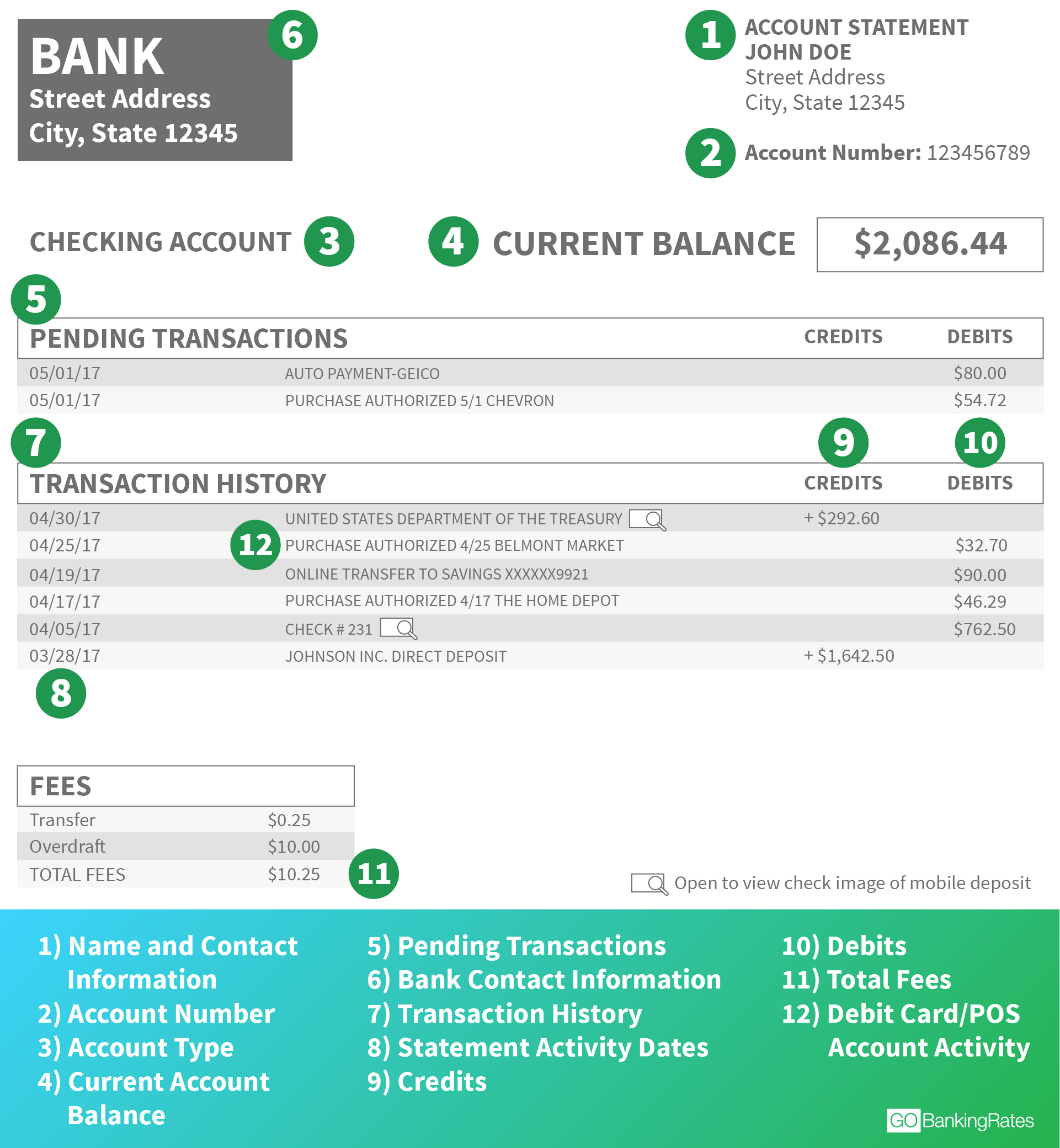 Your name and contact information: Data that identifies you typically appears at the top corner or center of your statement — make sure the information is correct and that there are no misspellings. If you find an error, contact your banking institution.
Account number: A long number that identifies your account, the account number is located at the top of your statement. It's different from your bank's routing number, which is a nine-digit number that identifies your bank. You can find your routing number on the bottom left of your check or online and use it for electronic transfers and other transactions.
Account type: This information shows whether you have a checking or savings account.
Current account balance: The total amount of money in your account appears under this heading. Your available balance is all your funds immediately available for cash withdrawal — this number takes into account all pending transactions.
Pending transactions: All transactions that are still pending are listed here.
Bank contact information: The name, address and phone number of your financial institution
Transaction history: All of the transactions you've made during the statement period appear here, including debits and credits.
Transaction date: The date the transaction was processed
Credits: All credits or deposits you made to the account
Debits: All debits or withdrawals you made during the statement period
Total fees: All fees you accrued, including account, transfer and overdraft charges
Debit card/POS account activity: The date and description of all your debit or point-of-sale transactions
If your account is a savings account or interest-bearing checking account, you might also see a section for interest accrued.
See: 10 Best National Banks of 2017
Why Bank Statement Information Varies
Information on bank statements varies among financial institutions. Your statement information might appear in a different order or format depending on the statement style your bank prefers. You also might notice differences in how the information is displayed on your paper statement versus your mobile banking app. If you're unsure about a charge or activity on your statement, contact your bank's customer service department or visit a branch office to get clarification.
Online Statement vs. Paper Statement
Perhaps you've realized you're not getting your bank statement in the mail each month. You might have signed up for paperless billing, but check with your bank.
If understanding how to get a bank statement is puzzling you, you can request paper copies from your financial institution — but keep in mind there might be an associated fee. The benefit of online statements is that you can access your monthly statements on your financial institution's website or app and perform a number of transactions at your convenience.
Here are some of the actions you can perform online:
Check your available balance.
Browse your transaction history.
Check your deposits and withdrawals.
Search for specific transactions.
Make bill payments.
Download account information.
Generate customized reports for your records.
Check your statements.
Related: 10 Best Online Banks of 2017
Reviewing your monthly statement is crucial because it helps you be familiar with your finances so that you can catch errors or problems right away. Your bank's liability for fraudulent charges, for example, might be limited to 60 days; if you don't report fraud or dispute a charge within that time frame, you could be liable for the charges.
Schedule a time, such as payday or the day you receive your statement at the end of the month, to review it carefully. Look for items such as:
Unwarranted withdrawals or fraudulent charges or ATM usage
Missed or late automatic transactions
Checks or deposits that haven't been processed
Add up all of your ATM fees or other expenses, such as dining out, to be aware of your spending habits. If your statement doesn't align with your budget, then you have a clear idea of how to improve the way you manage your money.
Checking your statements can help you identify a financial issue before it triggers a negative balance. Stay on top of your finances by being proactive about reviewing your bank statements.
Learn: How to Read a Credit Report