Is PayPal a Better Option Than a Traditional Bank?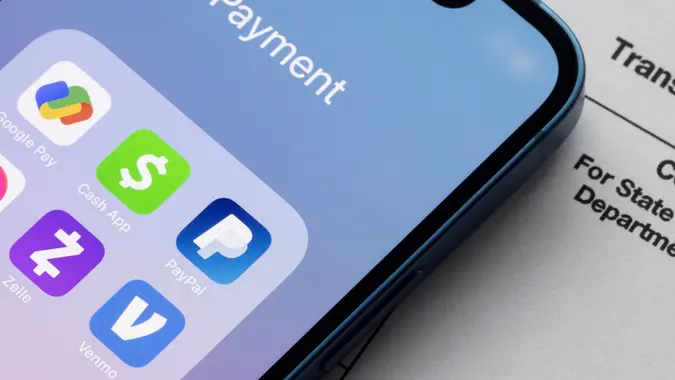 hapabapa / Getty Images
Apps have changed the way people shop, connect and even work. Some apps even change the way people bank. One of the leading options, PayPal, has 429 million users in America — according to Zippia — and has recorded revenue increases each year since 2010, per Business of Apps. That includes $25.3 billion revenue in 2021 alone, earned via 19 billion transactions amounting to $1.2 trillion in total transaction volume.
See: Here's How Much Americans Have in Their Savings Accounts in 2023
Read: 3 Things You Must Do When Your Savings Reach $50,000
The Future of Finances: Gen Z & How They Relate to Money
Though it's a convenient way to pay for goods and transfer money, is it better than a traditional bank?
According to retail and fintech analysis site PYMNTS, "PayPal remains the money-storing app to beat for banks" as financial apps go more mainstream. They provide data to support the claim, noting that 59% of customers have utilized platforms like PayPal for "general-purpose or merchant-specific payments" over the past year. Additionally, PYMNTS reported that "37% of customers who have stored money in any app in the past year have exclusively done so with general-purpose apps."
The article also cited a survey finding that PayPal leads the pack regarding which option respondents trust most for storing their money — coming in at 84.5% versus 59% for a primary bank and the 48.6% who chose Apple Pay.
Most of the interest stems from younger bankers who look to mobile options for more real-time accessibility, personalization, advanced services and money-saving options. Though there are still many people that are hesitant to make a full switch to mobile banking due to the loss of in-person interactivity at branch locations.
Here are some pros and cons when it comes to personal banking with an app like PayPal.
Pros of Banking With PayPal
Traditional Banking Options: In addition to using PayPal as a transaction option, you can also apply for a PayPal credit card, use the mobile app to access money 24/7 as well as take advantage of other features similar to the traditional banking experience.
Security: If you use PayPal for transactions, you don't have to provide your personal banking information, offering an extra level of security against fraud.
Multiple Payment Options: Unlike a bank where you use money in your savings or checking accounts for payments, PayPal allows you to carry a specific PayPal balance, link existing savings or checking accounts — or use credit cards to pay for services.
Discounts: By using PayPal as a payment option, some merchants will provide a promotion. For example, as of Jan. 30, TurboTax is offering $10 off when using PayPal to fulfill payment for services. Further, Macy's, Ulta and other retailers are offering cash back for purchases made via PayPal.
Rewards Program: PayPal recently introduced PayPal Rewards, awarding points for every purchase.
Buy Now, Pay Later: When using PayPal to pay for goods, you're able to split up the payments into monthly or weekly options until the total amount is paid off.
International transactions: PayPal is available globally and offers the chance to pay for goods in another country while also converting the currency for the recipient or merchant.
Take Our Poll: How Big of a Sign-Up Bonus Would It Take for You To Change Banks?
More: 12 Best Games That Pay Real Money in 2023 — PayPal and Cash
Cons of Banking With PayPal
Branch Locations: PayPal is a fully mobile experience so there's no branch locations or tellers you can speak with when you need customer service. Of course, PayPal does have an online "help" option, as well a customer service help line.
Interest: The great part about a traditional bank is the interest earned on savings accounts and Certificates of Deposit, neither of which are opportunities PayPal offers.
Insurance: Unlike traditional banks that are FDIC-insured for up to $250,000 per account per bank, PayPal does not carry this type of protection.
ATMs: If you want physical paper cash, you can't do that with PayPal.
Auto Loans and Mortgages: Though you can get a line of credit through PayPal, PayPal does not offer financing options like auto loans or mortgages.
More From GOBankingRates