Comparing Local Banks and National Banks: Which Is Right for You?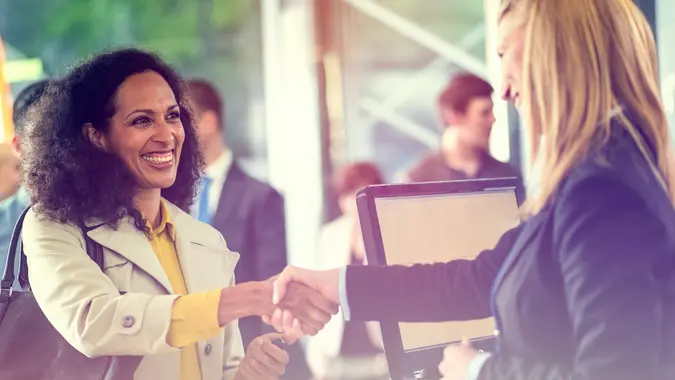 simonkr / Getty Images
Banking customers in the U.S. have their choice of more than 4,100 online or brick-and-mortar financial institutions. U.S. banks range from large national banks all the way down to smaller online banks and credit unions.
With the recent bank failures of Signature Bank and Silicon Valley Bank, you might be wondering if a larger bank is safer than a smaller, local bank. By the same token, if you've experienced the low interest rates and high fees of some of the larger banks, you might feel a local bank is a better choice. How do you ultimately choose which is right for you? Keep reading to find out.
Local Banks vs. Big Banks: Which Is Better?
Banks of different sizes exist across the U.S. because customer needs vary. Both local and national banks have unique benefits and drawbacks. Knowing the differences between local banks vs. big banks can help you choose the financial institution that's best for you.
A comparison between local banks vs. big banks can be broken down into four key areas:
Convenience
Safety and security
Costs and interest rates
Community involvement
Convenience
Larger banks with giant ATM networks offer conveniences that smaller, local banks may not. If you travel internationally or even across the country frequently, a national bank can make it easier to access your money when you're not at home.
Additionally, a larger bank may be more convenient in other ways.
Variety of Products
If you're looking for a full range of products and services, like checking, savings and investment accounts, most of the big banks will have everything you need. However, local banks may also offer similar products.
For instance, Fidelity Bank is a smaller bank that serves Northeastern Pennsylvania. This bank offers three levels of checking accounts, plus savings and money market accounts and CDs with terms ranging from 3 months to 10 years.
Availability of ATMs
Before you open an account at any bank, check their ATM network. If you don't use ATMs within their network, you could be subject to additional fees. If you want to do business with a local bank, find out how many in-network ATMs they have in areas where you live, work or visit. If the bank doesn't have a wide network of ATMs, see if they waive fees for out-of-network ATM use.
Mobile Banking and Technology
Before you open an account with a local bank, check their app or online banking options and ask yourself these questions:
Is the app easy to use?
Does it offer mobile check deposits?
Can you set up online bill pay?
Does the bank support Zelle, which is one of the largest platforms for fee-free, person-to-person payments?  
Most national banks have these features. But some local banks may be lacking when it comes to technology.
Level of Customer Service
In general, local banks shine when it comes to personalized, high-quality customer service. While a local bank's phone line may not be open 24/7, you will typically receive better service when dealing with a local branch.
Big banks in the U.S. may have long wait times for customer service. On the other hand, you may be able to take care of things like requesting a new debit card through an automated system, which can save time.
Safety and Security
Funds held in most U.S. banks are protected up to $250,000 per account holder, per account type, by the Federal Deposit Insurance Corporation. This is also known as FDIC insurance.
However, the process of getting your money back in the event of a failure or a bank run might be slow, depending on the financial institution. And the odds of a smaller bank failing are still greater than the odds of larger financial institutions failing.
Does this mean big banks are safer? Not necessarily. The U.S. government acted swiftly to cover deposits of SVB and Signature Bank earlier this year. As long as you bank with an FDIC-insured institution, your money is likely safe.
Similarly, any bank should have fraud protection. This is a system for sending fraud alerts to your cell phone or email. In addition, it should offer secure online banking. Evaluate these features before you choose a bank, regardless of size.
Costs and Interest Rates
Typically, big banks are known for high fees and low interest rates on deposit accounts. You might save money, or earn more, with a smaller bank, credit union or even an online bank.
Bank Fees
The four biggest banks in the U.S. all have fees associated with their checking accounts. It might be easy to waive these fees by setting up direct deposit or keeping a minimum balance. But you may also be subject to overdraft fees, out-of-network ATM fees and other fees.
Smaller banks keep their overhead low and, as such, can offer low fees or even no monthly fees on their checking and savings accounts. Small banks want to compete for your business and entice you away from the bigger names in banking.
Interest Rates
Just as larger banks charge high monthly fees, they pay notoriously low interest rates for savings accounts. For instance, the highest return you'll receive at Chase Bank for a savings account is APY and you won't find an interest-earning checking account there.
On the other hand, Fidelity Bank offers a APY for its Optimum Choice Savings. If you want to earn 10x that amount or more, consider a high-yield savings account at an online-only bank such as TAB Bank. TAB's High Yield Savings account offers APY and has no minimum balance requirements.
Community Involvement and Support
Local banks often support the local community in ways that might be important to you. Likewise, if you are a local business owner, you may want to build a relationship with a local bank. This can make securing loans or lines of credit easier. A local bank may also support your business by referring their other business customers to you. It's rare to build these relationships within the infrastructure of a big bank.
However, if you are applying for a loan through the Small Business Administration, you may find that big banks are SBA partners. This means you can go to your local branch and get assistance with the application process.
Final Take
So are local banks better than big banks? Local banks may have lower fees and more personalized service. But big national banks tend to have larger ATM networks, branches nationwide and robust mobile banking capabilities. Whether big banks vs. local banks are best for you will depend on your needs.
FAQ
Here are the answers to some of the most frequently asked questions regarding local banks vs. big banks.
Are small banks better than large banks?

Small banks with fewer branches, often located in specific regions, may provide the more personalized service that you want. On the other hand, large banks may have a larger ATM network, more branches and the security of knowing they are "too big to fail."

Are small, local banks safer than big banks?

Small, local banks and big banks all carry FDIC insurance for up to $250,000 per account holder, per account type. This coverage increases to $500,000 for joint accounts. This would make one just as safe as the other.

How are community banks different from big banks?

Community banks may offer more personalized service and may support the community through financial education and donations to local non-profit organizations, schools or sports organizations.
Data is accurate as of May 8, 2023, and is subject to change.
Editorial Note: This content is not provided by Chase. Any opinions, analyses, reviews, ratings or recommendations expressed in this article are those of the author alone and have not been reviewed, approved or otherwise endorsed by Chase.
Our in-house research team and on-site financial experts work together to create content that's accurate, impartial, and up to date. We fact-check every single statistic, quote and fact using trusted primary resources to make sure the information we provide is correct. You can learn more about GOBankingRates' processes and standards in our editorial policy.