6 Risks of Using an ATM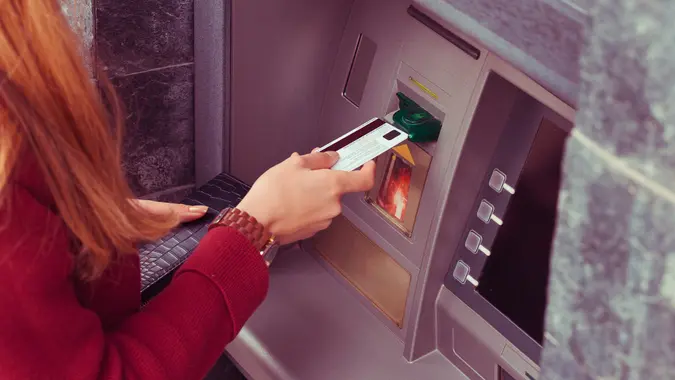 HBRH / Shutterstock.com
Most people never think twice about turning to an ATM if they need some cash. You enter your card and type in your PIN number, select the transaction type, choose the amount of money you wish to withdraw and wait for the money. Nothing else to worry about — right?
See the List: GOBankingRates' Best Banks of 2023
Read More: Do You Have Too Much Money in Your Checking Account?
Tips: How To Stay Safe When Using Mobile Banking Apps
Not quite. One should always exercise caution when visiting an ATM, whether they are using an ATM in a domestic or international setting. Here are some common risks associated with using an ATM and helpful practices to ensure safe ATM withdrawals.
Common ATM Risks
Most ATMs are in open settings or allow customers to drive up and use them. On occasion, you may need to walk a little bit to access an ATM and there can often be a line of people waiting to use a machine. Be mindful of the following risks when using an ATM. 
Using an ATM at Night
Sometimes you need to make a cash withdrawal in the evening. Nighttime can make it difficult to see everything happening around you. It's incredibly important to be vigilant of your surroundings. If you use an ATM at night, lock your car when walking to the machine or keep the doors locked and windows closed in a drive-up setting. Wait until you get home to count your money instead of doing it out in the open. If you see someone suspicious or feel uncomfortable using an ATM in a poorly lit area, do not use the machine. 
The American Bankers Association recommends inspecting the ATM for potential skimming indicators in both day and night settings. Indicators can include scratches, sticky adhesive, damaged pieces, a loose card slot or keypad resistance. Any of these indicators could mean criminals are attempting to affix the machine.
Take Our Poll: How Big of a Sign-Up Bonus Would It Take for You To Change Banks?
Keeping a PIN Number Confidential
If you're in a line waiting to use an ATM, you may worry about someone seeing your PIN number. This can be a similar issue when banking inside a bank branch location. To prevent others from seeing the PIN number you enter in the keypad, the American Bankers Association recommends using your body to shield the keyboard. You can also use your other hand to act as a shield.
Loose Receipts
Those who use an ATM and receive a receipt afterward should not throw this information into a nearby trash can or leave it behind. These receipts contain several pieces of confidential information concerning your account. In the hands of the wrong person, they can lead to identity theft. If you receive a receipt after your transaction, take it with you. 
Common International ATM Risks
If you're traveling abroad, it's not uncommon to stop by an ATM for some quick cash. However, using an ATM overseas may lead to more financial risks, in addition to overall safety risks, than you realize. Here are some of the common financial risks of using an ATM in an international setting.
Hidden Costs
In addition to exchange rate markups, many banks charge upwards of $5 for every foreign ATM withdrawal, said Shannon Raisor, customer advocate at Wise. To avoid unnecessary fees, Raisor recommends understanding your banking fee structure.
Losing Money Due To Dynamic Currency Conversion (DCC)
What is Dynamic Currency Conversion? Raisor said in the context of an ATM withdrawal, the dynamic currency conversion (DCC) is the offer to be "charged" in your home currency versus the local one for taking the cash out. 
"On the surface, it sounds like the bank is doing you a favor by accepting payment in the currency you are most familiar with," Raisor said. "The reality is this service often comes with high exchange rates and foreign transaction fees consumers don't realize they are paying."
To prevent losing money, Raisor recommends travelers choose to be charged in the local currency of the country they are in. Do not let the ATM do a currency conversion for you.
Not Knowing Which ATM Is Best To Use
This is another financial risk associated with international ATM usage. Travelers who don't know where they should withdraw their money might wind up paying expensive fees or exchanging money at the airport, the latter of which Raisor does not recommend. 
Before leaving to travel, Raisor said to research where it's best to withdraw your money. Those who want to save money can either exchange money prior to their trip or bring a multicurrency card to withdraw money once they arrive at their destination. 
More From GOBankingRates