What Is ChexSystems? Everything You Need To Know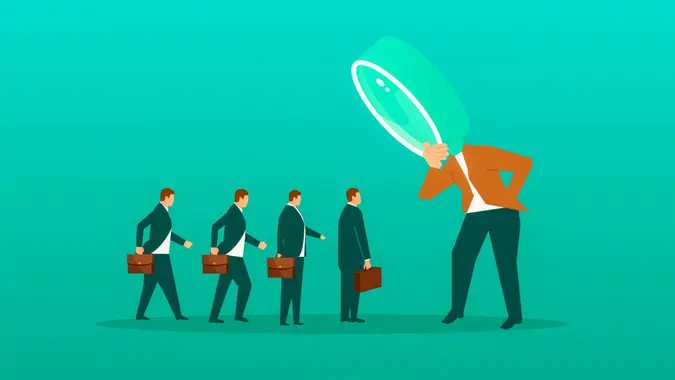 z_wei / Getty Images/iStockphoto
ChexSystems is a consumer reporting agency that runs reports on your savings and checking account history. It is commonly used by banks and credit unions to screen applicants before approving new deposit accounts.
When you apply for a deposit account at a bank or credit union, the institution is likely to have ChexSystems run a report on your negative banking history for the last five years. This is a little like getting a credit report, but it primarily shows derogatory information involving your deposit accounts. Too much negative information can result in a bank blacklisting you, which means you will be denied opening a deposit account.
This guide will explain how the screening system works and help you avoid being analyzed by ChexSystems.
What Is ChexSystems?
ChexSystems provides banks with negative account-history information on an applicant's past deposit accounts. It was formed over 40 years ago in Minnesota and purchased by Fidelity National Information Services in 2007.
The following derogatory information is included in ChexSystems reports:
Information on accounts closed involuntarily

Date when an account was closed

Amount owed on the account and if that amount was paid off

History of

bounced checks

.
It's important to note that ChexSystems is not a collection agency, so don't respond to fraudulent calls from someone posing as a ChexSystems employee asking you for funds to pay off your debt.
How Does ChexSystems Work?
ChexSystems' client banks report derogatory information involving checking and savings accounts, such as details on overdrafts and bounced checks. In return, the banks receive ChexSystems reports on consumers who apply to open a new account. The information helps banks reduce risk by identifying customers who've mismanaged deposit accounts in the past.
ChexSystems assigns consumers a score called the ChexSystems Consumer Score, which ranges from 100 to 899. The higher your score, the lower your risk and the better chance you have of your account application being approved.
Do All Banks Use ChexSystems?
In 2014, Capital One declared that it would limit its use of ChexSystems and only use the database to screen individuals for fraudulent activity. Citibank also modified its practices to decline individuals with two or more incidents of reported account abuse. This was welcome news to consumers with only relatively minor missteps and without a history of fraud on their reports.
Finding the best type of bank for you is important, and banking options are available for those who want to avoid a ChexSystems screening. For example, Chime is a second-chance banking option that does not use ChexSystems. Chime itself is technically not a bank, but it does offer a bank account with an attached debit card and a mobile banking app. Chime's banking services are provided by The Bancorp Bank and Stride Bank, both of which are insured by the Federal Deposit Insurance Corp. Consumers can also consider a number of financial institutions that do not use ChexSystems.
How Do I Know if I'm on ChexSystems?
By this point, you might be frightened and scrambling to remember if you've ever bounced a check or overdrawn a deposit account. No need to overthink or dig through old bank reports — you are entitled to receive a free copy of your annual report under the Fair and Accurate Credit Transactions Act.
It is important to note that ChexSystems may access, store and use the identifying information in your request to whatever extent the law allows, so read the fine print before you order your report.
Here are the best ways to get your report:
Submit an online request

for your consumer disclosure report

Call 800-428-9623

Mail a completed form to the following address:
ChexSystems Inc.
Attn: Consumer Relations
7805 Hudson Road, Suite 100
Woodbury, MN 55125
Fax a completed form to 602-659-2197
ChexSystems will send you a report in the mail within five business days of receiving your request.
What Does It Mean When You Are in ChexSystems?
Because many financial institutions use ChexSystems, there's a decent chance you have a record. But being in ChexSystems doesn't mean you are automatically doomed when you are looking to open a checking account. It simply means your bank or credit union has shared your information.
Many consumers have still qualified for standard checking options despite having a ChexSystems record. The bank's decision is based in part on your ChexSystems Consumer Score. The closer your score is to 899, the higher your approval odds. 
Does ChexSystems Affect Your Credit Score?
The ChexSystems Consumer Score model is different than a credit score and it doesn't affect your credit or look at credit card usage unless it's somehow linked to a deposit account. ChexSystems simply scores negative account usage from the past five years. Its sole purpose is to collect data on your previous deposit accounts to help banks decide whether to approve an application for a new deposit account.
How Long Do You Stay On ChexSystems?
It takes five years to get out of ChexSystems, but there are ways to dispute incorrect information in your report:
What You Can Do If You Are Blacklisted?
If you are blacklisted, don't panic — but do be proactive. "At this point, it is up to the customer to get their ChexSystems report cleared, or he or she may run into the same issue at other banks," said Claudia Valladares, an investment advisor at Kovar Wealth Management. 
How Do I Clear My ChexSystems History?
It's possible to see an improvement to your ChexSystems history by making wise choices. The following ideas can help you improve your score.
Pay back any money you owe.

"The customer will simply contact the bank who reported the negative activity and work out a plan to pay off the balance,"

Valladares

said. "Once the customer has paid the full balance, he or she needs to get a signed letter by a bank representative stating the customer has cleared their balance. Now the customer can take this letter as proof and open an account at another bank." 

Open a second-chance checking account.

A second-chance account is a deposit account for consumers with a bad banking history. These accounts have lower daily withdrawal limits and generally have higher fees and more restrictions, but you can get approved for one even if you're in ChexSystems.

Use a prepaid debit card.

Monthly fees may apply with certain prepaid debit cards, but having one gives you a way to have the benefits of a deposit account

s you improve your banking history.
Takeaway
ChexSystems might seem like another financial worry to tackle in your life, but over time, you can lessen the impact of your past banking mistakes. Start by paying off outstanding overdraft fees and committing to managing your accounts more responsibly from here on out. Even if you're strapped for cash, financial institutions offering second-chance checking accounts and prepaid debit cards can be good options for removing yourself from the ranks of the unbanked.
Ultimately, your worth is not tied to your ChexSystems score, credit score or any account balance. However, working on rebuilding your scores will make it easier in the future to access low-cost banking and credit.
Cynthia Bowman contributed to the reporting for this article.
Information is accurate as of June 10, 2022.