What Is the Federal Reserve?
The Federal Reserve — often referred to as "the Fed" — serves as the central banking authority in the U.S., and is responsible for setting and implementing the country's monetary policy. The Federal Reserve is run by a Board of Governors, which includes a Chairman and Vice Chairman appointed by the President, which supervises the 12 Federal Reserve regional banks.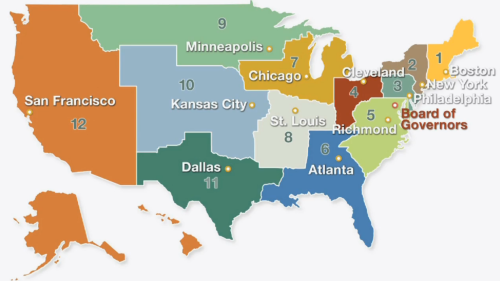 Related: Who Is Janet Yellen
How the Federal Reserve Works
In response to an unstable market and little faith in the banking system on the part of U.S. citizens, President Wilson had the idea to establish a private central bank that would control the country's funds and ensure the financial system remained stable. Founded in 1913, the Federal Reserve is an independent government-affiliated entity that receives periodic review by Congress. The Fed can act without approval
Since its creation, the Federal Reserve's primary function has been to serve as a central bank for the United States and maintain control over the country's money supply. In general, it has a few key functions that all revolve around managing money:
Adjusting base interest rates.
Printing and releasing new bank notes.
Removing current notes from circulation.
Protecting credit rights of consumers.
Supervising and regulating banking institutions.
Maintaining a stable financial system.
As a result of these actions, this organization is able to control the value of the U.S. dollar and, in turn, influence our economy, as well as our position in the world economy.
Related: 10 Reasons to Pay Attention to Federal Reserve Interest Rates
The Federal Reserve system has control over so many facets of our economy — remaining informed about the key decisions and actions of the Federal Reserve can help improve your understanding of what happens to your hard-earned money.