What Will Happen if You Never Use Your Bank Account?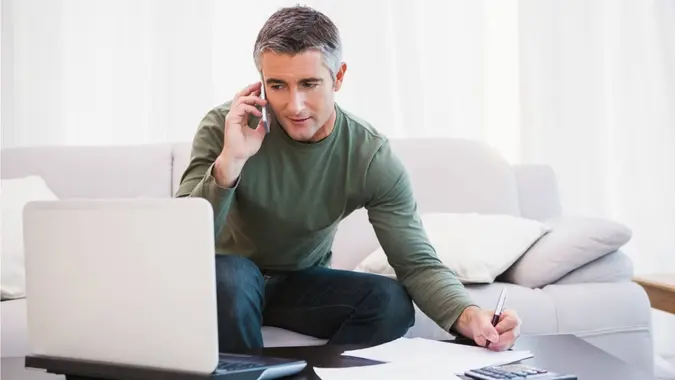 In theory, having untouched money in the bank is great — especially if it's a high-interest savings account. However, taking a completely hands-off approach to your account and essentially forgetting about it probably isn't the best idea. Keep reading to find out what happens when you don't use your bank account at all.
3 Reasons Why You Shouldn't Leave Your Bank Account Idle
It's possible leaving your bank account idle won't have any negative consequences. However, this might cause at least one headache you can easily avoid by simply using the account on at least a semi-regular basis.
Here's three adverse actions that could occur if you never use your bank account.
1. Potentially Incur Minimum Balance Fees
Some banks require accounts to maintain a minimum balance. Even if you met this requirement when you opened the account, it's possible the required minimum balance could change.
If you're not paying attention to the account at all — including any correspondence from the bank regarding it — you might not realize your balance no longer meets the requirement. This could mean the balance you thought was sitting there collecting interest is actually shrinking, due to account penalties.
2. Risk Gaining a Dormant Status
Different banks have different policies. If you don't use your account for a year or two, the bank might flag it as inactive. In this case, you might not be able to immediately access the account the next time you want to use it.
To gain access, you'll need to contact the bank's customer service department and likely prove you're the account owner. This may be both time-consuming and frustrating.
3. Possibly Fail To Notice Fraud Occurrences
When you sign into your bank account online regularly, you're able to easily spot any suspicious transactions. If you suspect your account is the subject of fraud, you can quickly alert the bank.
This isn't the case when you rarely — or never — use the account. If you're paying no attention to the transactions linked to the account, it could take several months or even years to notice that some of your money has been stolen.
Steps To Take If Your Account is Closed
If you don't use your account for quite some time, it's possible the bank will close it. This will certainly be an unwelcome surprise when you go to access your funds, but try not to stress.
Here's what you need to do to find your money and get it back in your hands, according to Experian.
Call Your Bank
You probably suspect your bank account was closed due to inactivity, but you still need to get confirmation from someone at the financial institution. If you have a debit card, call the number on the back or simply look online to find the bank's phone number.
Track Your Money Down
Hopefully, your account will have a positive balance. If not, you'll have to pay it off. If you do have money in the account, ask how you can get it back.
If your account has been inactive for several years, the bank may no longer be in possession of the money. In this case, you might have to contact the unclaimed property office in your state to get your money.
Find Out If You Can Reopen the Account
You might decide you want to put your money back in the account — if possible. Ask your bank if you can reopen the account. If you're unable to do so, you can likely open a new account with the same financial institution.
How To Find a Lost Bank Account
Hopefully your bank in still in business. However, it's possible the financial institution has failed.
If this happened, it's possible the bank that acquired it now has your money. Federal law requires unclaimed deposit accounts to be transferred to the state after 18 months, according to the Federal Deposit Insurance Corporation.
In this case, you'll need to check with your state's unclaimed property department or utilize the FDIC's unclaimed property information.
Where To Get Additional Help

Don't panic if your bank isn't helpful and you have unanswered questions. If your bank has the words "National," "National Association" or "N.A." in its name, it's a national bank. For these banks, you can call the Customer Assistance Group at the Office of the Comptroller of the Currency at 1-800-613-6743.

Alternately, if you're dealing with a state-chartered financial institution, you'll need to contact your state attorney general or state banking department. You can also reach out to the Federal Reserve Board or the FDIC.
Final Take
You work hard for your money, so it's important to keep tabs on it. Plus, it's fun to watch interest grow your balance, allowing your money to sit tight and work for you.
FAQ
Here are the answers to some of the most frequently asked questions regarding bank accounts
What are four types of bank accounts?

There are many different types of bank accounts, but the four most common include the following.

Savings account
Money market account
Certificate of deposit

Can I open a bank account online?

In the past, opening a bank account required a visit to a local branch, but not anymore. You can easily open a bank account online these days. Shop around to find the bank and account type that best meet your needs, then complete an online application. You'll likely need a few pieces of information on hand to accomplish this, including the following:

Driver's license, passport or other government-issued ID
Social Security number or Individual Taxpayer Identification Number
Debit or credit card to make your first deposit

After your new bank account is set up, you'll be ready to start using it. Even if you don't plan to use the money in the account often, set reminders to log into your account periodically to keep it active and review your statements.
Our in-house research team and on-site financial experts work together to create content that's accurate, impartial, and up to date. We fact-check every single statistic, quote and fact using trusted primary resources to make sure the information we provide is correct. You can learn more about GOBankingRates' processes and standards in our editorial policy.