How Long Will Interest Rates Stay High?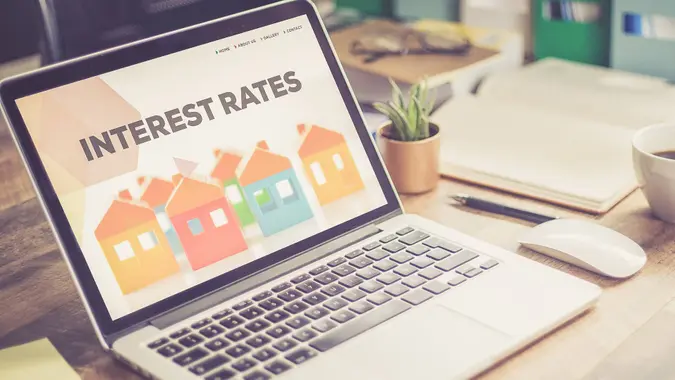 cnythzl / iStock.com
When you are finally in a place where you are thinking of buying a home, you want to get all your ducks in a row. This includes money for the down payment and a solid credit score. But it may come to shock you that the home price tag is not the only number you need to worry about. Long-term loans coming from mortgage bankers or mortgage lenders can come with high-interest rates that may move your modest dream home slightly out of your reach. 
Though interest rates can fluctuate, the recent trend over the last couple of months has been moving higher and higher. How long will interest rates stay high? Will interest rates ever go down? Keep reading to learn more.
Higher Interest Rates: Quick Take
According to Fannie Mae's monthly Housing Forecast, the current average 30-year fixed-rate mortgage is around 6.875%. This rate continues the high-interest trend that has been all of 2023. Many may wonder how long interest rates will stay high. It is predicted that though it may dip a little towards the fourth quarter of 2023, it is not expected to go below 6% until closer to the end of 2024.
Mortgage Rate Predictions for 2023 and 2024
Average rates, no matter the loan amount, seemed to reach an all-time high in 2023. Higher rates make borrowing money seem less achievable. When it comes to looking into the future, it would be comforting to know when chief economists or the Federal Reserve are predicting the rates will go back down. Here are some key takeaways:
The current rate, as of Aug. 14, 2023, remains at a high of 6.875%.
It is forecasted that rates could drop to around 6.4% to 6.6% by the end of 2023.
There could be hope for rates dipping below 6% but not until the fourth quarter of 2024.
When Will Interest Rates Go Down?
Everything seems so much more expensive lately. Whether it is your weekly trip to the grocery store or big-ticket items like buying a house, it would be nice if some things were a bit more attainable. Today's interest rates put the option of becoming a homeowner out of reach for many Americans. So how long will interest rates stay high? Many experts are predicting interest rates to go down toward the end of 2024.
Here are some quick takes from leading mortgage experts:
Fannie Mae: This mortgage giant has current average rates of 6.875%. They predict interest rates could go down in the fourth quarter of 2023 to around 6.6%.
National Association of Realtors: In its housing market outlook, NAR forecasts that interest rates will dip to 6.4% by the end of 2023. They think rates will drop even more, to 6%, towards the end of 2024.
Realtor.com: This respected website in the mortgage world anticipates a gradual decrease in interest rates, resulting in a rate closer to 6% by the end of the year. This is a more positive outlook than other platforms. 
Wells Fargo: As one of the leading lenders in the banking industry, Wells Fargo puts together its U.S. Economic Outlook monthly. It currently projects the 30-year mortgage rate to be around 6.7% toward the third quarter of 2023. It may dip even lower to 6.45% by the end of the year. By the second quarter of 2024, Wells Fargo predicts rates will fall below 6%.
Mortgage Rates vs. Housing Market

Because higher mortgage rates make borrowing money that much more expensive, the housing market often reflects these higher rates by showing less buying and selling activity. No matter what end of the spectrum you fall on — whether you are trying to sell your home or buy a new one — high rates affect everyone. 

There is a direct correlation between mortgage rates and housing prices. The higher the average interest rate, the slower the housing market becomes. The cost of owning, selling or buying a home becomes more expensive the higher the interest rate goes up.
Final Take To GO
Ultimately, interest rates are a direct reflection of the current economic state and what is driving inflation. Everything from what you earn on your CD or savings account to your monthly mortgage payments will come down to interest rates. High-interest rates may be commonplace today, but they fluctuate so there is a chance they will go back down and are predicted to do so by the end of 2024.
FAQ
Here are some answers to frequently asked questions about how long interest rates will stay high.
How long are high-interest rates going to last?

High-interest rates of 6% to 6.8% are predicted to last throughout the remainder of 2023 and 2024. There is speculation that rates could drop below 6% towards the end of 2024.

Will interest rates go back down in the next five years?

Yes, though nothing is guaranteed, interest rates are forecasted to dip back below 6% towards the end of 2024.

Does the U.S. have a central bank?

Yes, the Federal Reserve, also known as the Fed, is the central banking system of the U.S. It is a powerful institution that provides banking services for the federal government as well as the American commercial banking system.
The Fed does the following:

Sets interest rates
Implements governmental monetary policy
Issues currency
Manages the money supply
Regulates financial markets

Will mortgage interest rates go down in 2024?

Yes, interest rates are projected to possibly dip back below 6% towards the end of 2024.

What is the relationship between mortgage rates and housing prices?

The higher the average interest rate, the slower the housing market becomes. The cost of owning, selling or buying a home becomes more expensive the higher the interest rate.

How high will interest rates go in 2023?

The current interest rate as of August 2023 is 6.875%. It is expected to remain between 6.4% and 6.8% for the rest of 2023.

Is Freddie Mac a good company?

Freddie Mac is an alternative name for the Federal Home Loan Mortgage Corporation. It is a part of the Emergency Home Finance Act to expand the secondary mortgage market in the United States. Essentially, Freddie Mac buys home mortgages from financial institutions or lenders, such as smaller banks or credit unions, to keep its lender network liquid.
Information is accurate as of Aug. 17, 2023. 
Our in-house research team and on-site financial experts work together to create content that's accurate, impartial, and up to date. We fact-check every single statistic, quote and fact using trusted primary resources to make sure the information we provide is correct. You can learn more about GOBankingRates' processes and standards in our editorial policy.