Best Money Market Accounts in 2021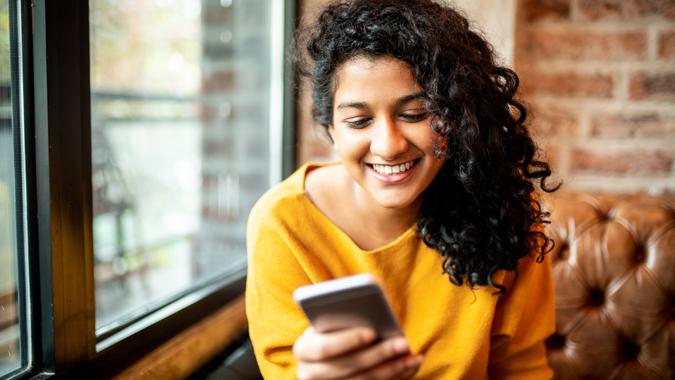 MStudioImages / Getty Images
In the era of COVID-19 – when joblessness is on the rise and our finances are pushed to the limit – we're all looking for ways to make our money work harder for us. An overlooked option? The money market account. Offering the high yield of a savings account and the check-writing access of a checking account, most banks provide some type of money market service, but it pays to shop around as rates can vary wildly from bank to bank. Fees can also differ from institution to institution, so it's important to do your homework. 
Explore: The Best Online Banks of 2021 – Enhanced Services & Low Fees
Related: The Best Checking Accounts of 2021 – High APYs & Low Fees
Fortunately, GOBankingRates has done a lot of that work already, digging into 4,300 data points across 120 banks to compile a list of the best money market accounts for 2021 based on an analysis of the following factors:
Minimum deposit to open a money market account

Annual percentage yield (APY)

Minimum balance to earn the APY

Monthly maintenance fees

Minimum account balance to avoid the monthly fees
All money market accounts share certain features, such as FDIC insurance. However, other important characteristics — including fees, rates, features and benefits — can differ significantly from institution to institution. We've narrowed our picks to 20 finalists, all of which are excellent in their own ways. It literally pays to take a look at them all to make sure you're getting the right mix for you. But below are our top 5 contenders to get you started.
5. Synchrony Bank: Money Market
Why we like it: Synchrony Bank has no minimum balance, no fees, and a high yield of 0.50%.
Benefits
No fee
No minimum balance
Debit card access
Online bill pay
Online and mobile banking, including remote check deposit
Drawbacks
See more about what makes Synchrony Bank an outstanding choice in our full review.
4. CIT Bank: Money Market
Why we like it: A high APY, low minimum balance and no monthly fees make CIT Bank's Money Market account a solid choice.
Benefits
Yields over 12 times the national average
No monthly service fees
24/7 secure mobile and online banking, including remote check deposit
Drawbacks
Certain transactions in excess of the federally mandated six per month are hit with a $10 fee per occurrence, up to $50 monthly
CIT Bank's customer service, fees and comparison to competitors are all explored in our full review.
3. Ally Bank: Ally Money Market Account
Why we like it: Ally Bank offers one of the few money market accounts with a $0 minimum and $0 fees, in addition to numerous perks.
Benefits
24/7 customer service with a live person
No fees or account minimums
Use any Allpoint ATM in the U.S. for free
Up to $10 per month in domestic third-party ATM fees reimbursed per month
No fees for standard or expedited ACH transfers, copies of online statements, incoming wires, postage-paid deposit envelopes or official/cashier's checks
Drawbacks
Rates aren't as high as those of competitors
Fee of $10 for certain withdrawals in excess of the federally mandated six-per-month limit (ATM withdrawals are unlimited)
Ally Bank consistently rises to the top of our rankings every year – see why in our full review.
2. PNC Bank: Premiere Money Market
Why we like it: PNC Bank has a low minimum balance required to earn interest on your money market account, plus opportunities to earn a higher APY with a higher balance.
Benefits
Automatic savings transfers make it easy to watch your money market account grow
Online and mobile banking
2,300 branches and 18,000 fee-free ATMs nationwide
$100 minimum deposit
Drawbacks
Performance Select Checking Account and balance of $100,000 or more to earn the highest APY
You'll see PNC Bank pop up again and again in our Best Banks of 2021 analysis. See why here.
See: The Best Money Market Accounts of 2021 – High Yields and Great Access
Find: The Best Credit Unions of 2021 – Offering Advantages Unique From Larger Banks
1. U.S. Bank: Best Money Market Account
Why we like it: U.S. Bank is a financial powerhouse, offering a one-stop shop for all your financial needs. Whereas large banks often charge higher fees, the U.S. Bank's Elite Money Market Account is a refreshing change, with a low $10 monthly fee.
Benefits
U.S. Bank can meet any of your financial needs, from investments and loans to checking and savings accounts
Online and mobile banking, including remote deposit
Electronic statements
No fee for U.S. Bank ATM withdrawals
Automated account alerts
Nearly 3,000 branches across the country
Drawbacks
You need a large balance to truly benefit from the account
U.S. Bank also topped our list of best big banks this year – it's an impressive choice for a number of reasons, which you can discover in our full review. But remember – if you're looking for something in your region, in-person customer service or other features, every one of our finalists is a great choice and might give you exactly what you're looking for. Be sure to check out the list of top contenders.
More From GOBankingRates:
Methodology: To discover the Best Money Market accounts, GOBankingRates looked at the top institutions in terms of total assets size that had available published data. To determine rankings GOBankingRates looked at the following factors: (1) total assets as sourced from the FDIC; (2) number of branch locations as sourced from the FDIC; (3) minimum deposit to open an account; (4) money market APY rate (5) minimum balance needed in account to earn APY, (6) monthly fees associated with the account; (7) minimum balance needed to avoid the fee; and (8) the average mobile app rating between the android and apple stores. All factors were then scored and combined, with the lowest score being best. Factor (1) were weighted 1.5 times and factors (2) and (4) were weighted 2 times. All data is up to date as of 11/4/2020, rates and fees subject to change.
John Csiszar contributed to the reporting for this article.