Money Market Funds vs. Money Market Accounts: What's the Difference?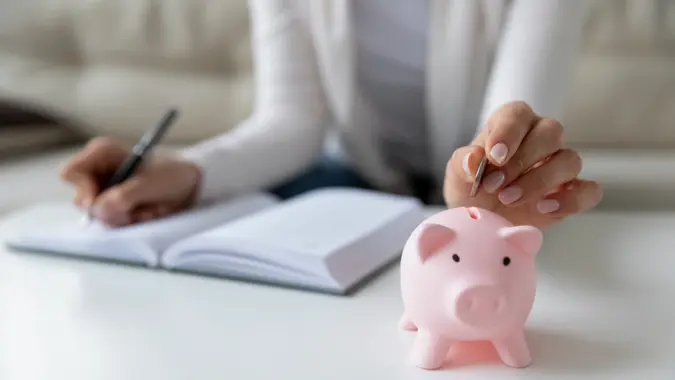 fizkes / Getty Images/iStockphoto
After accumulating some savings, you might be wondering where to keep your money, especially when interest rates offered by traditional banks are pretty low. Depending on your goals, risk tolerance, and the kind of investment you choose, there are two good options: money market accounts and money market funds.
While they sound similar, these financial tools are distinct with their own pros and cons. Understanding the difference between money market accounts and money market funds can help you decide which is a better fit for your financial goals.
What Is a Money Market Account?
Sometimes referred to as a money market deposit account, a money market account is a kind of savings account that earns interest. You can open a money market account at traditional banks, online banks or financial institutions like credit unions. To open a money market account, you must meet the minimum deposit amount, which may vary depending on the bank.
While similar to a traditional savings account, many elements make a money market account more like a checking account. For instance, you may have the privilege to write checks from the account or make purchases using a debit card. You can also make transfers between accounts or schedule bill payments using the funds.
Like a savings account, you may have a limited number of withdrawals from a money market account each month. Many banks limit money market account depositors to up to six withdrawals per month, after which you're charged a service fee. Money market accounts also earn interest, which tends to be higher than standard savings accounts. The annual percentage yield may, however, differ from one bank to another.
With a money market account, you have insurance protection from the Federal Deposit Insurance Corp. or the National Credit Union Administration. The FDIC protection for this type of account covers up to $250,000 per depositor per bank.
Pros
Earn higher interest rates than standard savings accounts, on average
Insurance protection
Debit card and check writing privileges
Accessible funds
Cons
Many banks limit withdrawals
Minimum balance requirement may apply
Monthly fees if you don't meet the account minimum, if applicable
What Is a Money Market Fund?
Also known as a money market mutual fund, a money market fund is a mutual fund that allows investors to earn interest at a low level of risk. A money market fund is typically an investment vehicle that invests only in money market instruments. You can purchase them from mutual fund companies or brokerage firms. While they carry very little risk, they also tend to have better returns than interest-bearing savings accounts.
This type of account holds financial instruments, such as U.S. Treasurys, certificates of deposit, corporate bonds and other short-term investments. They're aimed more toward achieving conservative growth instead of dynamic growth. You can earn interest from these instruments, but it may vary depending on the applicable market interest rates.
Good To Know

Money market funds are subject to regulations set by the Securities and Exchange Commission, but unlike money market accounts, money market funds are not insured against loss by the FDIC or NCUA. You could, therefore, lose money.
Compared to other mutual fund options, money market funds have a lower initial investment, low transaction fees, and no balance requirements. It is also important to note that money market funds have management fees, also known as expense ratios. These fees, which may impact your overall returns, represent the cost of owning a money market fund.
Pros
Low initial investment
Very low risk
Highly liquid
Cons
Not FDIC- or NCUA-insured
Inflation risk
No guarantee of principal
Differences Between Money Market Accounts and Money Market Funds
On the most basic level, money market accounts are interest-bearing accounts at banks or financial institutions, while money market funds are mutual funds invested in short-term instruments. A money market account typically earns higher interest rates than a standard savings account but a slightly lower interest rate than a CD or money market fund.
Money market accounts have insurance protection covered by either the FDIC or NCUA. The FDIC, for example, covers up to $250,000 per depositor. In contrast, money market funds don't have insurance protection. Instead, the SEC regulates them, but it doesn't guarantee or insure an investor's principal.
In addition, many money market accounts restrict the number of withdrawals, with some banks allowing up to six withdrawals per statement. On the other hand, money market funds don't limit the accessibility of account balances — withdrawals are available on demand.
Here is a summary of the key differences between money market funds and money market accounts.
| Feature | Money Market Account | Money Market Fund |
| --- | --- | --- |
| Insurance coverage | FDIC or NCUA (up to $250,000 per depositor) | None |
| Access to account balances | Varies; limited to six withdrawals per statement cycle at many banks | Unlimited |
| Debit card | Yes | Sometimes |
| Check writing | Yes | No |
| Interest accruement | Yes | Yes — higher than that of money market accounts |
Which Type of Account Is Right for You?
Deciding whether to keep your money in a money market account or money market fund depends on the level of risk you're willing to undertake and how frequently you'll need to access the funds.
For example, a money market account might be suitable for you if you're seeking long-term investment and don't mind the limited withdrawals per statement cycle that many banks enforce. A money market fund, on the other hand, is ideal for short-term investments.
Both money market accounts and money market funds are great vehicles for growing your money. Depending on your financial goals, it could make sense to have one or both of the accounts. However, before depositing funds in either type of account, be sure to consider the fees and the minimum deposit or minimum investment requirements.
Understanding the nature of each financial tool and carefully considering its pros and cons will help you make a choice that suits your needs.
Our in-house research team and on-site financial experts work together to create content that's accurate, impartial, and up to date. We fact-check every single statistic, quote and fact using trusted primary resources to make sure the information we provide is correct. You can learn more about GOBankingRates' processes and standards in our editorial policy.