Here Is How You Can Reopen a Closed Credit Card: 5 Steps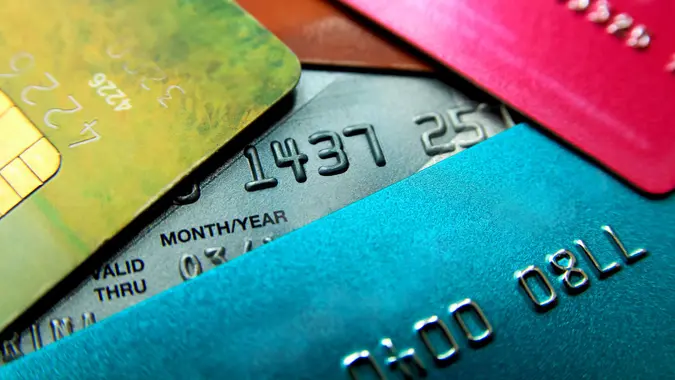 alexialex / Getty Images/iStockphoto
If you want to reopen a closed credit card, that's a possibility. While not every credit card issuer will reopen your account, some are willing to reextend your line of credit. Ultimately, the decision is left up to the credit card issuer's discretion.
Here's what you should know about how to get your closed credit card account reopened.
How To Open A Closed Credit Card Account
If your credit card account was closed, you might be able to get it reopened. Note that even if you follow the steps below, getting your account reopened isn't a guarantee. But if you want access to the credit card again, it won't hurt to run through the steps below.
Here's how to reopen a closed credit card.
Reopening a Credit Card: Step by Step

Find out why your account was closed.
Gather your information.
Call the credit card issuer.
Familiarize yourself with the new terms.
1. Find Out Why Your Account Was Closed
The first step is to determine why your credit card account was closed. Here are a few of the most common reasons for a closed credit card account:
Fraudulent activity: If a credit card issuer spots fraud happening on your credit card, it will likely shut down the account.

After fraud, the credit card issuer might be willing to provide a new line of credit. But most won't be willing to reopen a closed credit card.

Inactivity: If you rarely use the credit card, the issuer might close the account.

For accountholders with good credit, the issuer might be willing to reopen the account.

Credit score drop: If your credit score recently fell off a cliff, the issuer might close your account to avoid the newfound risk.
Delinquency: If you weren't making on-time payments, the issuer might close the account.

Many issuers are unwilling to reopen an account after extensive missed payments.

Updated card terms: If the credit card issuer changed the terms tied to the account, they might close your credit card if you didn't accept the new terms.

For accountholders willing to accept the new terms, the issuer might be ready to reopen your account.
In general, it's more likely for the credit card issuer to reopen your account after a minor issue. For example, inactivity or forgetting to accept the card's new terms are likely easy to fix and reopen the account. But extensive missed payments or a falling credit score might be red flags to the issuer, who might not be willing to reopen your account.
2. Gather Your Information
If you want to move forward with the reopening process, gather all of the information you have about this credit card. The physical credit card or a credit card statement should have the account numbers you need to reopen the account.
Also, be prepared to provide your name, address and Social Security number to the credit card issuer. It's easier to gather this information before getting in touch with the credit card company to avoid delays once you have them on the line.
3. Call the Credit Card Issuer
It's time to make your ask. You can find the credit card company's phone number on the back of your physical credit card, on an old statement or on the issuer's website.
Once you are connected to a customer service agent, ask to have your account reopened. Be prepared to explain why you want the account reopened. If the credit card issuer closed your account, share why you think that was a mistake.
Wait for an Answer
After you ask, all you can do is wait for an answer. Before moving forward, the credit card issuer might ask permission to perform a hard credit check. In some cases, the credit card issuer will hold firm to their decision and leave your account closed. Some issuers have a blanket rule that prevents reopening closed credit card account.
In other cases, the credit card issuer might be more than happy to reopen your account — that could happen immediately or after a set period of time. If there is a timeline involved with a particular issuer, the customer representative should be able to explain the rules.
4. Familiarize Yourself With the New Fees and Interest Rates
If the credit card issuer reopens your account, don't start spending just yet. Instead, take the time to read through the new fees and interest rates. You might be surprised to find out that you are facing a higher interest rate or more extensive fees. Or you might find that the terms and conditions are exactly the same.
It's best to familiarize yourself with the rules right away. Otherwise, you could be surprised by a fee down the line.
5. Use the Credit Card Responsibly
After running through these steps, you have access to spending on your credit card again. Before you jump off the deep end, make it a priority to use the credit card responsibly.
If possible, only spend what you can afford to pay off each month. When you pay off your balance in full each month, you can avoid paying interest on your credit card purchases.
What To Do if You Cannot Get Your Closed Credit Card Account Reopened
It's not always possible to have your credit card account reopened. If that's the case for you, consider the reasons why. Borrowers with good credit might find it easy to open a different credit card. But borrowers with stains on their financial records might not be ready for another credit card. If you find yourself struggling with poor credit, you might consider opening a secured credit card until you've rebuilt your credit.
If you are ready for a new credit card, check out these top credit card options.
The Bottom Line
Reopening your credit card might be as simple as giving your credit card issuer a call. In some cases, the issuer will be happy to reopen the credit card.
Before you make the call, consider why the card was canceled in the first place. If you are struggling to maintain responsible spending habits, then you might choose to avoid reopening your card until you get things under control.
FAQ
Can you reopen a credit card after it's been closed?

In some cases, you can reopen a closed credit card, but it depends on the card issuer and the reason the account was closed. You'll need to contact your credit card issuer to find out.

How long after you close a credit card can you reopen it?

Each issuer will have a different period of time in which a card can be reopened – typically between 30 days and six months.

What happens if your credit card is closed?

If your card is closed, you won't be able to use it for any payments, including scheduled and reccurring payments. Your credit score will also be affected, because your available credit will go down, and your credit history length may be impacted, as well, if you've had the card for a long time.

Can you reopen a closed credit card due to nonpayment?

You are unlikely to be able to reopen a credit card if the account was closed due to nonpayment.
Our in-house research team and on-site financial experts work together to create content that's accurate, impartial, and up to date. We fact-check every single statistic, quote and fact using trusted primary resources to make sure the information we provide is correct. You can learn more about GOBankingRates' processes and standards in our editorial policy.