How To Choose Between Secured Credit Cards and Unsecured Credit Cards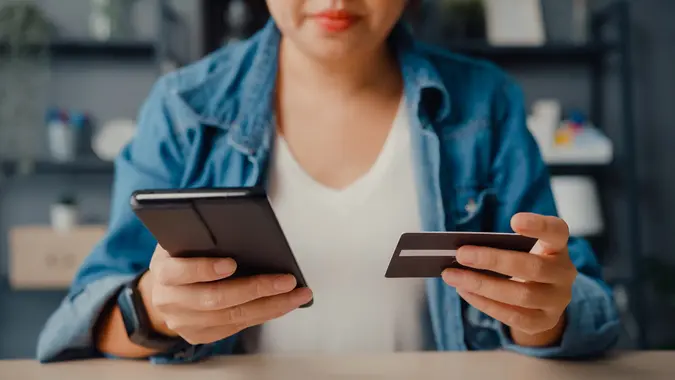 Tirachard / iStock.com
Credit cards are a popular payment option in the United States. About 196 million Americans use them. That's an impressive number considering that there are only about 333 million people in the United States. This means over half of all Americans have one of these rectangular pieces of plastic in their wallets or pocketbooks. 
Read: If Your Credit Score is Under 740, Make These 4 Moves Now
But all credit cards aren't equal; there are several different types. Nonetheless, they all fall into one of two categories — secured and unsecured. When it's time to apply for a new credit card, you may wonder which is better, a secured vs. unsecured credit card.
How Secured Credit Cards Work
Secured credit cards are designed for borrowers with limited credit histories or bad credit scores. You can use these credit accounts to improve your credit scores, making it possible to access new credit accounts with more favorable interest rates and terms. 
Secured credit cards work just like unsecured credit cards. You can use unsecured credit cards to make payments in person or online. When making purchases, you must pay them off, which you can do over time and pay the interest the bank charges to loan money.
The biggest difference between secured credit cards and unsecured credit cards is that banks require applicants to make a security deposit on secure options. That security deposit becomes the account's credit limit. The bank generally returns the security deposit after the borrower uses the card responsibly for a predetermined amount of time.
How Unsecured Credit Cards Work
Unsecured credit cards are credit cards that don't require collateral, as is the case with their secured counterpart, a security deposit. This is the type of credit card most people think about when they add a new one to their wallets. Unsecured credit cards usually require higher credit scores and income for approval.  
When you use an unsecured credit card to make a purchase, the bank adds the value of the purchase to the balance of your credit account. You can choose to pay the balance off in full or make monthly payments. If you make monthly payments on your balances, you'll have to pay interest as you pay the debt off. 
The most important factor with unsecured credit cards is the lender has nothing but the cardholder's word to fall back on when it comes to payment expectations. This is different from secured credit cards because if the borrower doesn't pay as agreed, the lender takes the security deposit to cover the cost of the credit they extended. 
How To Choose Between Secured Credit Cards and Unsecured Credit Cards
When it's time to decide to apply for a secured credit card or unsecured credit card, there are a few factors that should play into your decision:
Credit Scores. Unsecured credit cards require applicants to have higher credit scores than their secured counterparts. That means if you have credit challenges, you should consider secured credit cards instead of trying to get approved for an unsecured option. 
Income. Most unsecured credit cards come with higher income requirements than secured options. If you have a limited income you may find getting approved for an unsecured option difficult. You may want to look at secured cards first.
Rewards. The vast majority of secured credit cards don't come with rewards like cash back or travel points. Consider unsecured options when opening new credit card accounts to get rewards as you make purchases. However, there are some exceptions to the rule, including the Discover it® Secured Credit Card that offers cash-back rewards.
How To Choose the Best Credit Card for Bad Credit
Secured credit cards are typically the best option for those with poor credit scores. Here are a few things you should consider as you compare your options:
Security Deposit. All secured credit cards require you to make a security deposit. The size of that deposit can vary wildly from one option to the next.
Interest. Credit card companies charge borrowers interest when they carry balances from one month to the next. You can find each card's interest rate in its terms and conditions, and you should compare your options in an attempt to get the lowest possible interest on your card.  
Annual Fees. Most secured credit cards charge annual fees. This helps reduce the lender's risk. However, some options don't charge these fees. It's often a good idea for you to avoid as many fees as possible when it comes to credit cards.
Rewards. Although most secured credit cards don't offer rewards, there are exceptions. You should consider reward options when making your decision. 
Final Take
If you find yourself weighing the options of secured vs. unsecured credit cards, just know that a secured credit card can help you build your credit and get approved for other credit accounts with reasonable terms. Consider applying for one today to start your credit improvement journey. 
Secured vs. Unsecured Credit Card FAQs
If you are just learning about secured and unsecured credit cards, you probably have quite a few questions. Here are the answers to some of the most common.
Which is better: a secured or an unsecured credit card?

Unsecured credit cards typically come with better interest rates and rewards than their secured counterparts. However, a secured credit card is better for those with challenging credit because approval is typically easier than unsecured options.

 Do secured cards build credit faster?

Secured credit cards can help improve your credit. With proper management and careful usage, you could see a boost to your score over time.

What is the difference between unsecured and secured credit cards?

There are a few differences between secured and unsecured credit cards:

-Secured credit cards require a security deposit. Unsecured cards don't.
-Secured credit cards typically charge higher interest and annual fees.
-Secured credit cards are easier to qualify for than unsecured credit cards.
-Unsecured credit cards typically offer better rewards.

What are the two downsides of getting a secured credit card?

-Secured credit cards require a security deposit.
-They typically charge higher interest and fees than unsecured cards.
Barri Segal contributed to the reporting for this article.
Information is accurate as of Oct. 27, 2022. 
Our in-house research team and on-site financial experts work together to create content that's accurate, impartial, and up to date. We fact-check every single statistic, quote and fact using trusted primary resources to make sure the information we provide is correct. You can learn more about GOBankingRates' processes and standards in our editorial policy.