Unexpected Things People Are Using Credit Cards to Pay For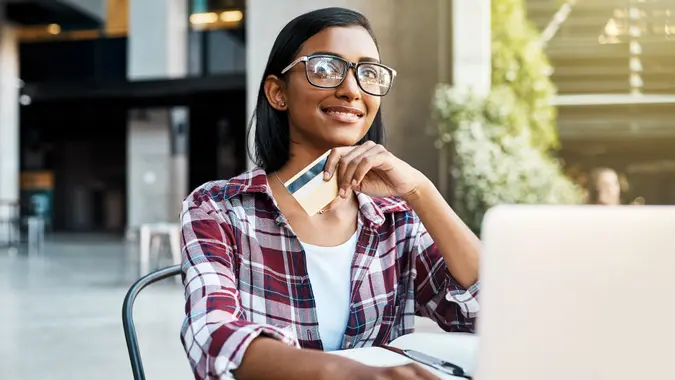 PeopleImages / Getty Images
In some parts of the world, cash is still king and the average person doesn't make a purchase unless they have enough cash on hand. There was a time when the U.S. was like that, too, but things have changed drastically over the past several decades.
It was once considered somewhat taboo among Americans to buy things with credit. But these days it's much more common, and now, people buy just about anything you can imagine with it.
Dive Deeper: 44% Pay Off Their Full Credit Card Balance Each Month: But Should They?Surprising: 60% of Americans Trust This Credit Card Brand the Most
And yet, as acceptable as credit purchases are these days, there are some purchases we might still expect nearly everyone to pay for in cash or by check. Here, we'll use the results of a survey GOBankingRates survey to find some of the unexpected things people use credit cards to buy. The survey polled 1,009 Americans aged 18 and older about things they have bought with a credit card.
Taxes
Paying for taxes with a credit card isn't overly common, at least not at the moment — 3.96 percent of survey respondents have made tax payments with a credit card. The IRS will allow you to make tax payments with a credit card using one of three payment processors. However, there is a fee of around two percent with each of the processors. In addition, there are limits to how many tax payments you can make per year with a credit card.
Read: Jaw-Dropping Stats About the State of Credit Card Debt in AmericaSee: Why It's Still Better To Use Your Credit Card Over Your Debit Card
School Tuition
According to the survey, 8.33 percent of respondents have used a credit card to pay for school tuition. While that is a relatively small number, most higher education institutions already accept credit cards. As of 2016, 85 percent of private, public, and community schools in the U.S. were already accepting credit cards as a tuition payment method.
However, some schools only accept credit cards in some circumstances. For example, only graduate students can pay with a credit card at one university, and only part-time students can pay this way at another. Perhaps more importantly, there is usually a two to three percent fee for paying with a credit card, which is substantial when making tuition payments.
Learn: Common Misconceptions About Credit CardsInteresting: How Credit Card Use Changed During the Pandemic
Rent/Mortgage Payments
Making rent/mortgage payments with a credit card may seem unusual, but 10.21 percent of survey respondents have done so. Aside from simply being in a pinch, putting rent or a mortgage payment on a credit card has been popular among credit card hackers in pursuit of sign-up bonuses.
If your lender or landlord will permit it, this is a nice little trick to help you earn rewards. But in many cases, making rent or mortgage payments is only possible through a third party, and even then, there is no guarantee it will be allowed. Plus, these services always come with a fee of around three percent.
Find Out: Why an Annual Fee Card Is Worth It
Vehicles
While you probably can't buy a brand-new Tesla outright with a credit card, it may be possible to buy an older used car or use a card to make a down payment. Our survey found that 11.69 percent of people have paid for a vehicle using a credit card. J.D. Power says that some dealers may have a dollar limit on these purchases though, separate from your credit limit. And like many of the purchases on this list, be prepared for a two to three percent fee.
Paying off a Different Credit Card
15.26 percent of people use a credit card to pay off a different credit card, according to the survey. It can almost seem silly to do this, but it makes more sense than it might seem. Many credit cards have introductory periods with zero percent APR. Thus, you can use the new credit card to transfer the balance on an existing card. This helps you avoid interest charges while you work to pay off your credit card debt.
Find Out: Which Is Smarter: 'Buy Now, Pay Later' or Credit Cards?Closing a Credit Card? Here's What You Should Do Instead
Keep in mind that credit cards with no introductory APR usually increase to the typical APR after the first year. Thus, this strategy only works if you are ready to pay the new card off within a year.
Medical Bills
Medical bills are a big part of the cost of living, especially in the U.S. Thus, it's no surprise that 36.57 percent of survey respondents have put their medical bills on a credit card. The U.S. Census reports that the median medical debt among those without health insurance is $3,000 compared to $2,000 for those with health insurance. It also notes that households with children (24.7 percent) are more likely to have medical debt than those without children (16.5 percent).
Learn: The Top Purchases You Should Always Make With a Credit Card
Why Are Credit Cards Becoming More Popular?
There are several reasons credit cards are becoming a more popular form of payment. The most obvious reason is convenience: it's easy to reach for the card. Plus, you don't have to have the money on hand right then and there.
But the reason for the rise in credit cards goes beyond convenience. Among the other reasons are the rewards credit cards offer as well as fraud protection. Despite the added fees we saw in this article, the added perks make credit cards attractive to many consumers.
More From GOBankingRates
GOBankingRates surveyed 1,009 Americans aged 18 and older from across the country on September 22 through September 23, 2021, asking twelve different questions: (1) Which of the following is the most important to you when it comes to picking a new Credit Card?; (2) How do you handle your Credit Card bill each month?; (3) Which Credit Card company do you trust the most?; (4) What age did you get your first Credit Card?; (5) What is your primary purpose for using your Credit Card(s)?; (6) Do any of the following statements apply to you? Select all that apply:; (7) Which Credit Card fees do you hate the most? Select one:; (8) How many Credit Cards do you own?; (9) What is your total current Credit Card debt?; (10) How Long do you think it will take you to pay off your Credit Card debt?; (11) Have you ever hit the credit limit on your Credit Card?; and (12) Have you ever charged any of the following to your Credit Card? Select all that apply: All respondents had to pass a screener question of: Do you own/use a Credit Card(s)?, with an answer of "Yes". GOBankingRates used PureSpectrum's survey platform to conduct the poll.