Citi Easy Deals: How To Get Discounts on Gift Cards, Travel and More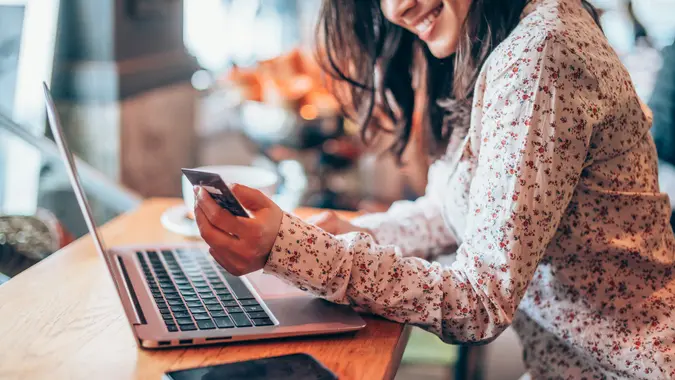 VioletaStoimenova / Getty Images
Update: Some offers mentioned below may have changed or are no longer available. View current credit card offerings from our partners on the issuer's website.
If you're a Citi Simplicity or Citi Diamond Preferred cardholder, issued from our advertising partner, you may not know that you can gain access to special offers and sales based on how much you spend in a year with your Citi card.
It's called the Citi Easy Deals program, and unlike other credit card rewards programs, where you earn points or dollars you can cash in for special perks, you unlock special offers and savings based on how much you spend.
What Is Citi Easy Deals?
Citi Easy Deals is a promotional offer available only to Citi Simplicity and Citi Diamond Preferred credit card members. The savings on gift cards, magazines, travel and merchandise is provided above and beyond any other rewards you may receive as a Citi cardmember.
Who Can Join?
Only Simplicity and Diamond Preferred cardmembers can join at this time, according to the Citi website. You can apply for the Diamond Preferred card or the Citi Simplicity card on the Citi website.
If qualified, you can benefit from a 0% intro APR for 21 months on balance transfers from the date of your first transfer and 0% intro APR for 12 months on any purchases beginning on the date of account opening on the Diamond Preferred card. On the Citi Simplicty Card, enjoy a 0% intro APR for 18 months on purchases and balance transfers. (Balance transfer fees apply.) There is no annual fee for either card.
How To Join Citi Easy Deals
Once you've got your Citi account opened, it's easy to join the Citi Easy Deals program. Go to the Citi Easy Deals website and click "Get Started." You'll need to provide your full name, the last four digits of your Citi card number and your ZIP code. From there, you can set up your unique member ID and a password for your account.
When you're logging in to your account to claim your rewards and deals, you have the option of using your Citi online login or your username and password for your Citi Easy Deals account.
How Citi Easy Deals Works
Citi Easy Deals provides discounts for local restaurants, shops and services, as well as savings on national brand gift cards. You can unlock access to savings based on how much you spend using your Citi card. Here's a closer look at how it works.
Base Tier
Every Citi Simplicity or Diamond Preferred cardmember begins with savings at the Base Tier. These deals include coupons for local restaurants, stores and services. You can log in to your account and see what's available. You'll need to print the coupons and present them at the location to claim your savings.
Enhanced Tier
If you spend just $100 on purchases with your Citi card, you unlock access to the Enhanced Tier, where you can purchase gift cards for less than the amount of the card and also save money on monthly magazine subscriptions. The gift card deals tend to have the greatest value. For instance, you can claim gift cards for 50% off their face value.
Plus Tier
The Plus Tier is available to anyone who spends $500 or more in purchases in a calendar year. You can get discounts on merchandise and travel, plus gain access to Daily Deals, which are limited quantities of amazing sales offers announced each day. If you qualify for the Plus Tier, it pays to check the Citi Easy Deals website daily to take advantage of these offers.
Good To Know

Once you unlock a tier, you will gain access to those offers at the beginning of your next billing period, according to the Citi Easy Deals website. You'll continue to have access to those promotions for the entire calendar year following. So, if you reach the Plus Tier in August 2021, you'll remain in the Plus Tier through Dec. 31, 2022.
Current Deals You Can Get at Each Tier
Deals change frequently, so rely on the Citi Easy Deals site to show you what's available each day. Deals at the Base Tier vary based on your location, as they emphasize local stores and restaurants.
Savings on Gift Cards
Cardmembers at the Enhanced Tier can get savings such as 50% off a $50 Walmart gift card or 50% off a $30 Spotify gift card. You can also opt for a $25 Barnes & Noble or Grubhub gift card for just $15. Only one deal can be claimed every 15 days.
Free Amazon Gift Card
If you'd prefer not to spend any money, you can choose a $5 Amazon card for free if you are in the Enhanced or Plus Tier. You are allowed to claim one offer per card, so if you have a Diamond Preferred and a Simplicity card, you can get $10 worth of Amazon gift cards for free if you meet the spending requirements on both cards.
Discounts on Merchandise and Experiences
Plus Tier cardmembers can find also discounts on merchandise and experiences such as:
Hotel stays
Flights
Movie theater tickets
Clothing
Household goods
These discounts may not always be the best available, however, so you'll want to shop around before making your purchase.
Is It Worth Enrolling in Citi Easy Deals?
If you're looking for a credit card with a 0% APR for 18 months on the Citi Simplicity card, or a 0% intro APR for 12 months on purchases on the Citi Diamond Preferred card, these are solid options with no annual fees and a host of benefits. The Citi Easy Deals program is simple and straightforward. You can unlock some great savings, especially on gift cards at the Enhanced Tier, which requires spending just $100 on the card for the year.
However, if you're looking for a high-value rewards credit card, other cards that offer points or cash back to spend as you wish may hold more value for you.
This article was updated on Oct. 6, 2021 to reflect current APR introductory rates on the Citi Diamond Preferred card.
Data was sourced from Citi Easy Deals, Citi, HustlerMoneyBlog, WalletHub and CreditCards.com. Data was compiled on July 27, 2021, and is subject to change.
Editorial Note: This content is not provided by Citibank. Any opinions, analyses, reviews or recommendations expressed in this article are those of the author alone and have not been endorsed by Citibank.